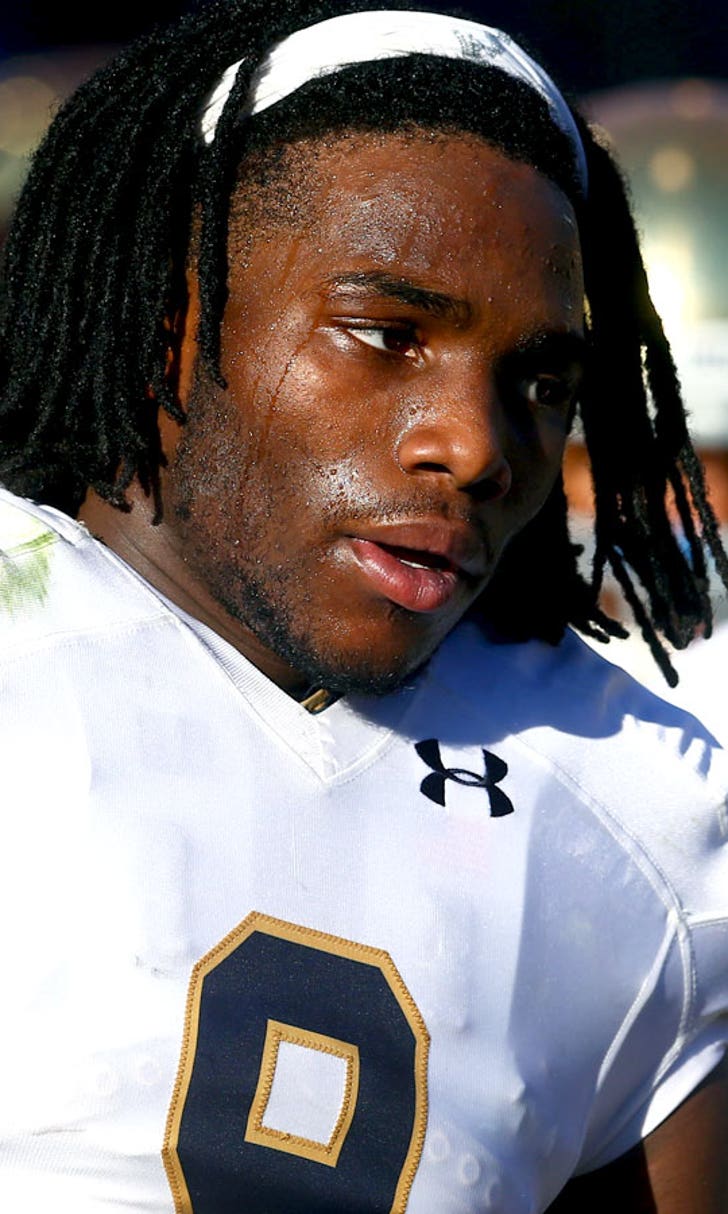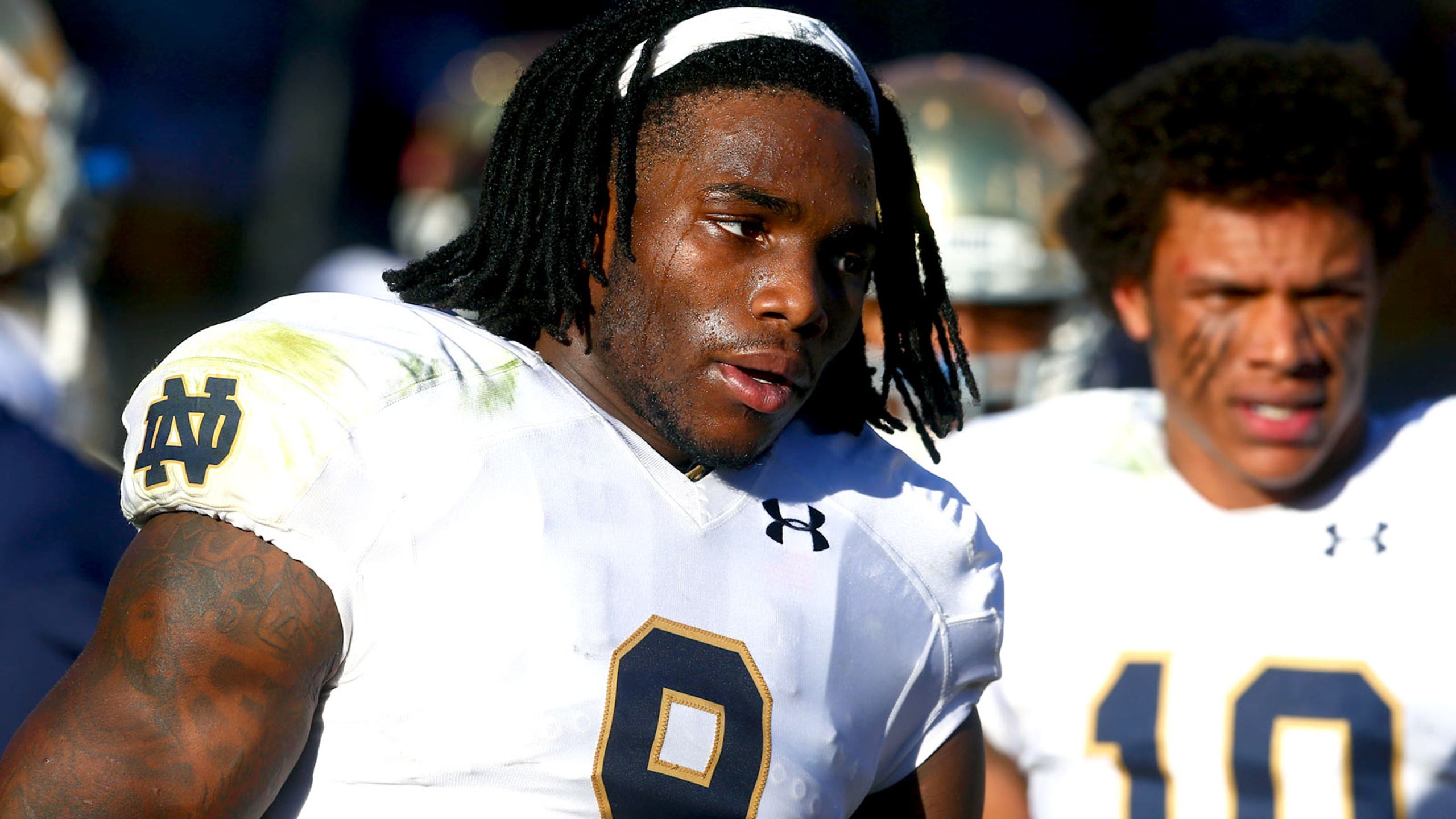 ND's Jaylon Smith has blossomed: 'Like playing with a LeBron James'
BY Bruce Feldman • August 19, 2015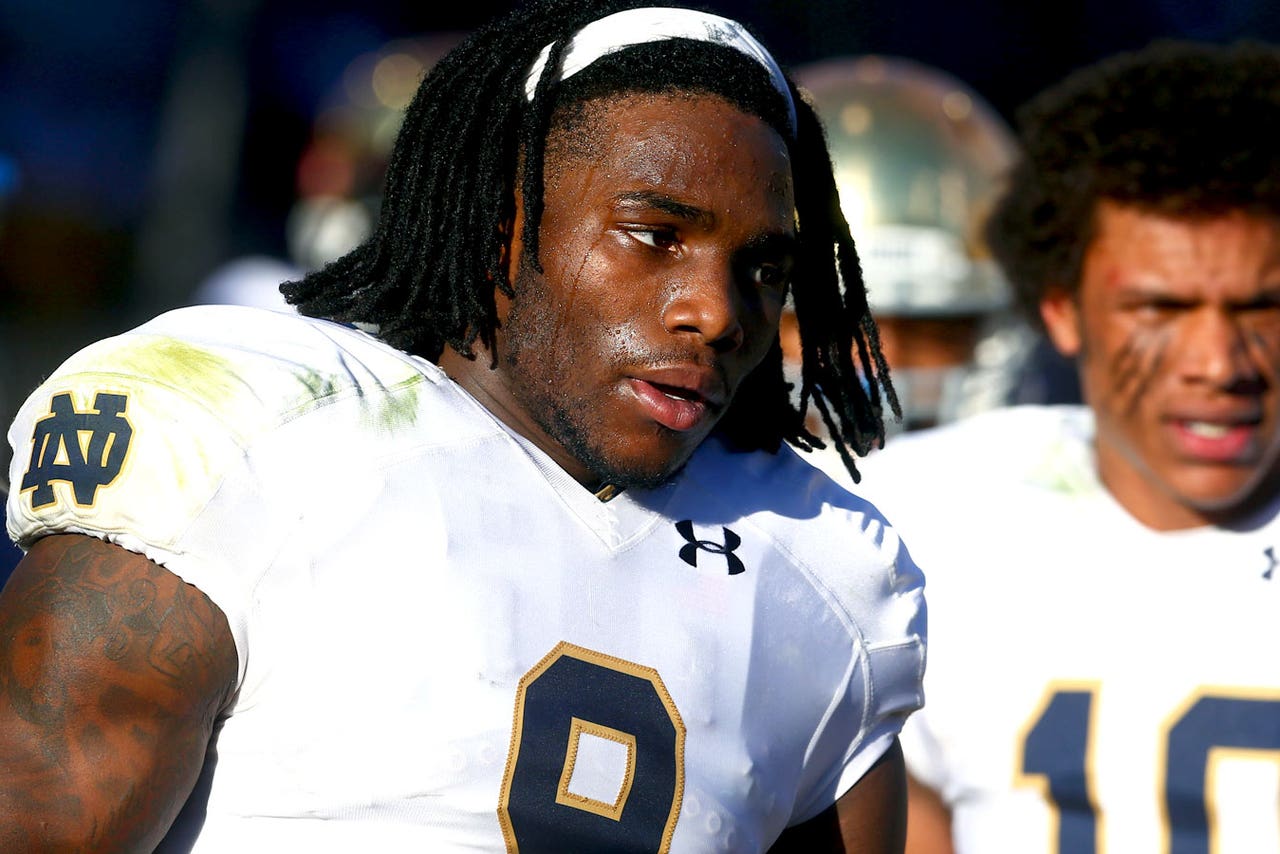 SOUTH BEND, Ind. -- Jaylon Smith -- Notre Dame's Freaky 241-pound linebacker with the super-quick short shuttle time (4.03) and the ridiculously low 4 percent body fat -- is also going to impress NFL personnel whenever the 20-year-old goes through the draft process.
He's just a very impressive kid.
Smith has blossomed in several ways in the past year. Irish head coach Brian Kelly talked about how much the junior has grown as a leader: "Jaylon desperately wants to be called upon at any time to be that guy out front. We have no problem doing that. I will take him side by side with me anywhere I go, and it's great that he holds others accountable, and he's one of our best players."
Mike Elston, ND's linebackers coach, told me about how much Smith has changed in his approach to the position, not only in terms of his strength, but especially in his technique (pad level, hand placement, foot-action on contact) and demeanor.
"Jaylon's come so far," Elston said. "A year ago, he was a really good player. He was more about himself and just trying to get right within the system. Now he's really got the understanding of our defense and where everybody else is around him. He's more of a complete package. He's defending the run a lot better. He's able to step up now and stuff a blocker and be very physical on him, whereas a year ago when you watched film, he wasn't as physical as you'd want him to be on different blocks.
"I've seen a very drastic change in that. He's a very physical, downhill linebacker. He's an actual linebacker. Before, he was kind of a hybrid bigger safety and very good in coverage, but now he's really taken it upon himself to be very physical, and he's also an improved pass rusher. I think you're going to see him stressing offensive linemen quite a bit."
Smith's impact on the field goes beyond just being a sideline-to-sideline playmaker who excels in pass coverage. Irish QB Malik Zaire pointed out how Smith's rare level of athleticism forces ND's offense to be sharper because he leaves them such little margin for error.
"It's just like playing with a LeBron James," Zaire said. "He's just better than a lot of the other athletes that he's around. In practice, he just makes plays, where it's, 'Oh, that's just Jaylon. But against anybody else, that would've been a touchdown.' We can run some plays perfectly and he just still stops them because he's been the better ball player. It helps us grow as an offense. It makes us be more specific and to execute at a higher level and forces us to be better as a unit."
While Manti Te'o has been Notre Dame's most celebrated linebacker in decades, it's actually a much bigger NFL star, Patrick Willis, whom NFL personnel compare Smith to.
Smith was a bit taken aback when I asked him about such a lofty comparison.
"Aww, man, Patrick Willis was such a great linebacker. It's an honor to even have that comparison," Smith said before pausing a moment as if the heft of such praise settled into his mind.
"I have a lot of work to do.
"I really look up to Patrick Willis, to Von Miller, Derrick Thomas, Lawrence Taylor -- those freaks that can rush off the edge. I watch those guys every day and model my game after them."
Smith said he's really excited about getting more of an opportunity to show off his pass rushing ability this year.
He also spoke about how much he gained while spending three weeks in South Africa as part of a psychology class at Notre Dame along with a group that included six other ND football players, especially in terms of understanding how other people think and understanding other cultures. Smith also said he came back more humble.
His only goal for this season is a big one: helping Notre Dame win its 12th national title. He knows how close the ND team came three years ago.
"We want to go a step further in not only replicating it but winning it," Smith said. "Looking back at the talent they had, there were some great players and everyone bought in. So it's playing for each other. (With this year's team), the effort and the enthusiasm is there. It's limiting the mental errors and things like that. That's the key."
Asked whether last year's team didn't have everyone buy in, Smith said, "There were times where we probably separated as a team, were not fully compact," he said, adding that ND's run of injuries to key players probably added to that. "We didn't handle the adversity how we should have, but it's a new year and we're looking forward to this opportunity. We're definitely building our culture right now."
---
---