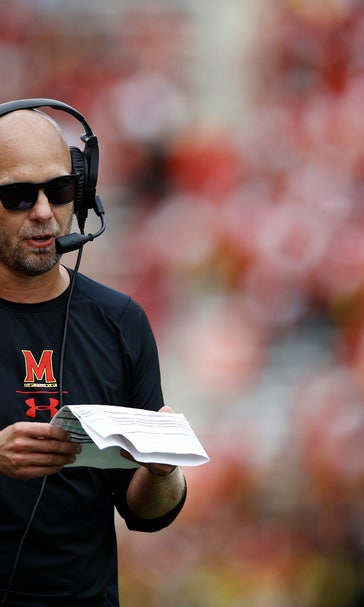 Minnesota, Maryland launch Big Ten play with heavy hearts
September 21, 2018
COLLEGE PARK, Md. (AP) — Maryland and Minnesota open Big Ten play Saturday sharing an unwanted bond: Both are mourning the loss of a teammate.
The Terrapins (2-1) have dedicated their season to offensive lineman Jordan McNair, who died of heatstroke two weeks after collapsing during a conditioning drill on May 29.
Since that time, wins and losses simply don't matter as much. Last Saturday's 35-14 defeat against Temple was disappointing, though the Terrapins are trying to keep the season in perspective.
"Obviously, it doesn't compare to real life situations that we're all dealing with," interim coach Matt Canada said this week. "Football is important. Certainly right now, it's not more important in our program. We're focusing on our players and getting better and sticking together."
The Golden Gophers (3-0) understand better than most.
Former Minnesota offensive lineman Nick Connelly died on Wednesday at age 22 because of complications from Burkitt's lymphoma. Connelly started 14 games before he retired in the middle of the 2017 season because of concussions.
"He was an amazing young man who took exceptional pride in playing for his hometown Gophers and loved wearing the maroon and gold," Gophers coach P.J. Fleck said.
The Gophers will wear helmet stickers and special wristbands on Saturday to honor Connelly, who started five games last year at right tackle as a redshirt sophomore.
McNair's death came under vastly different circumstances. The school has acknowledged that mistakes were made in the treatment McNair received on the scene, and head coach DJ Durkin was placed on administrative leave after an investigation was launched to determine if the coaching staff bullied the players.
Canada guided the Terrapins to an upset win over Texas in the opener, and Maryland breezed past Bowling Green before falling to Temple at home.
Kickoff for Saturday's game is scheduled less than 24 hours after an external investigation on the circumstances surrounding McNair's death was to be made public, but Canada said that won't influence his team's performance.
"I continue to say how proud I am of our players for focusing on their job, on going to school, on playing football and on grieving Jordan," Canada said. "That's what they're worried about."
Some other things to know about the matchup between Minnesota and Maryland:
IT'S BEEN A WHILE
Minnesota plays its first road game after sweeping New Mexico State 48-10, Fresno State 21-14 and Miami (Ohio) 26-3.
Fleck is the first Gophers coach to start his first two seasons 3-0 since Alexander Jerrems in 1896 (beat South High, Minneapolis Central and Carleton) and 1897 (beat South High, Macalester and Carleton).
The last time the Gophers started 4-0 was 2013 under coach Jerry Kill, when they went 8-2 before finishing 8-5.
I'LL PASS ON THAT
Temple beat Maryland by bringing its safeties the line of scrimmage and daring the Terps to pass. They couldn't.
Kasim Hill went 7 for 17 for 56 yards and an interception, and backup Tyrrell Pigrome was 1 for 4 for seven yards and an INT.
Canada knows the passing game must improve for the Terrapins to win, but he took the heat for the loss.
"I called the plays, they didn't work. That's my fault," he said. "What am I going to do different? Hopefully I call better plays and obviously I hope we play better."
KICKING IT
In a week when the Vikings had to cut kicker Daniel Carlson after three missed field goals in a wild overtime NFL game at Green Bay on Sunday, Minnesota football fans could be especially appreciative of Gophers senior Emmit Carpenter.
Carpenter has made five of six field goal tries, including kicks from 44, 50 and 53 yards, and hit all 12 of his extra point attempts.
Carpenter, who grew up in Green Bay as a Packers fan, won the team's Tony Dungy award for character and community service in 2017.
FLASHBACK
Minnesota's 3-0 start last year was ruined in a home loss to Maryland, which won when Ty Johnson scored on a 34-yard touchdown run with 1:10 left.
The Gophers didn't recover, finishing 2-7 in the conference.
"Last year's game was definitely a defining moment in our season," safety Jacob Huff said.
____
AP Sports Writer Dave Campbell contributed to this report.
---
---