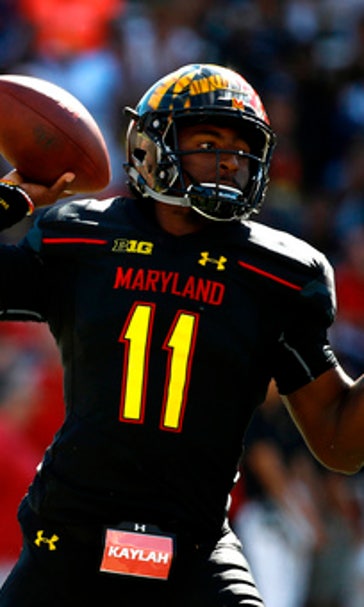 Maryland QB situation on hold as Pigrome, Hill await return
April 14, 2018
COLLEGE PARK, Md. (AP) Preparation for a new Maryland football season began exactly as the last one ended, with third-string quarterback Max Bortenschlager guiding the offense Saturday in the spring game.
Tyrrell Pigrome and Kasim Hill, dressed in pads and wearing yellow jerseys, stood on the sideline as Bortenschlager and freshman Tyler DeSue took turns implementing the pro-style scheme of first-year offensive coordinator Matt Canada.
It was a beautiful day to watch football, and that's what Pigrome and Hill were forced to do after spending the past seven months recovering from knee injuries that short-circuited their 2017 season and contributed greatly to Maryland's 4-8 finish.
''They're a little bit ahead of schedule right now,'' coach DJ Durkin said. ''Our plan has been all along by the end of May to have them full strength, 100 percent, so they have a full summer to get ready to go.''
When the Terrapins hold their first organized practice this summer, Pigrome and Hill will begin in earnest the competition to be starter on Sept. 1 against Texas at FedExField.
Pigrome prevailed last year, but the rematch is up for grabs.
''I think anytime at any position, when there's good competition going on it makes someone better,'' Durkin said. ''We'll have that going at that position in particular.''
In last year's opener against Texas, Pigrome threw for two touchdowns and ran for another before tearing his right ACL. Hill took over, completed the 51-41 upset and led the Terrapins past Towson the following week before tearing his right ACL in a loss to Central Florida.
Bortenschlager stepped in, but he, too, fought injuries as the Terrapins stumbled to the finish.
Entering his third season at Maryland, Durkin would love to see some stability at a position that has long been marred by injury and inconsistency. The hope is that Pigrome, Hill, or a combination of the two provide leadership and skill in the huddle and on the field.
''Those guys, I just love their mental approach,'' Durkin said. ''They're so locked in, they're learning the offense and doing all the things that they're able to do right now.''
The quarterbacks are already testing their arms, but flat-out running and pivoting in the pocket won't come until later.
''I'm excited to see what they've got in store for us and how they look with this new offense,'' receiver DJ Turner said. ''It's going to be a real competition when camp comes. It will be exciting to see who gets the job.''
It's been a long, difficult rehabilitation process for the two quarterbacks, each of whom had such high expectations ruined by injuries that occurred exactly three weeks apart.
''It was our job to keep them up while they were down,'' Turner said. ''Now that they're getting ready to come back, their attitude is up and I feel like they'll be good when their time comes.''
Turner will be one of the main targets in an offense that must adjust to the loss of DJ Moore, who left for the NFL after catching 80 passes for 1,033 yards and eight TDs.
If first impressions mean anything, then Durkin will be looking for big things from a team still in search of a starting quarterback.
''I'm very happy where we're at on both sides of the ball,'' he said after the 90-minute scrimmage. ''Really happy to get through today with no injuries.''
---
More AP college football at www.collegefootball.ap.org and https://twitter.com/AP-Top25
---
---