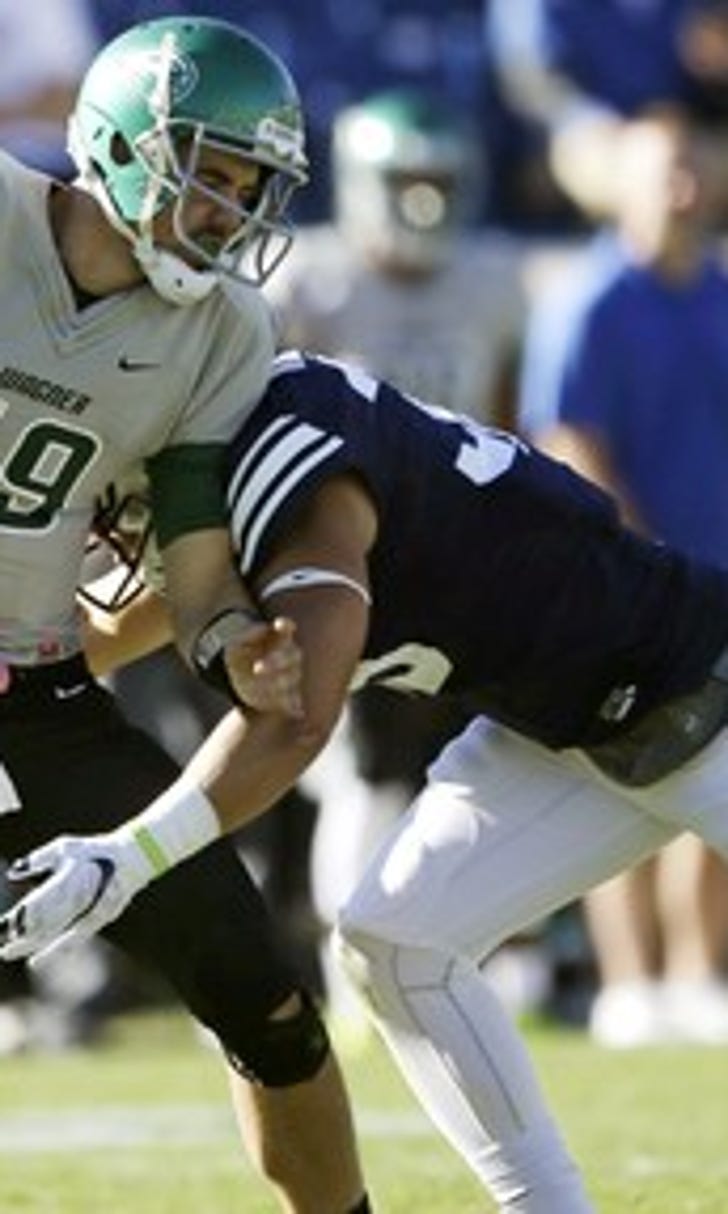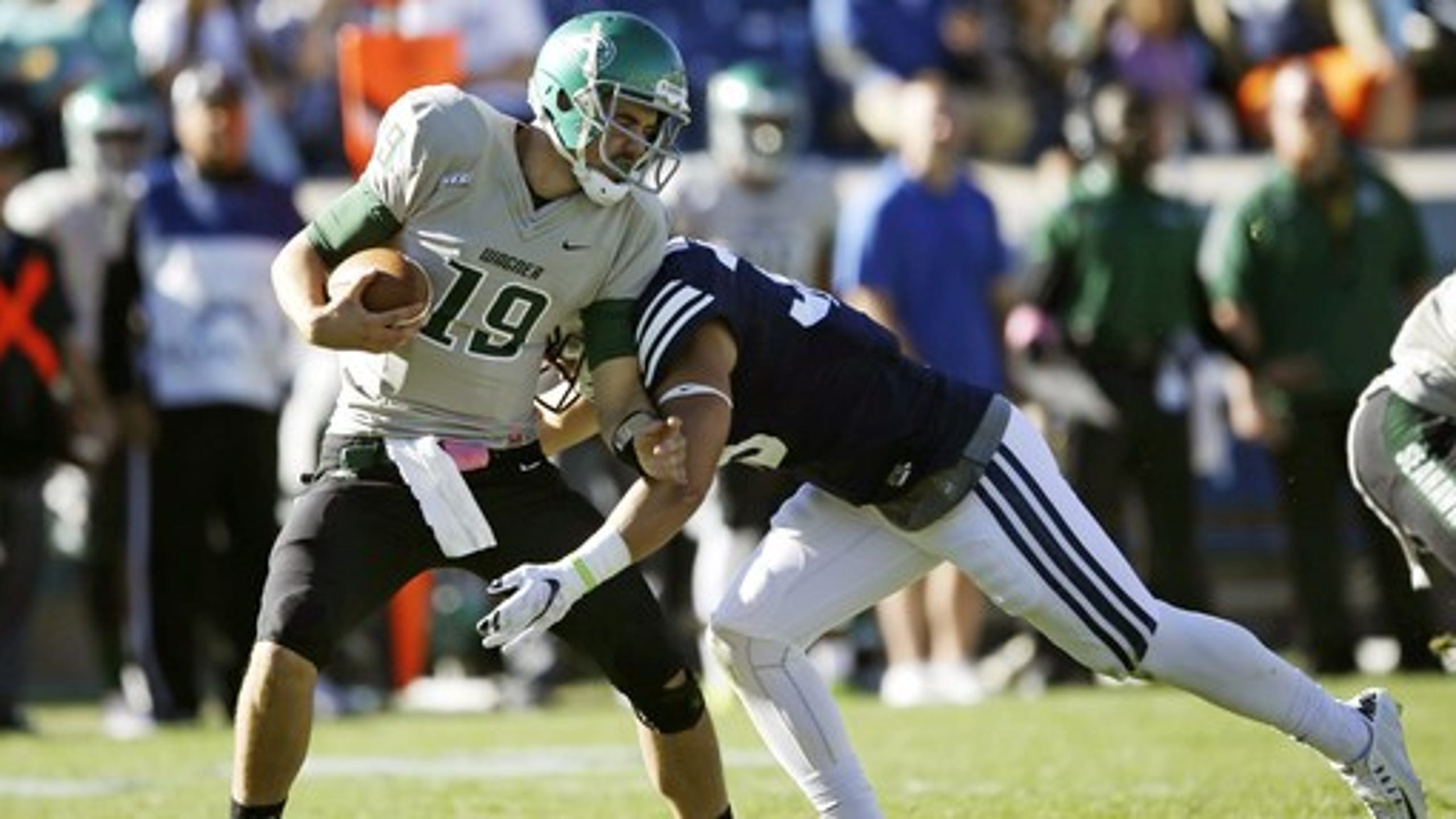 Lack of veteran QBs adds uncertainty to NEC season
BY AP • July 20, 2017
(STATS) - EAST RUTHERFORD - It was easy to spot Alex Thomson and Jacob Dolegala at Northeast Conference football media day Thursday.
The 6-foot-5 Thomson, Wagner's starting quarterback, and 6-6 Dolegala, Central Connecticut State's starter, stood tall like Met Life Stadium, site of the conference's unofficial kickoff to the 2017 season.
But the two were noticeable even more because they are the NEC's only returning starters at football's most critical position. That oddity adds a level of uncertainty to what's always a competitive race.
Duquesne was installed as the preseason favorite for the second straight year in the coaches poll, topping Saint Francis. Those two programs tied for the conference title last year, but Saint Francis earned the NEC's automatic bid to the FCS playoffs as the result of a 14-10 win in the head-to-head meeting.
Both teams had a conference-high six selections on the preseason team, including the two running backs, Duquesne with A.J. Hines, the 2016 Jerry Rice Award winner as the nation's top freshman, and Saint Francis with Marcus Bagley.
But both powers are replacing veteran quarterbacks, which is a familiar theme across the NEC this preseason.
"I think teams like us have developed depth across the board," Duquesne coach Jerry Schmitt said, "and can weather those new quarterbacks and some of the things that happen when you're breaking in a new guy because you're so strong at all the other positions, unlike maybe five, six years ago when the scholarship level wasn't so high."
In addition to the 2016 co-champs, Bryant, Sacred Heart and Robert Morris are replacing last year's quarterback. But Robert Morris gets back 2015 part-time starter Mathew Barr, who suffered a season-ending injury in last year's opener.
Wagner and Central Connecticut State will have more of a comfort level offensively when training camps begin in two weeks. Their quarterbacks were excellent a year ago, even if they were overshadowed in a veteran conference, where most of the teams didn't have a lot to worry about behind center.
Thomson, a redshirt junior who was named to the NEC preseason team, kept Wagner on the heels of Saint Francis and Duquesne in last year's race, throwing for 16 touchdowns against only five interceptions. Dolegala, a junior, passed for a conference-high 2,934 yards.
"It's always open," Thomson said of the NEC title race. "I don't think a team has gone undefeated for six or seven years (actually 2008), so every game is a competitive game in this conference. Every single week you have to come prepared to play even if the team is in last place or the team is in first place."
"All of (the defenses) are tough," Dolegala said. "I'm not going to say any of them are easy. We just have to play our game."
Incredibly, seven of the last eight NEC seasons have ended with a co-champion, and all but Bryant has been involved in one of the ties. But the Bulldogs have finished .500 or above in conference games during each of those seasons.
Bryant probably wouldn't mind if its new quarterback could be James Perry, the NEC's lone new head coach. The former Princeton offensive coordinator played collegiately at Brown - a mere 15 miles from Bryant in Rhode Island - and graduated with what at the time was the Ivy League record for career passing yards.
"I think a lot of teams are going to have to go back and simplify," Saint Francis coach Chris Villarrial said of the QB scenario, "and you're going to have to look at what you have."
---=
KEY NORTHEAST CONFERENCE GAMES=
Saint Francis at Duquesne (Oct. 21) - Saint Francis won the NEC playoff bid because of a 14-10 win over Duquesne, but Dukes coach Jerry Schmitt has a 9-3 record against the Red Flash.
Five More: Wagner at Saint Francis (Sept. 9); Wagner at Duquesne (Oct. 7); Saint Francis at Bryant (Oct. 14); Central Connecticut State at Wagner (Oct. 14); Duquesne at Sacred Heart (Oct. 28)
---=
NORTHEAST CONFERENCE FOOTBALL PRESEASON POLL=
Head Coaches Poll
1. Duquesne (4 first-place votes)
2. Saint Francis (1)
3. Wagner (2)
4. Central Connecticut State
5. Sacred Heart
6. Bryant
7. Robert Morris
---=
NORTHEAST CONFERENCE FOOTBALL PRESEASON TEAM=
Offense
QB - Alex Thomson, Wagner, R-Jr.
RB - Marcus Bagley, Saint Francis, Sr.
RB - A.J. Hines, Duquesne, So.
WR - Joey Fields, Central Connecticut State, Sr.
WR - Kamron Lewis, Saint Francis, Jr.
WR - John Williams, Wagner, Sr.
TE/H-Back - K.J. Smith, Central Connecticut State, Jr.
OL - Matt Diaz, Wagner, Sr.
OL - Christian Eubanks, Saint Francis, Jr.
OL - Matt Fitzpatrick, Duquesne, Jr.
OL - Mederick Flavius, Saint Francis, Jr.
OL - Ben Huss, Duquesne, Sr.
Defense
DL ­- Dylan Ackerson, Sacred Heart, Sr.
DL - Jordan Baskerville, Wagner, Sr.
DL - Dillon Guthro, Bryant, Jr.
DL - Andy Struttmann, Duquesne, Sr.
LB - Kevin Barry, Sacred Heart, Gr.
LB - Randall Laguerre, Central Connecticut State, Sr.
LB - Gee Stanley, Robert Morris, So.
LB - Nathan Stone, Duquesne, Sr.
DB - Delondo Boyd, Saint Francis, Sr.
DB - Malik Duncan, Saint Francis, Sr.
DB - Jevon Elmore, Central Connecticut State, Sr.
DB - Abner Roberts, Duquesne, Jr.
Special Teams
PK - James Cooper, Wagner, Gr.
P - Adam Check, Robert Morris, Jr.
RS - Matt Sewall, Bryant, Sr.
---
---