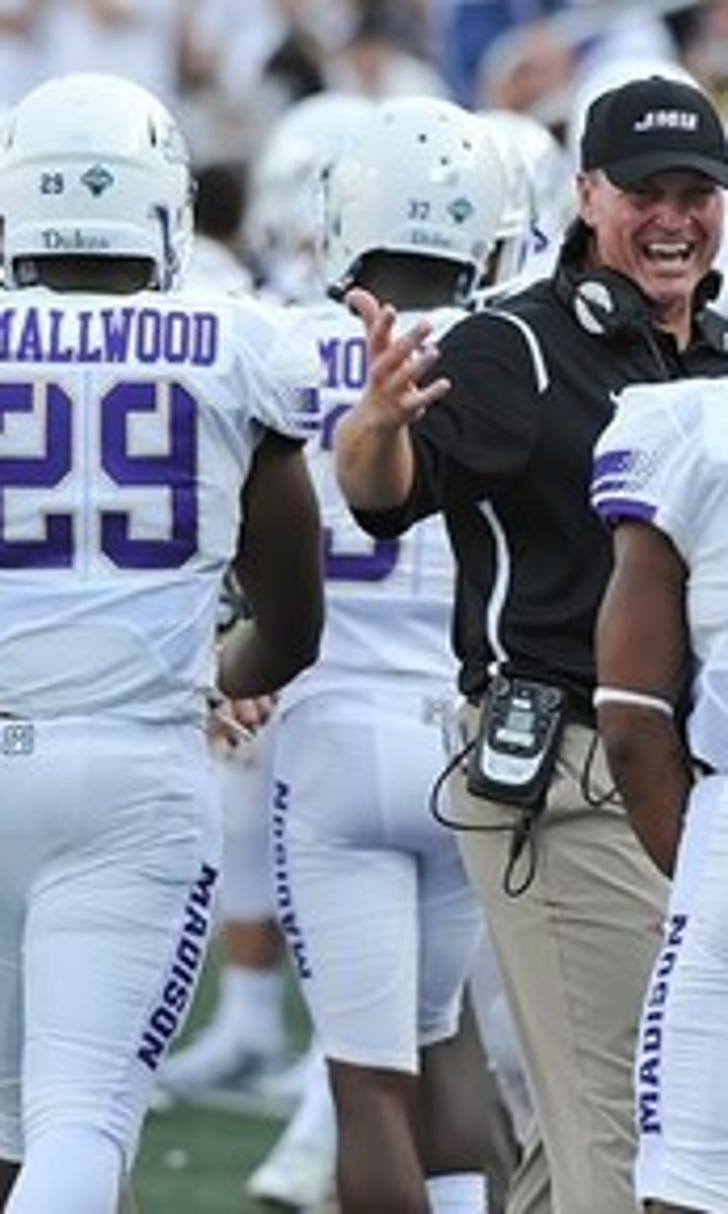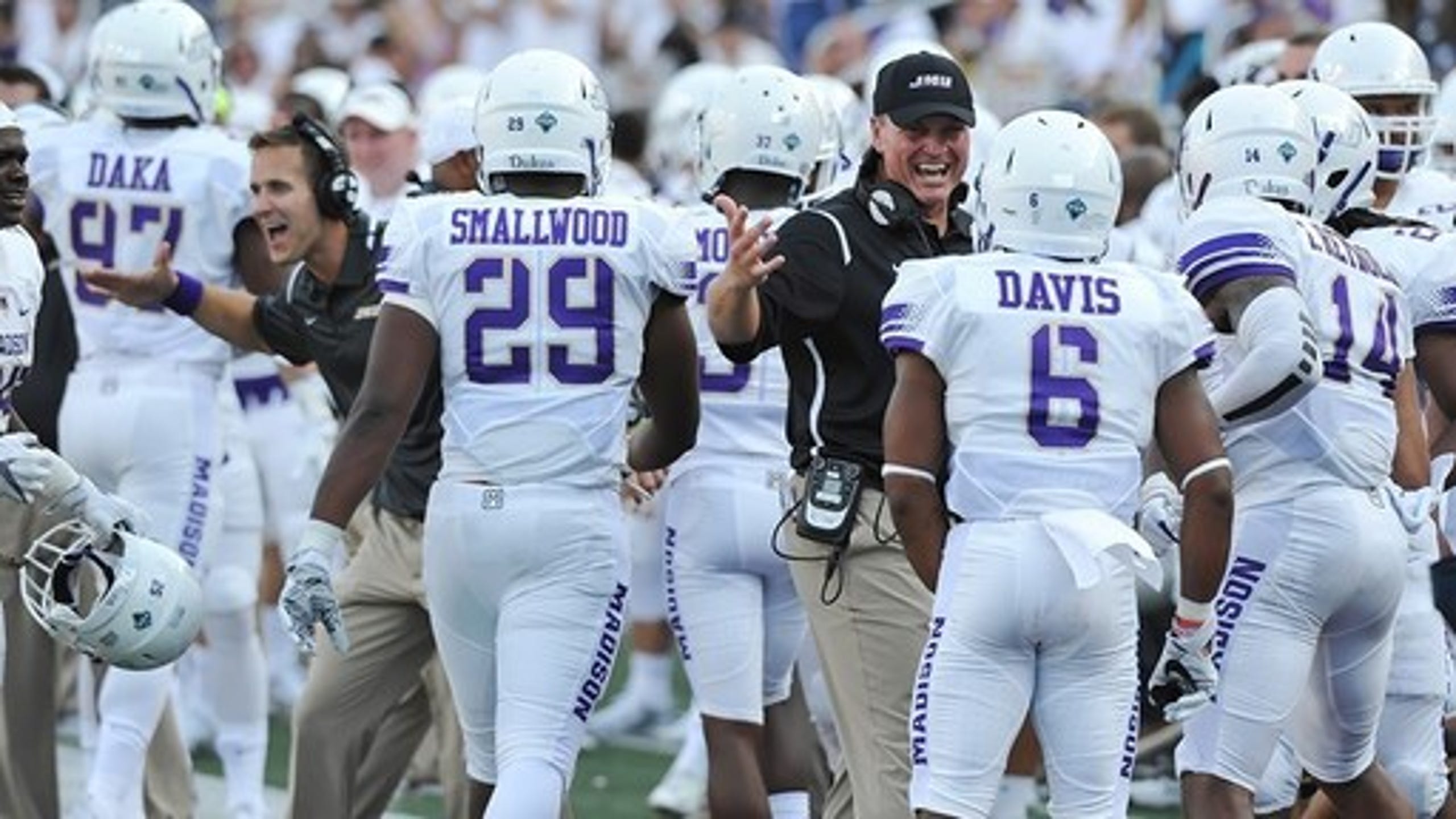 James Madison halts NDSU dynasty, reaches FCS final (Dec 16, 2016)
BY AP • December 16, 2016
(STATS) - North Dakota State's FCS dynasty wasn't halted Friday night because of a fluke play, an official's mistake or anything that could have people questioning the outcome.
No, the top-seeded Bison won't be adding to their record streak of five consecutive FCS national championships because fourth-seeded James Madison simply was the better team in its 27-17 victory in the national semifinals before 18,282 at the Fargo dome.
The Dukes (13-1) basically had to win the game twice. The CAA Football champion built a 17-0 lead in the first half and gave it all away, then overcame North Dakota State's momentum in the second half to win going away at the Bison's usually invincible home field.
In ending NDSU's 22-game playoff win streak, James Madison advanced to the national championship game Jan. 7 in Frisco, Texas against the winner of Saturday's semifinal between Youngstown State (11-3) and No. 2 seed Eastern Washington (12-1).
James Madison captured the 2004 FCS title - 31-21 over Montana - in its only other appearance in the final.
"I came in and I've got a bunch of kids that bought in to what we were teaching and believed in the culture we were trying to create, and I've got a great coaching staff," James Madison first-year coach Mike Houston said.
"It's play as hard as you can every snap, doing things right, it's really a special bunch in there. I could not be more proud of the effort."
NDSU (12-2) hadn't lost in the playoffs since a 38-31 overtime defeat at Eastern Washington in the 2010 quarterfinals, and it was 83-6 since the beginning of the 2011 national championship season. Yet, while the Dukes' win was an upset, it wasn't a shocker. They haven't lost to an FCS opponent, are on an 11-game winning streak and have outscored three opponents in the playoffs 147-46.
Junior quarterback Bryan Schor threw for 242 yards and a touchdown to three different receivers. One went to 5-foot-11, 220-pound senior Khalid Abdullah, who looked like an NFL running back while gashing the formidable Bison defense with speed and elusive cuts for 180 yards on 23 carries.
Defensively, linebackers Dimitri Holloway and Gage Steele were all over the field with 16 and 11 tackles, respectively. North Dakota State managed only 132 rushing yards - 117 below what had been its season average.
"I thought we did a great job running the football up front," Houston said. "Khalid and our offensive line kind of got us going, we got some field position, we were able to control the ball and really keep North Dakota State's offense off the field. And our defense played lights out tonight. What a performance."
James Madison took the lead for good 20-17 on Tyler Gray's career-long 45-yard field goal with 11:46 to play, and Schor extended it on their next possession by connecting with wide receiver John Miller for a 25-yard touchdown.
Gray's go-ahead kick nearly didn't happen. Bison defensive lineman Brad Ambrosius jumped offside when Schor was trying a pooch punt on 4th-and-19 at the Bison 33. The penalty moved the ball to the 28, and the Dukes let Gray try the field goal even though he had never kicked one longer than 33 yards.
"We came in, we knew it was going to be loud, we knew it was going to be a lot of adversity. But we expected to come in here and win," said Abdullah, whose 231 all-purpose yards were a career high.
"Good football player," NDSU coach Chris Klieman said of Abdullah. "We missed some (tackles)."
When James Madison took a 17-0 lead in the first half, it handed North Dakota State the largest deficit of its FCS playoff history - all this decade. The Dukes had touchdown drives of 87 and 72 yards, with Schor sandwiching touchdown passes to tight end Jonathan Kloosterman (14 yards) and Abdullah (10) around a 24-yard field goal by Gray.
But it was the second straight week that North Dakota State erased a double-digit deficit, as it scored the final 36 points of a 36-10 win over South Dakota State in the quarterfinals last Saturday.
NDSU got a much-needed touchdown just before the game reached halftime. Fullback Chase Morlock capped an 11-play drive with a 3-yard run which pulled the Bison within 17-7 with 1:36 left.
They got the ball to start the second half and Cam Pedersen ended the possession with a 45-yard field goal. King Frazier later rushed for a 16-yard touchdown on their second possession, tying the game 17-17.
But the fourth quarter - and the game - belonged to James Madison.
North Dakota State's first win of its first FCS championship season in 2011 was against the Dukes. Ironically, the winning streak ended against the same program.
---
---