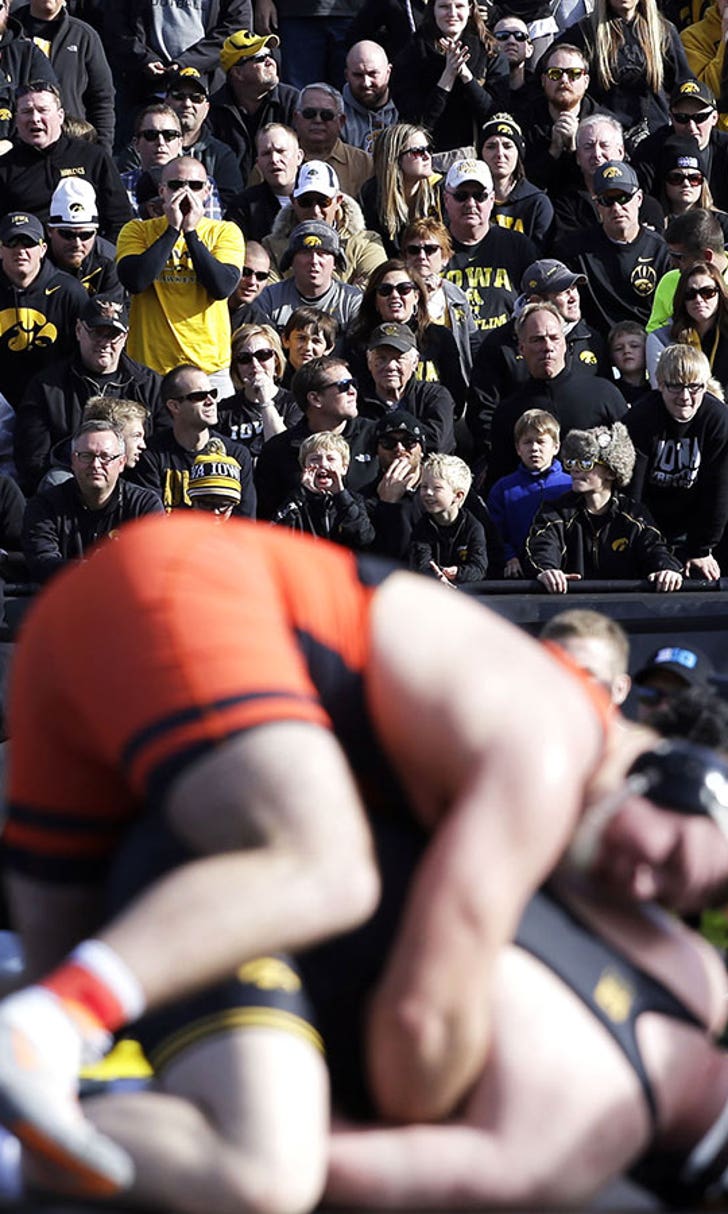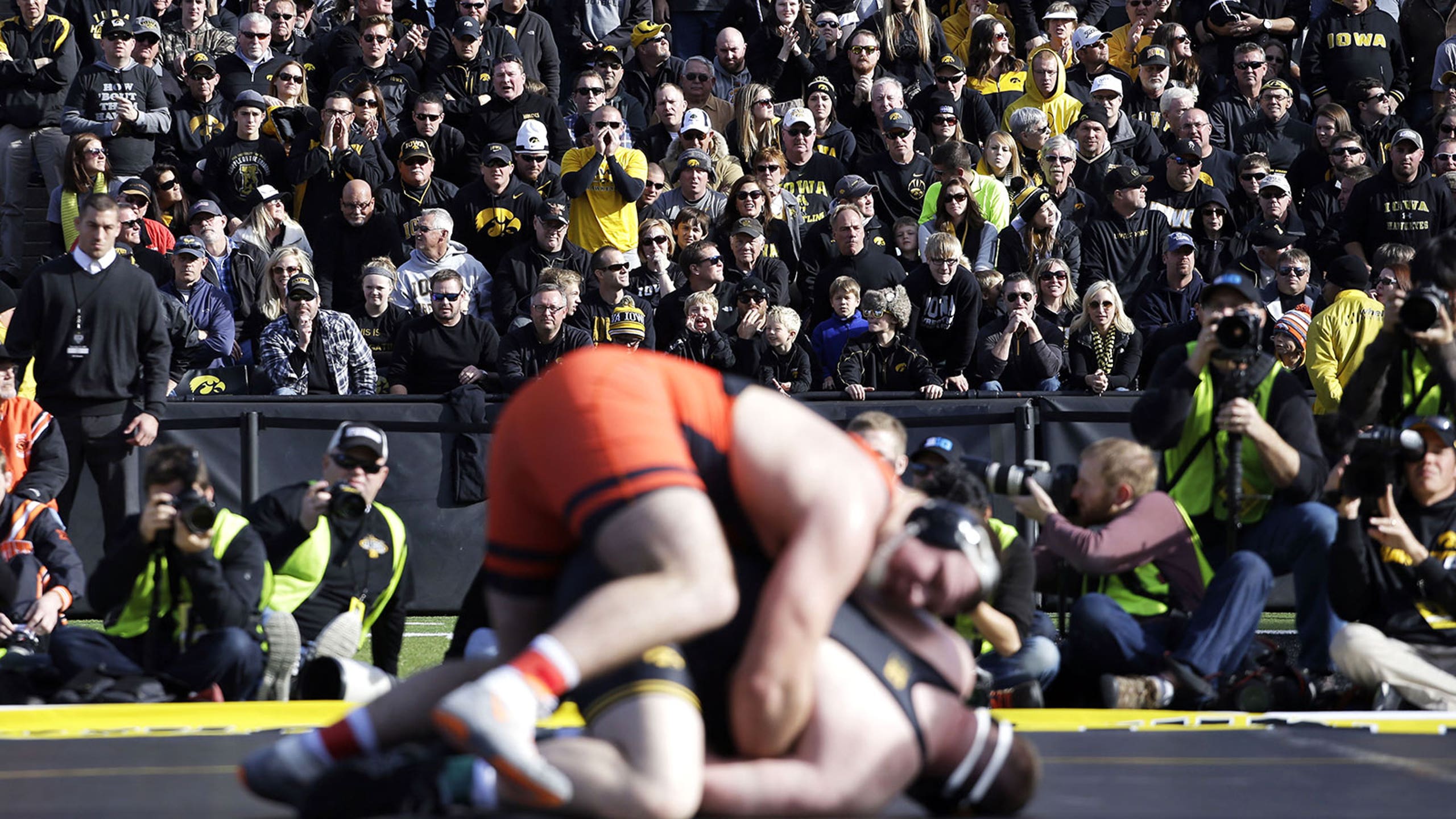 Iowa wrestlers weather low 50s, shatter NCAA outdoor attendance record
BY foxsports • November 14, 2015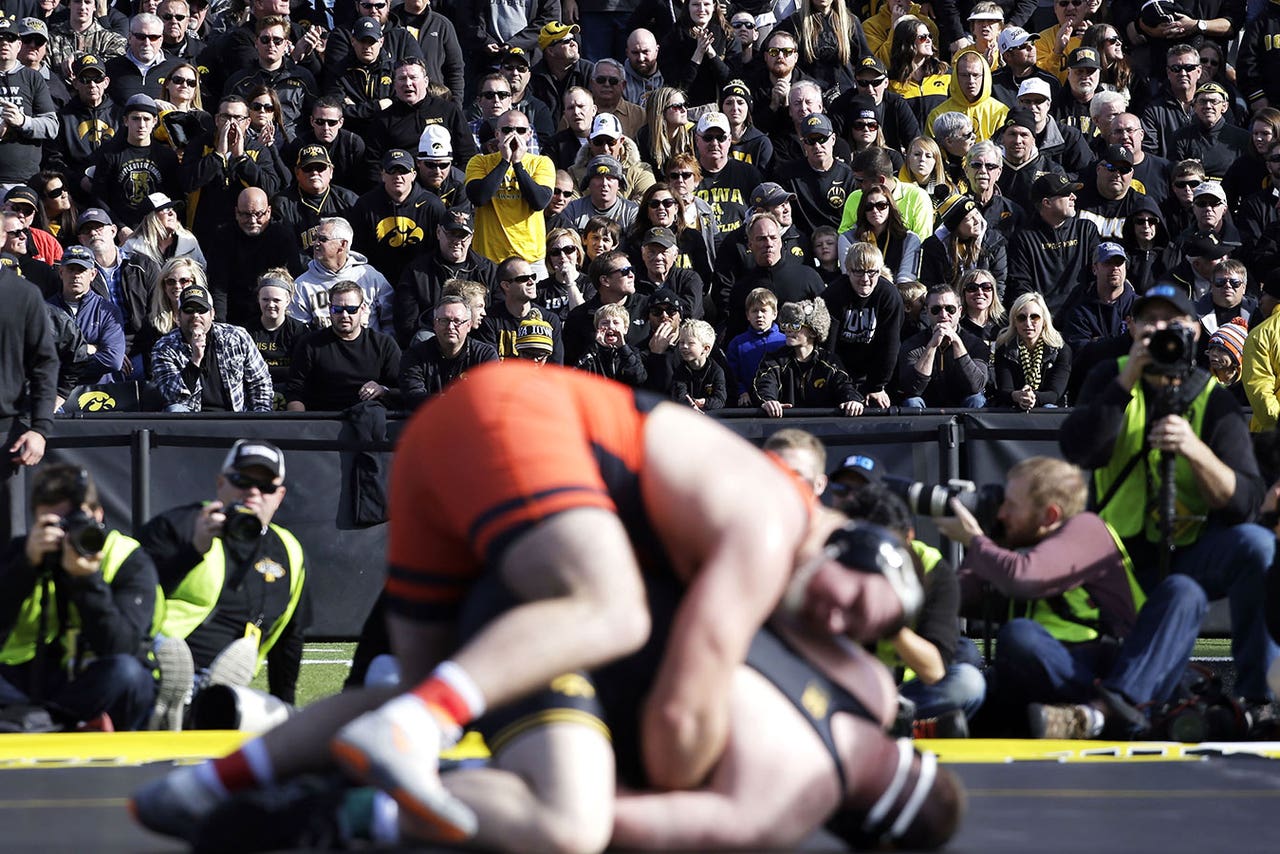 IOWA CITY, Iowa -- The wrestlers entered cavernous Kinnick Stadium in jackets and stocking caps, marching through pyrotechnics as the AC/DC song "Back in Black" blared through the loudspeakers.
The Iowa wrestling team beat top-ranked Oklahoma State 18-16 on Saturday, shattering the NCAA attendance record in front of 42,287 fans at the first meet held in a Division I football stadium.
Penn State set the previous mark of 15,996 in 2013.The boisterous crowd at Iowa is believed to be the biggest ever to see a wrestling match in the U.S.
Hawkeyes coach Tom Brands said the event will resonate internationally for a sport still just three years removed from briefly losing its Olympic status.
"It's great for wrestling. There are people in Russia, in Turkey and Iran that are going to see this as well," said Brands, a gold medalist at the 1996 Atlanta Olympics. "They know about this. This is the city Dan Gable lives in."
Gable won Olympic gold in 1972 before coaching at Iowa for 21 years -- winning 15 NCAA team titles with the Hawkeyes.
The idea of hosting a wrestling match at the 70,000-seat Kinnick Stadium had been kicked around for nearly a decade. But when Penn State broke Iowa's single-match attendance record, Brands quipped "we're going to Kinnick."
Iowa had a special mat marked with football yard lines placed in the south end zone at Kinnick. The crowd filled the end zone seats and stretched some 80 yards to the opposing 20-yard line. Iowa also streamed the event on its massive scoreboards for the many fans that could barely see it live.
Concerns about adverse conditions never came to pass, as sunny skies and temperatures in the low 50s greeted athletes, who said they were impressed by the atmosphere.
"That fire was hot," said Iowa wrestler Sammy Brooks, who flexed his biceps to the crowd after winning his match. "I tried to stay relaxed and focused on the things that I need to do. But it's hard when there are 42,000 screaming fans. You want to get up there with them and go nuts."
Officials set aside special rooms in the bowels of Kinnick Stadium for the wrestlers to keep warm if needed -- though many of them stayed on the bench.
There were contingency plans to move the match to 15,000-seat Carver-Hawkeye Arena, Iowa's home gym, if the weather turned. Instead, fans soaked up the sun while watching their Hawkeyes make history.
"They took a lot of chances (on the weather)," said Hawkeyes fan Kim Trebil, who drove three hours from Clear Lake, Iowa, to watch the event. "We're supposed to get an inch of snow (next Saturday)."
The undefeated No. 8 Iowa football team capped off a big sports day in Iowa City by hosting Minnesota in the evening.
---
---