Here's what college football will look like in 2026
May 16, 2016

What will college football conferences look like 10 years from now?
It's a fun little exercise that stirs up every time realignment returns to the news, which, thanks to the Big 12, is happening all over again. People love speculating about the next fantastical move -- Florida State to the Big 12? Texas to the Big Ten? Oklahoma to the SEC? 
Most scenarios out there continue where we left off in 2010-12 with what many see as an inevitable path toward 16-team super conferences. Bigger is better, right? Heck, why not make five of them?
But those assumptions don't account for major philosophical shifts already taking place both within college athletics, where some administrators already rue various consequences of 14-team conferences (scheduling difficulties, bloated travel costs), and in the softening television rights marketplace. If anything, I expect the next big movement to be contraction, not expansion.
More accurately, call it a consolidation of power.
To be clear, nothing I'm about to prophesize will happen within the next few years because most conference contracts are locked in well into the next decade. And league members in the Big Ten, Pac-12, Big 12 and ACC have signed corresponding Grant of Rights agreements that make it prohibitively difficult for them to jump ship before then.
The next window for mass shuffling will start around 2023, when all five* power conferences' primary rights deals come up within a three-year span. (The Big Ten has not yet formalized its forthcoming TV deals, but reports indicate they will be for six years, ending in 2023. The SEC's contract with CBS expires in 2024, but its ESPN/SEC Network deal is in place through 2034.) Perhaps more important, the College Football Playoff's 12-year contract ends with the 2025 season. As I'm about to outline, the next big realignment shift will go hand in hand with the evolution of the playoff.
Only two years into the four-team system, you can already see what direction the sport is headed. The playoff race now dwarfs all other aspects of the season, including the other bowl games. Last year's Iowa-Stanford Rose Bowl – between two teams that barely missed the playoff -- garnered the bowl's lowest TV rating on record. The Notre Dame-Ohio State Fiesta Bowl, pitting two mega-brands stocked with star power, garnered less than half as many viewers (9.8 million) as the same bowl matchup a decade earlier.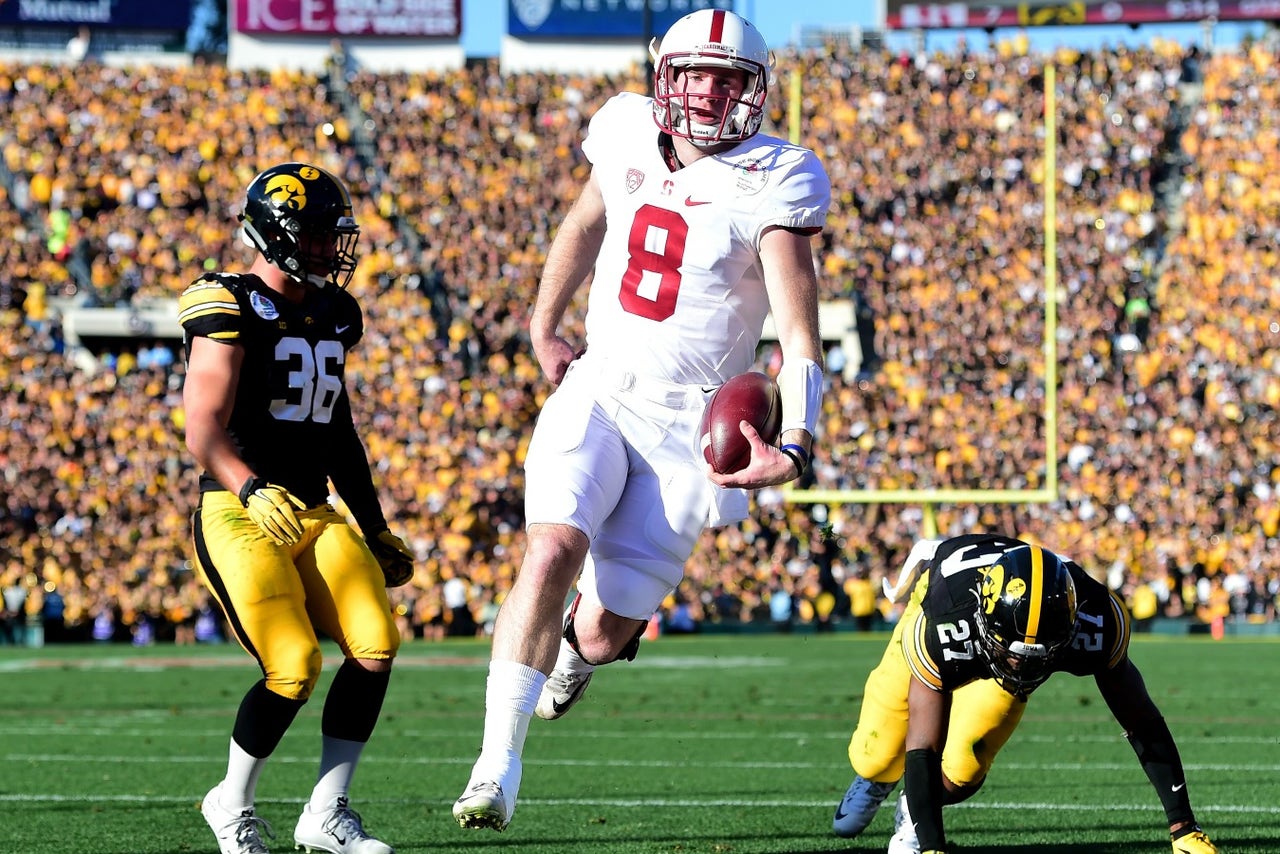 You probably don't remember the Iowa-Stanford Rose Bowl ... because you probably weren't watching it.
The playoff will inevitably expand to at least eight teams, if not more, when the current deal ends, and it will separate completely from the bowl system. Early-round games will be played on campus, just like in the NFL. In turn, our national focus will narrow almost entirely to teams perceived as playoff contenders, which, if we're being honest, comprise fewer than half of the 65 Power 5 schools, and certainly none of the other 63 FBS schools. Sorry, but Wake Forest is no threat to pull a Leicester City anytime soon.
Which brings us to consolidation.
As we know, all revolves around the mighty TV dollar, but the TV business is drastically changing. Who knows how we'll be watching sports in 10 years, but it likely won't be via the current bundled cable model. At the very least, consumers will be able to decide for themselves which media entities (ESPN, FS1, NCBSN, etc.) they're willing to pay for. Or perhaps no longer will be a middleman and you will purchase game broadcasts straight from the leagues themselves to stream on your own device.
Whereas the last round of realignment was driven by inventory -- bundle together as many schools from as many markets as possible to command the highest possible subscriber fees -- the next round will be more about content. Put on the biggest possible games to garner the largest possible audience because the viewers themselves will become the buyers rather than Comcast or Time Warner.
To that end, the best possible way for an Ohio State or Alabama to maximize its value will be to shed the six or so games a year that only its own fans care about and turn every game into a national event. I'm talking one 24-team "conference" of only the biggest names in the sport, funneling exclusively into the College Football Playoff.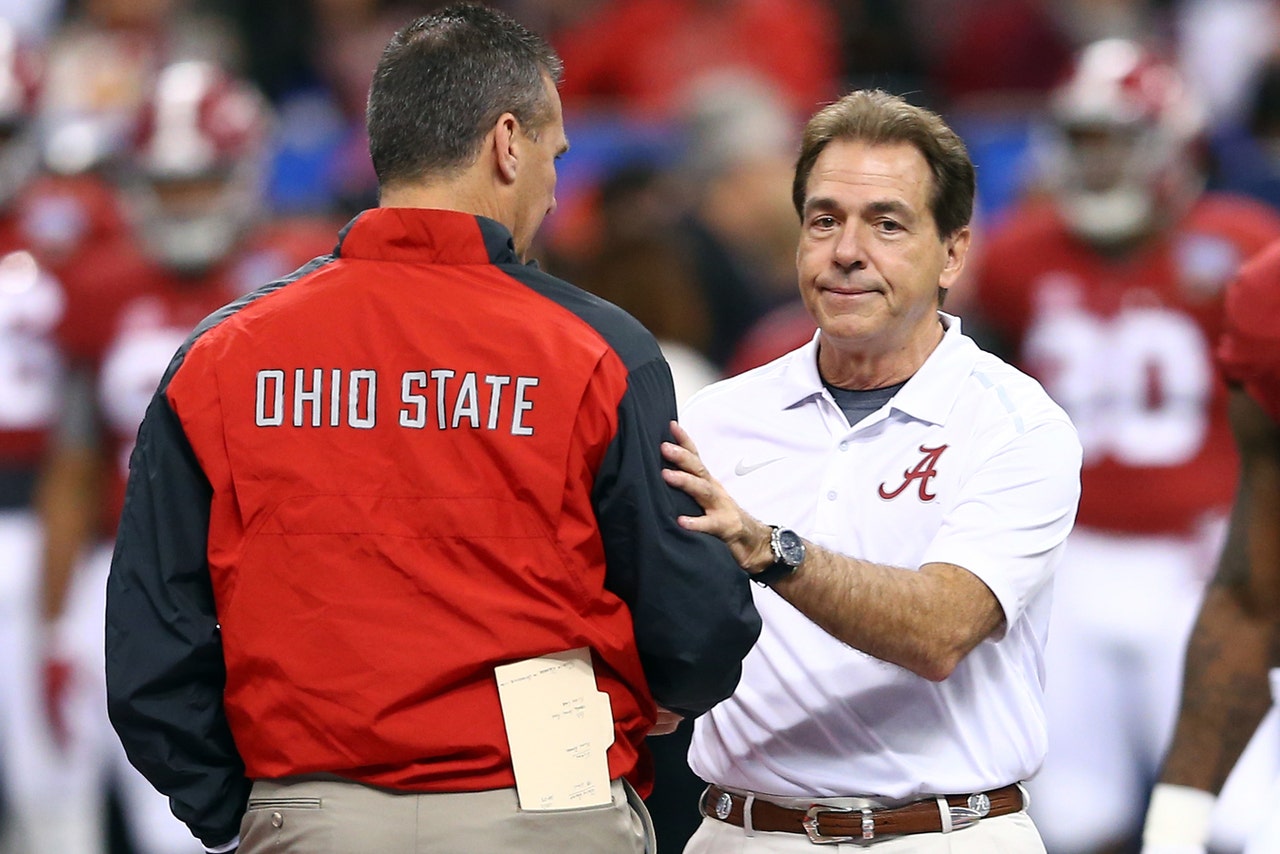 Nick Saban and Urban Meyer may not still be coaching in 10 years, but it's a good bet Alabama and Ohio State will still be powers.
Call it the College Football Playoff Confederation.
Think Champions League in soccer, only these "clubs" won't play another season. In fact, the Confederation may not even fall under traditional NCAA purview. UCLA could still compete as an NCAA member in the Pac-12 or Michigan in the Big Ten in all other sports, but for football, the biggest revenue-drivers would pool together into their own conglomerate.
Of course, I can't winnow down the 65 current Power 5 schools to 24 without hurting some feelings. While many of the names are obvious (USC, Texas, etc.), others will surely elicit outrage from fans of schools excluded at their expense. But the overriding goal is to bring together the 24 most appealing programs from both a TV and competitive perspective.
Which means this list would likely look different by 2026, but as of 2016, the 24 are …
There's nothing I can say here that will appease jilted Oklahoma State or South Carolina fans, but here's the general criteria these schools meet: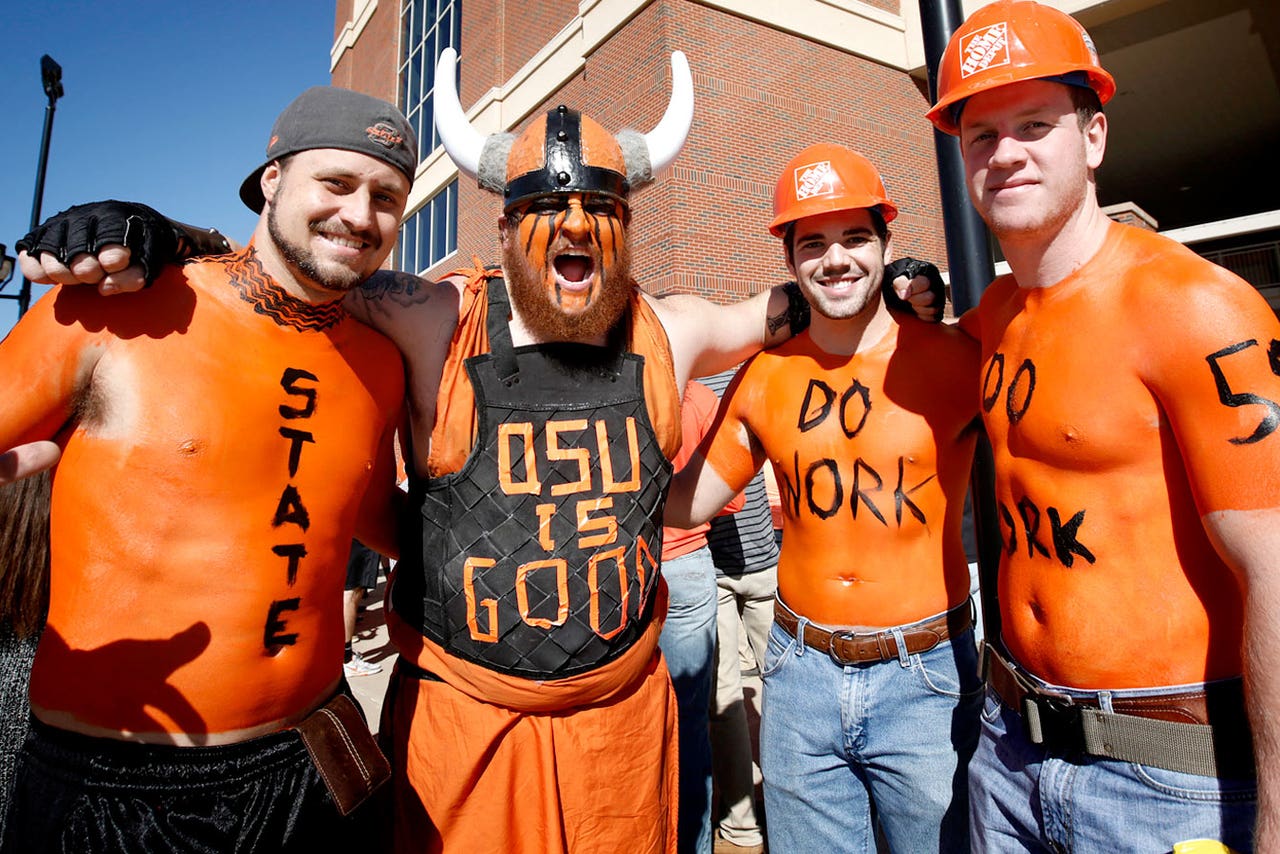 Sorry, Oklahoma State fans, there won't be room for everyone.
•  All 24 have either won or played for a national title, or at the very least appeared in a BCS bowl, since that system began in 1998.
•  Nineteen ranked among the 24 biggest national fan bases in a 2011 study by statistician Nate Silver.
•  All but three ranked among the top 24 nationally in average attendance last season.
•  All of ESPN's top 15 markets for college football broadcasts last season, as well as 12 of the nation's 20 largest TV markets, are represented.
Here's how the thing would work.
First of all, we'd split it into four divisions.
•  Each team plays five games against its divisional foes, six games against other divisions (two teams from each, predetermined like in the NFL) and one game against whoever it wants from any level, be it an old rival that didn't make the cut for this list or an FCS bodybag foe.
2026 PROPOSED DIVISIONS
| | | | |
| --- | --- | --- | --- |
| East Division | Midwest Division | South Division | West Division |
| Penn State | Notre Dame | Alabama | USC |
| Miami | Ohio State | Auburn | UCLA |
| Florida State | Michigan | Tennessee | Oregon |
| Florida | Michigan State | Arkansas | Stanford |
| Georgia | Nebraska | LSU | Texas |
| Clemson | Wisconsin | Texas A&M | Oklahoma |
•  The top two teams in each division make the playoff. No committee or BCS formula needed. You could also easily expand the playoff to 12, with the champion of each division getting a first-round bye.
•  And just like in pro sports leagues, the Confederation, not the individual conferences/divisions, holds the TV rights for every regular-season and playoff game between any of these teams.
So the question becomes, how much would fans pay for the ability to watch every major college football game of the season, including an eight-team playoff, on any device? I'm guessing a whole lot more than they would for a Big Ten-only package that includes Ohio State-Michigan but also Rutgers-Howard. Especially if they're no longer paying $150 a month for cable channels they don't watch.
Let's set the price hypothetically at $250 -- the same as DirecTV's NFL Sunday Ticket. And let's say 11 million people – about the number that watched last year's LSU-Alabama game – sign up. The cut for each of the 24 schools would be a staggering $114.6 million. That's nearly three times what Big Ten schools are projected to make ($40 million-plus) when they reset the market next year.
There are admittedly issues that come with this. First of all, I assume the rules against compensating college athletes will look much different by 2026 because there's no way to justify cutting the players out of $114.6 million. There's also the issue of player safety -- the champion would potentially play 15 straight games against top-level competition. If this is indeed separate from the NCAA, then theoretically the schools could devise their own scholarship limits and eligibility standards.
But frankly, devising specific rules of a sport is not the intent of this article; rather, it's illustrating a new vision for realignment.
So as the Big 12 continues to debate the merits of adding Cincinnati, UCF or Houston and starting a conference network, know that way of thinking may soon become a relic. It's fine as long as the traditional linear cable business remains dominant. By 2026, though, we'll all be much choosier about what content we pay for.
If you care enough about college football to be reading this story, I'm guessing you'll choose watching the best of the best play one another from September through the championship game.
* -- The Big Ten has not yet formalized its forthcoming TV deals, but reports indicate they will be for six years, ending in 2023. The SEC's contract with CBS expires in 2024, but its ESPN/SEC Network deal is in place through 2034.
---
---