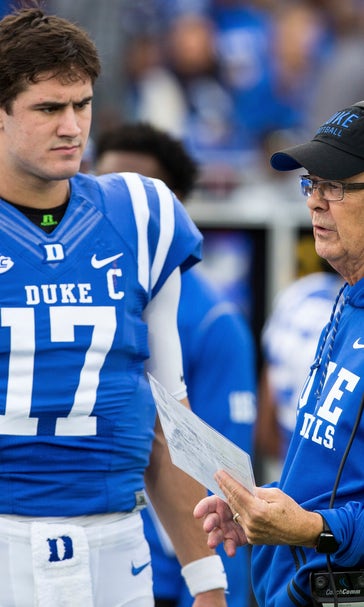 Duke wants to keep last year's roll going into 2018
August 16, 2018
DURHAM, N.C. (AP) — Duke wants to keep the momentum of last season — and the last few seasons, really — rolling through this year.
The Blue Devils are hoping that a strong finish to 2017 will be the springboard to even bigger things this season.
And it helps that a bunch of players who led last year's turnaround are back: 18 starters return from the team that rallied to win its last two games and earn bowl eligibility, then beat Northern Illinois in the Quick Lane Bowl to finish 7-6.
"Everybody talks about their team's chemistry. Chemistry is only built through being great teammates, so that's the most critical thing we do starting in January," coach David Cutcliffe said. "You come back from a bowl victory hopefully, but you've got a whole brand new football team. You do have to replace starters. But if you've got a good football program, it's not done with people who haven't been around, that they don't know each other, they don't know what's required from them."
Duke has two bowl wins in three years after not winning a postseason game since 1961, has reached the postseason in five of the last six years and will look to keep it going, starting with the opener Aug. 31 against Army.
"As a team it was important for us to kind of find a way to right the ship and finish the season strong last year," said third-year starting quarterback Daniel Jones. "I think we've talked about a lot of people in the same positions last year went through that kind of correction toward the end of the season. That was valuable experience for all of us to go through that, and I think that'll be big for us going into next season."
Jones has his full complement of receivers back, including elusive wideout T.J. Rahming. The running game shouldn't miss a beat with promising redshirt sophomore Brittain Brown replacing Shaun Wilson. And though only two starters are back on the offensive line, Jones calls this the most talented line that's blocked for him.
"I think when your quarterback can say that confidently, he believes in those young people," Cutcliffe said. "They believe in him."
Some other things to know about the 2018 Duke Blue Devils:
TOUGH D: Duke returns eight starters — including the entire linebacking corps — from a defense that must adjust to some new leadership after longtime coordinator Jim Knowles left for Oklahoma State and Cutcliffe made Ben Albert and Matt Guerreri the co-coordinators . "The sky's the limit for this group," third-year starting linebacker Joe Giles-Harris said. "We're excited. You get a little bit of noise talked about you, but that doesn't really mean much until you have to get out there and play football."
AUSTIN'S BACK: Kicker-punter Austin Parker is back on the team , after he was dismissed before the bowl game for violating unspecified university academic policy. Parker was 17 of 21 on field goals last season and 33 of 35 on extra points, and also averaged 42 yards per punt. Cutcliffe says Parker is "very fortunate to be where he is right now. He knows that. His maturity, his growth could impact the 2018 team."
KEY ADDITION: Center Jack Wohlabaugh was granted an NCAA waiver to play this season after transferring from Ohio State. That could help fill those vacancies along the offensive line. He's listed as the backup to redshirt senior Zach Harmon in the mix to replace two-year starter Austin Davis. Wohlabaugh has three seasons of eligibility remaining.
KEY GAMES: Duke visits Northwestern on Sept. 8 and plays host to Virginia Tech on Sept. 29. The ACC's rotating cross-divisional schedule gives the Blue Devils a trip to defending league champion Clemson on Nov. 17.
SEASON OPENER: The Blue Devils begin Sept. 31 with a visit from Army.
---
---