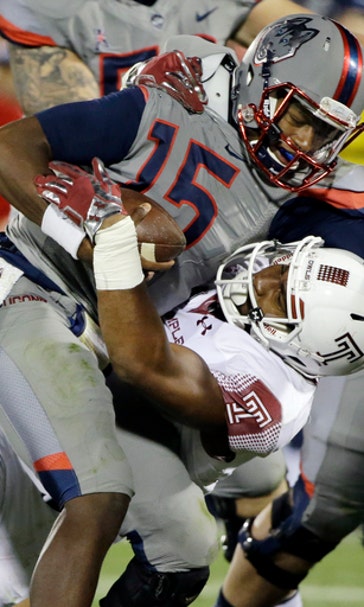 Draft Diary: Reddick's path to NFL started as Temple walk-on
February 18, 2017

As a walk-on at Temple, Haason Reddick earned a starting spot before he got a scholarship.
Reddick's father says his son was tempted at times during his college career to give up football and get a job instead of burdening his parents with tuition payments.
''He loved the game, but he was ready to let the game go,'' said Raymond Williams, Reddick's father.
As recently as two years ago, playing in the NFL seemed to be a long shot for the defensive back-turned-defensive end. Now after a dominant final season and a stellar showing at the Senior Bowl, Reddick could be a first-round draft pick.
''I always knew that I had the talent, always knew I could get here, always thought the NFL was possible for me,'' Reddick said this week.
At first glance, Reddick seems like a typical late bloomer: a walk-on cornerback who bulked up and blossomed into a star after getting not one scholarship offer in high school.
Williams does not see his son that way. He said Reddick was always physically advanced. Williams said Reddick was walking when he was 8 months old, moving toys and obstacles as big as he was out of the way.
''He was like our Bamm-Bamm. Bamm-Bamm from Flintstones,'' Williams said.
Growing up in Camden, New Jersey, Reddick ran track and played basketball. He also liked to box.
''He liked the contact,'' Williams said. ''Football was his main focus.''
Reddick was a promising athlete, but leg injuries in high school held him back as a junior and cost him most of his senior year. He had no tape to impress recruiters. With the help of then-Temple assistant coach Francis Brown, also from Camden, Reddick got a chance with the Owls.
When Matt Rhule took over as coach at Temple from Steve Addazio in 2013, Reddick's work ethic finally caught the staff's attention.
''Haason's a young man who was never afraid to practice,'' said Rhule, who left Temple after last season to go to Baylor. ''It was his willingness to lift. It was his willingness to practice and to be coached. He's extremely intelligent in the classroom and on the football field.''
Reddick's athleticism and versatility allowed Temple coaches to move him around the field, and eventually he found a home as a speed-rushing defensive end at 6-foot-1 and 230 pounds.
''My junior year, that's when it really hit,'' Reddick said.
Reddick earned his first major playing time in 2015 and had five sacks for a defense that produced three NFL draft picks, including All-America linebacker Tyler Matakevich. Reddick was starting for a 10-win team and still paying tuition.
Finally, before his senior season, he was put on scholarship, and he earned every bit of it and more on the field. Reddick was the star of another highly rated Temple defense. He led the nation with 22 1/2 tackles for loss, including 10 1/2 sacks.
An invitation to the Senior Bowl followed. In Mobile, Alabama, scouts wanted to see if Reddick could play a more traditional linebacker role, dropping into coverage, roaming sideline to sideline and lining up inside.
He impressed enough to have some evaluators talking about him as a first-round choice.
''Reddick's size likely makes him a linebacker on first and second downs, but he's able to line up all over the field as a kind of defensive chess piece,'' said Matt Miller, Bleacher Report's lead NFL draft analyst and scout. ''I see him as a late first-round pick to a team like New England that would use his speed and versatility in a number of ways.''
Reddick has been working out at Exos in Phoenix, preparing for the NFL combine in Indianapolis from Feb. 28-March 6.
''I worked hard last offseason, had a great senior season, came down to the Senior Bowl and performed well there,'' Reddick said. ''Everything has gone up and up and up since then, my draft stock, the buzz around me for the NFL. It's just gone as good as it can go.''
---
AP Sports Writer John Marshall in Phoenix contributed to this report.
---
Follow Ralph D. Russo at www.Twitter.com/ralphDrussoAP
---
More coverage at http://pro32.ap.org/ and http://collegefootball.ap.org/
---
---