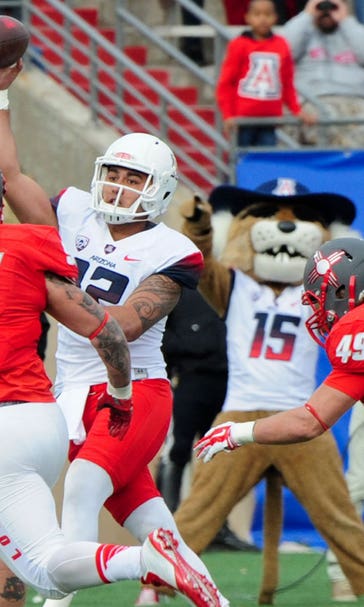 Arizona holds off pesky New Mexico in New Mexico Bowl
December 19, 2015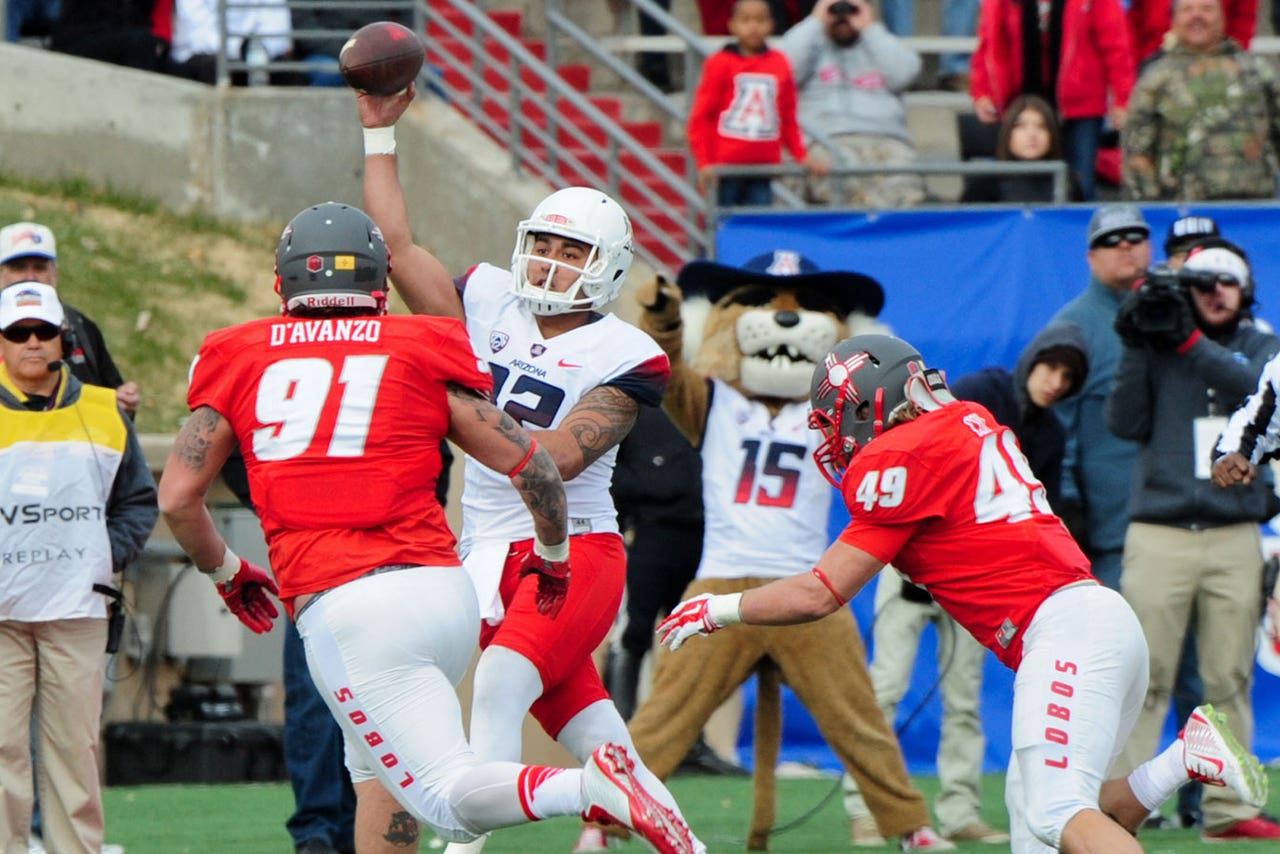 ALBUQUERQUE, N.M. -- At the beginning of the season, Arizona began with much promise after a previous Pac-12 championship appearance and a 3-0 start. The Wildcats were hit with injuries to quarterback Anu Solomon and All-America linebacker Scooby Wright III.
On Saturday, both came back to help Arizona (7-6) hold off pesky New Mexico 45-37 in a wild New Mexico Bowl.
Solomon threw for two touchdowns and rushed for another score against New Mexico (7-6) in a game that saw New Mexico surge late after being down as many of 18 points. Wright had two sacks and 11 solo tackles.
After the game, Wright announced he would enter the NFL draft.
Arizona's high-temp offense needed only 19:08 minutes of possession time to overwhelm New Mexico in the Lobos' first bowl appearance since 2007.
"We knew we were going to have limited possessions. And we felt like with the limited number of plays and possessions we would have, we would have to make the most of it," Arizona coach Rich Rodriguez said.
Jared Baker ran for 107 yards and three touchdowns, and Cayleb Jones had 182 yards receiving and a touchdown.
"Watching film, it was pretty much man to man," said Solomon, who came back from concussion to play. "Cayleb and the other receivers did a great job of getting open and I just had to get them the ball."
For Arizona, the New Mexico Bowl win comes just a year after Arizona eyed a playoff spot. Rodriguez said a bowl appearance and a victory was just fine for the team.
"We had a lot of adversity this year and to finish it off with a win on the road, a bowl win, a road win, and for our seniors to finish with a winning record is pretty neat for them," said Rodriguez, marking his fourth consecutive bowl appearance with the Wildcats.
Meanwhile, New Mexico quarterback Lamar Jordan rushed for three touchdowns and threw a 92-yard touchdown pass to Delane Hart-Johnson before leaving in the third quarter with a knee injury. However, Jordan tossed two key interceptions -- one in Arizona's end zone and another deep in New Mexico territory.
After Jordan's departure, the Lobos then turned to a committee of running backs to get New Mexico back in the game.
Still, Arizona was able to hold star running back Jhurell Pressley to 75 rushing yards and no touchdowns.
"Credit to Arizona. Those receivers are different and unique," New Mexico coach Bob Davie said. "I thought their quarterback played extremely well coming off an injury."
It was New Mexico's first bowl game appearance under Davie, a former Norte Dame head coach who took over the program in 2012. The game at its home-field New Mexico Bowl had excited the city of Albuquerque following the long bowl drought.
"Again, big picture-wise this is just a start for us," Davie said. "Obviously, we have to get better. But it's encouraging."
Arizona is 9-10-1 in bowl games. New Mexico fell to 3-8-1 in the postseason.
---
---