Big 12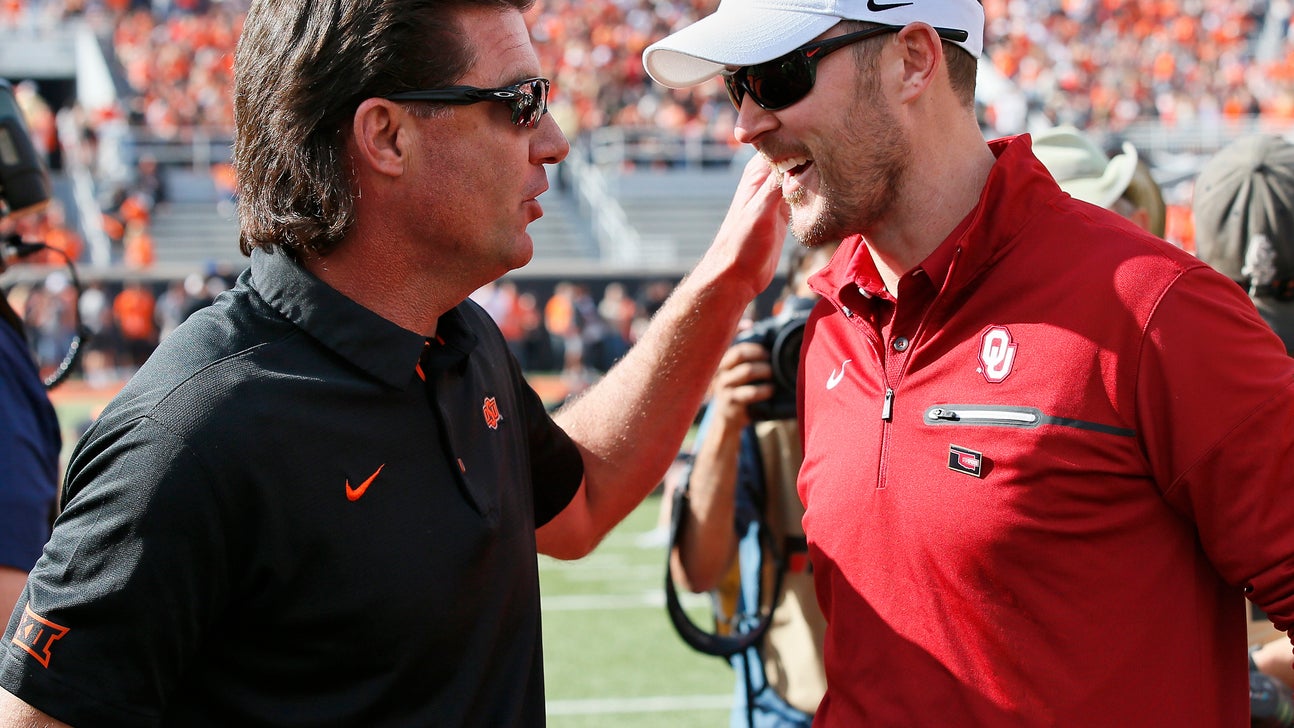 Big 12
4 teams, 3 weekends, 2 big games for 1 Big 12 title rematch
Updated
Mar. 4, 2020 8:23 p.m. ET
There are four legitimate contenders, three weekends of games and two big head-to-head matchups that should go a long way in determining the Big 12 championship game rematch.
Big 12 co-leaders No. 6 Oklahoma (8-1, 5-1 Big 12, No. 6 CFP) and No. 7 West Virginia (7-1, 5-1, No. 9 CFP) still have to play each other in the regular season finale. No. 15 Texas (6-3, 4-2, No. 9 CFP) and No. 23 Iowa State (5-3, 4-2, No. 22 CFP), currently tied for third place, will play next week in Ames.
That leaves two other games for each of those teams, and chances for things to go awry while trying to reach the Dec. 1 title game in Arlington, Texas — and for the Sooners and Mountaineers maybe even a shot at the College Football Playoff.
Going into the final stretch of the Big 12 round-robin schedule — six conference games down, three to go for all 10 teams — here are some of the scenarios to get into the championship game:
DIRECT PATH
Oklahoma, led by quarterback Kyler Murray , gets to play for its record-extending 12th Big 12 title with a sweep of the next three games. The Sooners, trying to be the first team ever to win four Big 12 championships in a row, will be heavy favorites against Oklahoma State and Kansas before the anticipated showdown in Morgantown.
Will Grier, another Heisman Trophy contender, and West Virginia are in the same situation in being able to lock in a championship game berth with three more wins. The Mountaineers host TCU and go to Oklahoma State before hosting Oklahoma the day after Thanksgiving.
If the Sooners or Mountaineers can win out, including the title game — which could mean beating the same top 10 team in consecutive weeks — the Big 12 champion could be a viable one-loss option when the CFP selection committee meets to determine the national semifinal matchups.
MIXED-UP RESULTS
With either Oklahoma or West Virginia guaranteed to have a second conference loss, and Texas or Iowa State (but not both) still able to finish with two losses, a tiebreaker could come into play to determine the second team going to play in the home stadium of the NFL's Dallas Cowboys. Texas would have the head-to-head tiebreaker over Oklahoma after beating the Sooners at the State Fair of Texas in early October. But the Longhorns lost at home to the Mountaineers when Grier ran for a game-winning 2-point conversion last week.
The Cyclones, who have a four-game winning streak with freshman quarterback Brock Purdy, lost to Oklahoma in their league opener Sept. 15. But they beat WVU 30-14, the only time the Mountaineers have scored fewer than 35 points. Texas plays at Texas Tech, and Iowa State is home against Baylor this Saturday. The Longhorns finish at Kansas, and the Cyclones against K-State.
ALL TIED UP
While it would take an upset, or two or three, along with a certain combination of outcomes, the current top four teams could all finish 6-3 in conference play. That would send the Big 12 tiebreaker system into overdrive to figure out who would play for the league title without a CFP shot but a guaranteed New Year's Six Bowl slot. There was an even more far-fetched possibility last season, when six teams could have wound up 6-3. But that didn't happen, and no tiebreaker was needed to set up the title game matchup between 8-1 Oklahoma and 7-2 TCU.
NEED A LOT OF CHAOS
Only Kansas and Kansas State (both 3-6, 1-5) have been mathematically eliminated from Big 12 title contention. Baylor and Texas Tech (5-4, 3-3) are guaranteed to play at the site of the championship game — they play each other at AT&T Stadium on Nov. 24. Either would need a lot of help to return there the following week. Both play Saturday against teams ahead of them in the standings. The Bears go to Iowa State, and the Red Raiders are home to play Texas.
Oklahoma State (5-4, 2-4) has a much better chance of playing spoiler — with games against Oklahoma and West Virginia — than getting to Arlington. The Cowboys, like TCU (4-5, 2-4), would have to win out — they play each other the last weekend — and need a lot of unlikely outcomes to be in the title mix.
LET'S GO BOWLING
The Big 12 has seven guaranteed bowl spots, and nine teams still could get to the six overall wins for bowl eligibility. There is a bowl elimination game Saturday in the Sunflower State. The Jayhawks-Wildcats loser will be the first Big 12 team with seven losses this season.
---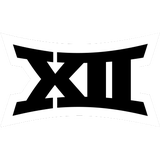 Get more from Big 12
Follow your favorites to get information about games, news and more
---