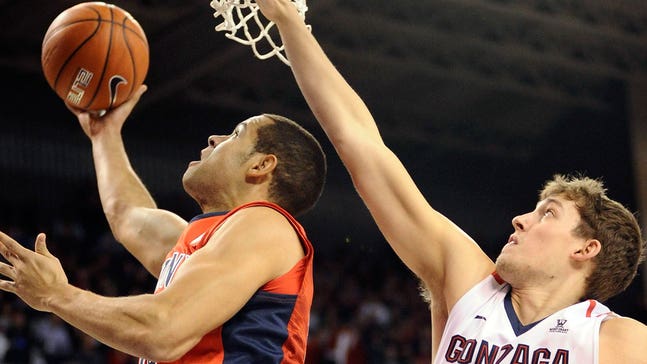 York leads No. 19 Arizona to 68-63 win over No. 13 Gonzaga
Published
Dec. 5, 2015 6:54 p.m. ET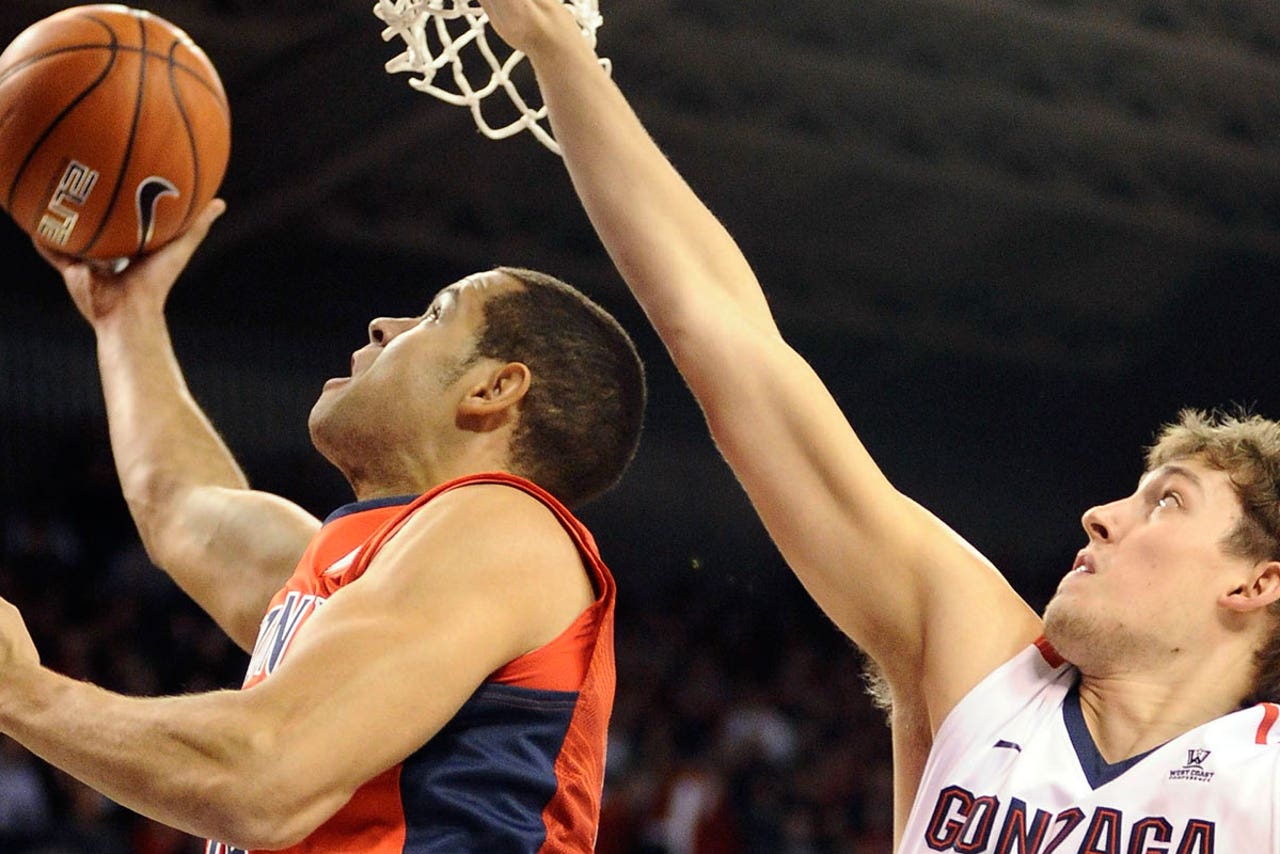 SPOKANE, Wash. — Sean Miller keeps a tally of how a game is going based around 4-minute segments and for one of the rare times, Arizona lost every one of those segments to Gonzaga in the first half on Saturday.
''Very seldom have we been 0 for 5. Usually you get one of them.'' Miller said.
Thanks to the shooting of Gabe York and key contributions from freshman Allonzo Trier the 19th-ranked Wildcats won each of those segments in the second half and walked out of The Kennel with a 68-63 victory over the 13th-ranked Bulldogs.
York scored 14 of his 18 points in the second half, including an 11-point flurry in the first 6 minutes of the second half that gave the Wildcats (7-1) an opportunity to overcome a 10-point halftime deficit. Trier added 14 points, including two key baskets in the last 10 minutes that gave Arizona the lead then helped extend it.
Arizona became the first non-conference team to win in Spokane since Illinois in 2012 and handed Gonzaga just its 13th home loss overall since the McCarthey Athletic Center opened in 2004.
''Gabe gave us a chance to win by him making shots the way he did and his confidence,'' Miller said. ''He's played in a lot of games and been in this type of atmosphere and environment throughout his career and I think there is something to be said for that.''
Kyle Wiltjer scored 33 points — second-most in his career — and Domantas Sabonis added 18 points and 16 rebounds but the Bulldogs (5-2) got little help from others in losing for the second time in eight days. No other Gonzaga player scored more than six points and the Bulldogs committed 16 turnovers.
Gonzaga went cold late, missing 12 of its final 13 shots and scoring seven points over the final 11:25.
''We were definitely the aggressors in the first half at both ends . we were proactive,'' Gonzaga coach Mark Few said. ''In the second half, we were reactive, and Arizona did a good job. They became the aggressor at both ends.''
York and Arizona leading scorer Ryan Anderson both had forgettable first halves. Anderson had just two points, both at the free throw line, while York made the unfortunate decision of trying to dunk on Sabonis and watching the blocked dunk turn into an easy basket for Wiltjer at the other end.
Even with York getting hot early in the second half, the Wildcats still trailed 50-42 after Josh Perkins' three-point play with 14:42 to play. But the Wildcats outscored Gonzaga 26-13 the rest of the way. Arizona pulled even at 50 and after the teams scored on six straight possessions to stay tied at 56 and Trier finally gave Arizona its first lead since the opening minutes at 59-58 on a driving layup with 8:18 left.
Arizona extended the lead to 66-61 with 3 minutes left before Wiltjer followed his own miss and scored for what proved to be Gonzaga's final points. Anderson then scored in the lane with 20 seconds left to clinch the victory. Anderson finished with 13 points.
''Our team took a step forward today in understanding if we're willing to work as hard as we can on the court and leave it out there the sky is the limit for this team,'' York said.
INJURED LIST
It was Arizona's first game since learning that center Kaleb Tarczewski would miss four to six weeks with a stress reaction and strained muscle in his left foot. Tarczewski was in a walking boot watching his teammates, but also a spectator was Gonzaga big man Przemek Karnowski sitting out his second straight game with back spasms.
''Now that we've had a breakthrough and got a win up here I hope it will give us some confidence at a really crucial time. When you lose a key player it doesn't always go smooth right away,'' Miller said.
TIP-INS
Arizona: The Wildcats were outrebounded for the first time this season after dominating the glass in their first seven games. Gonzaga held a 41-40 edge. ... Arizona held Gonzaga to three 3-pointers.
Gonzaga: The Bulldogs are 2-1 against Pac-12 schools this season having already beaten Washington and Washington State. Gonzaga hosts UCLA next Saturday. ... The Bulldogs dropped to 4-1 when Sabonis scores in double figures.
UP NEXT
Arizona: hosts Fresno State on Wednesday.
Gonzaga: hosts Montana on Tuesday.
---
---