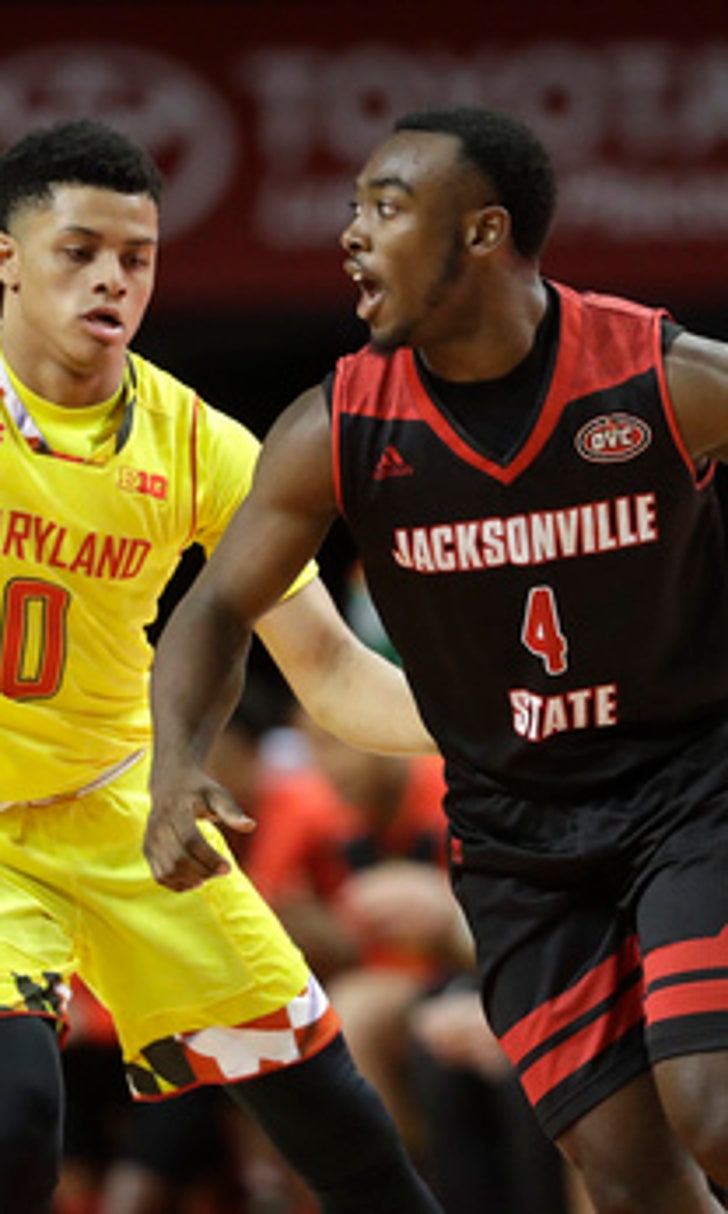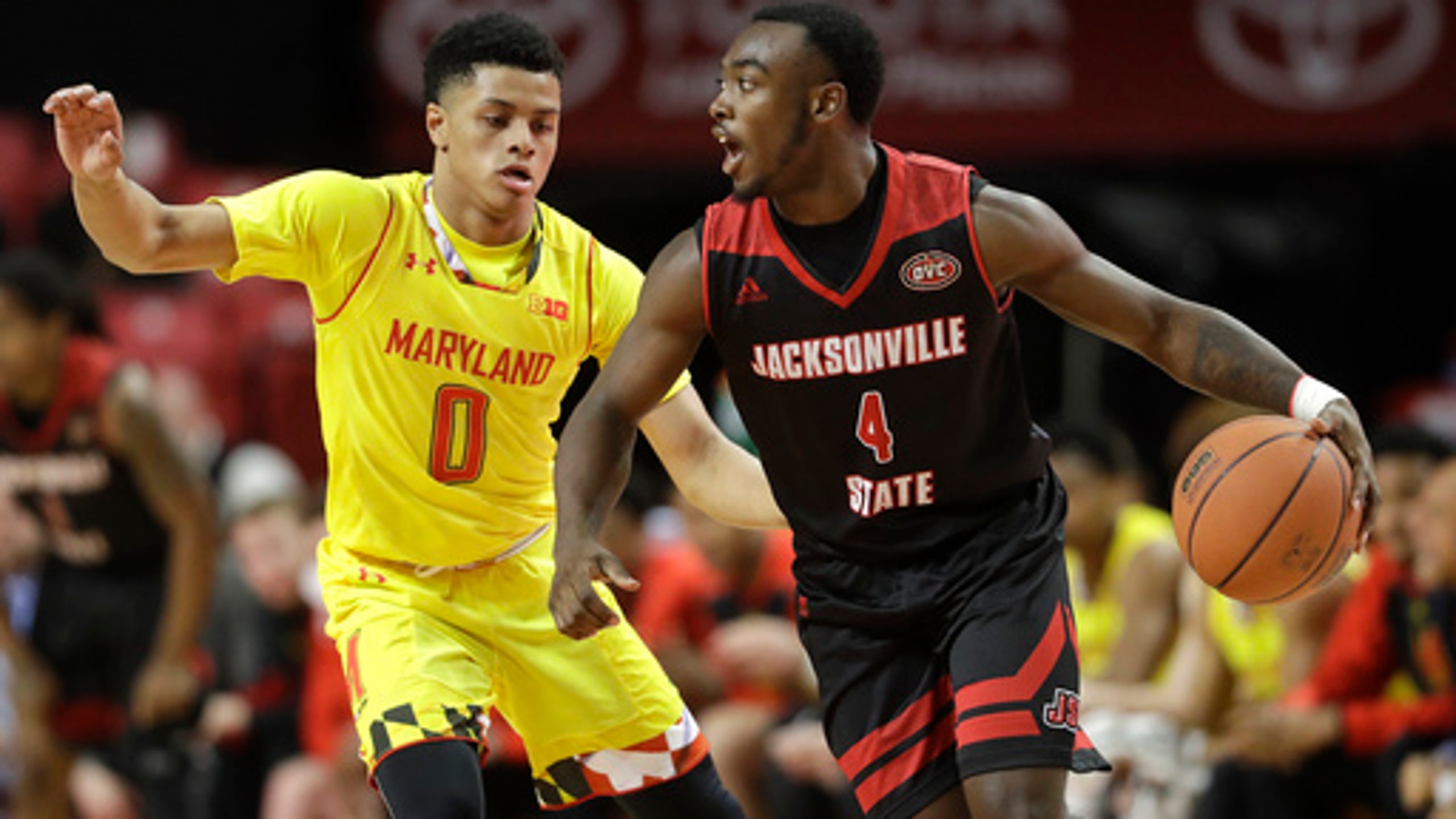 Trimble carries Maryland past Jacksonville St 92-66 (Dec 12, 2016)
BY AP • December 12, 2016
COLLEGE PARK, Md. (AP) Melo Trimble took the same kind of shots he's been firing up all season.
The difference was that almost all of them went in, and the result was a 23-point performance that carried Maryland past Jacksonville State 92-66 Monday night.
Trimble went 6 for 7 from the field, including 4 for 5 from beyond the arc, and was 7 for 7 at the foul line. His only miss of the night came with just over seven minutes left, and the junior guard followed with a 3-pointer that made it 76-58.
The sharpshooting performance followed successive outings in which Trimble went 4 for 13, 4 for 12, 4 for 8 and 2 for 4.
''It's good to see Melo shoot it well,'' coach Mark Turgeon said. ''It's amazing, when a shot goes in it makes everything look better. Melo's been taking good shots for the most part ... but a lot of shots have been rolling out. It just doesn't feel right. But today they rolled in.''
Trimble figured it was only a matter of time until his shot found the bottom of the net.
''I had no doubt in my mind that I'd have one of these games,'' he said. ''I've been in the gym early, getting extra shots, staying after practice. I knew they were going to start falling. Just got to stick with it, stay confident.''
Trimble was so on target, Jacksonville State first-year coach Ray Harper couldn't remember the one that clanged off the rim.
''I missed that one,'' Harper said. ''I must have been turned around when he missed it. He poses problems. He's an awfully good player. You've got to think he'll miss every now and then. Tonight, he didn't. It was his night.''
Michal Cekovsky scored 15 and freshman Justin Jackson had 12 points and six rebounds for the Terrapins (11-1), who took control late in the first half and received little resistance over the final 20 minutes. Maryland had six players score in double figures for the first time since February 2013, against Wake Forest.
Jacara Cross and Greg Tucker each scored 10 points for Jacksonville State (5-6). The Gamecocks, of the Ohio Valley Conference, were outscored at the foul line 27-12 and had two players foul out.
''Foul trouble just killed us,'' Harper said. ''They shot (35) free throws. That's a lot to overcome.''
Trimble scored 15 in the first half, going 5 for 5 from the field with two free throws.
The Terrapins trailed 17-14 before Trimble made a layup and a 3-pointer in a 19-3 run that turned the game around. Five different players scored in the spree, which helped provide Maryland a 42-29 lead at the break.
''They turned up the pressure a little bit,'' Tucker said. ''We went through a little period that we couldn't score and that hurt us.'
Trimble opened the second half by making a pair of technical foul shots and Jackson added a 3-pointer to put the Terps up by 18.
The margin swelled to 20 points with 16 minutes left before the Gamecocks used a 14-4 run to get within 10. But that's as close at it got in the second half.
OLD TIMES
Turgeon's first college head coaching job was at Jacksonville State. Turgeon took the job as a 33-year-old in 1998 and went 25-29 over two seasons.
BIG PICTURE
Jacksonville St: The Gamecocks kept it interesting for most of the first half against the most notable team on their schedule. That bodes well for a team whose conference foes include Tennessee Tech and Southeast Missouri.
Maryland: The Terps received a nice workout before taking a break for exams. Trimble led a balanced attack, which is precisely what Turgeon wants to see as the team draws closer to its Big Ten opener against Illinois on Dec. 27.
UP NEXT
Jacksonville St: The Gamecocks stay in the area for a game in the nation's capital against Howard on Wednesday night.
Maryland: Following a week off, the Terrapins return to action on Dec. 20 in Baltimore against Charlotte.
---
---