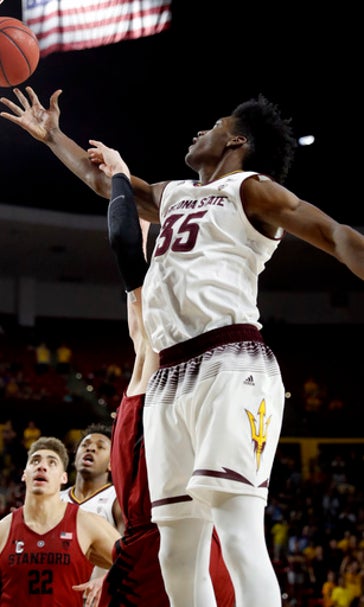 Stanford holds on in wild finish to beat Arizona State 84-83
March 3, 2018
TEMPE, Ariz. (AP) Stanford had a rough nonconference experience, losing to the likes of Eastern Washington and Portland State. Arizona State was a perfect 12-0 at the same time, with wins over Xavier and Kansas.
The Pac-12 season turned things around for both schools, right through the frantic finish of the teams' regular-season finale.
Dorian Pickens, playing just down the road from where he grew up, scored all 20 of his points in the second half for Stanford and the Cardinal held on through a wild final minute to beat the Sun Devils 84-83 on Saturday, a damaging blow to Arizona State's NCAA Tournament hopes.
Reid Travis had 24 points and 14 rebounds and Kz Okpala 18 points and 10 boards for the Cardinal (17-14, 11-7 Pac-12), who have won four of their last five.
''We lost our first conference game to Cal at home, which was really a gut-wrencher,'' Stanford coach Jerod Haase said. ''And from that point on our team has done some really nice things.''
Tra Holder had 19 points, Shannon Evans 17 and Remy Martin 14 for Arizona State (20-10, 8-10).
Daejon Davis' spin move for a layup proved to be the winning basket with 42 seconds left.
Arizona State, down 19 early in the second half, tied it at 82 on Kodi Justice's 3-pointer with 1:13 left but Justice missed three of four free throws in the final 20 seconds.
Pickens, the best free throw shooter on the Stanford team, also missed two from the line with 18 seconds, though, and a Stanford turnover with 4.1 seconds left gave Arizona State a final chance. Evans drove the lane and passed to Martin, who had to rush his shot in traffic from the baseline and it bounced off the rim at the buzzer.
''We've been in positions like that all year. It was just hectic,'' Travis said. ''I wish we would have taken care of the ball a little more, but at the end of the day we got shots when we needed to and got stops when we needed to.''
It was a tough end to the final home game for the seniors Justice, Holder and Evans.
''The meaning of it, that's why it stings so much,'' Justice said. ''But it's basketball. We'll live to fight another day.''
The Cardinal outscored Arizona State 22-1 at the end of the first half and start of the second to lead 55-36 on Pickens' 3-pointer just 3:16 into the second half. The Sun Devils went 7 1/2 , minutes without a field goal in that stretch.
But against an Arizona State team that scores in bunches, Haase was far from at ease.
''There was never a comfort level,'' he said.
For good reason.
Harassing the Cardinal with a full-court press, Arizona State came back with an 18-4 run, cutting the Stanford lead to 59-54 on Kimani Lawrence's dunk with 12:45 to play. Pickens responded with three 3s in a 13-4 surge that boosted the lead to 72-58 with 9:11 left.
The Sun Devils, who never led in the second half, rallied yet again to set up the crazy conclusion.
''To start the second half, we didn't have enough energy and they were able to generate the lead they did,'' Arizona State coach Bobby Hurley said. ''But it's who we are, man. We fight. We've got an amazing will to win and desire to win.''
Stanford scored the final seven points of the first half to lead 40-35.
The Cardinal opened the second half with a 14-1 outburst, including two 3s by Pickens, who went to high school in Phoenix and said he had about 25 to 30 friends and family members watching his final regular-season performance.
Pickens made 6-of-10 shots in the second half, including 5-of-9 3s.
BIG PICTURE
Stanford, with its strong showing in conference play and a split on the road to finish the season, will be a tough out for anyone in the Pac-12 tournament.
Arizona State probably has to win at least one tournament game to keep its NCAA chances alive, its 12-0 nonconference start seeming like ancient history. But, Justice said, ''We know we're good enough to beat any team.''
UP NEXT
Stanford faces a team to be determined next week at Pac-12 tournament in Las Vegas.
Arizona State plays Colorado in the tournament's first round on Wednesday.
---
---