Sooners' Pearl Harbor rout of 'Nova proves they're for real
Published
Dec. 7, 2015 10:57 p.m. ET

HONOLULU — Oklahoma and Villanova came into their Pearl Harbor Invitational matchup Monday just two spots apart in the AP Top 25.
By the time the No. 7 Sooners manhandled the No. 9 Wildcats 78-55 the difference between the two teams was a lot more glaring.
Next week's rankings will no doubt push Villanova lower and Oklahoma higher. But come March? Villanova coach Jay Wright — whose Wildcats were a No. 1 seed in the 2015 NCAA Tournament — had no trouble visualizing Lon Kruger's Sooners a No. 1 seed in 2016.
"Definitely. I definitely can (see that)," Wright said. "I think they're going to be able to handle a lot of situations. Road games in the Big 12, they're going to be able to handle well. You can just tell their demeanor on the court. Even when they got it going, they didn't lose focus. It's very impressive."
Oklahoma, now 6-0, came out on fire, opening up a 12-point lead (15-3) at 14:55 in the first half and never trailed. Villanova knocked it back to a tie at 26-all with 2:55 left in the half, but the Sooners were just too good. They ran away with it, sweating in the semi-open-air Bloch Arena here at the Navy's Joint Base Pearl Harbor-Hickam. Five players for Oklahoma scored in double digits, led by Isaiah Cousins (19 points, including 4 of 4 from behind the arc).
"I thought Cousins took over in the second half," Kruger said. "He was good off the dribble and he made a lot of plays for other guys. He'd drive in and kick out to the other guys."
The Sooners got their initial boost from Buddy Hield, the 2015 Big 12 Player of the Year. Hield started hot, draining four 3-pointers in the first six-plus minutes despite having what he said was a sore wrist. He finished with 18 points, slightly lower than the 21.4 points Hield averaged in the Sooners' first five games, including a 30-point effort against Memphis.
"We came out ready," Hield said. "Our coaches prepared us this week. This was a good team win against a great team and we'll keep getting better."
Clearly, the Bahamas native with an eye on the NBA Draft is out to show that his decision to stay for his senior season will be profitable for him — and the Sooners.
"Buddy's a smart guy," Kruger said. "He researched everything and thought he could have a really good senior year and elevate his draft opportunity, and he's absolutely right. He works so hard and he continues to make progress and be a better player with each month.
"He liked the college experience, likes his teammates and wanted to live it one more year, and we're happy that he did."
But every time Oklahoma looked as if it was going to settle for having one of its players take over setting the tempo and scoring, the team quickly set the audience straight. The Sooners move extremely well off the ball and were constantly looking to make the extra pass, putting on a very good show inside the 4,024-seat band box.
"That's what we do," Hield said. "That's what coach preaches every day: 'Move the basketball around.' We can't be selfish. That's how we get our shots, we have to be unselfish. That's what we did today."
Not that Villanova, which fell to 7-1, was at all surprised by Oklahoma's execution. Wright said he knew Kruger's team was capable of this kind of performance. The Sooners shot 57.1 percent in the second half and finished at 46.7 percent, including a blistering 53.8 percent from 3-point range.
"We were very impressed with them on film. Very impressed," Wright said. "They won at Memphis, a really tough place to play against a really talented team, and I don't even think they played their best game and they won on the road. We saw that. We thought this team can be really special. During the game I was impressed, the way they communicated. You can just tell the experience, the way they handle (everything), it's very impressive."
Villanova had good looks at the basket but just could not finish. They shot an abysmal 26.7 percent in the first half, going 8 for 30, and finished at just 31.7 percent on the night (20 for 63). Freshman guard Jalen Brunson — a player on everyone's watch list this season — failed to launch. Wright had to pull Brunson twice early in the second half to refocus the freshman, but after the Sooners got off to such a fast start, there was little the Wildcats could do to stop them.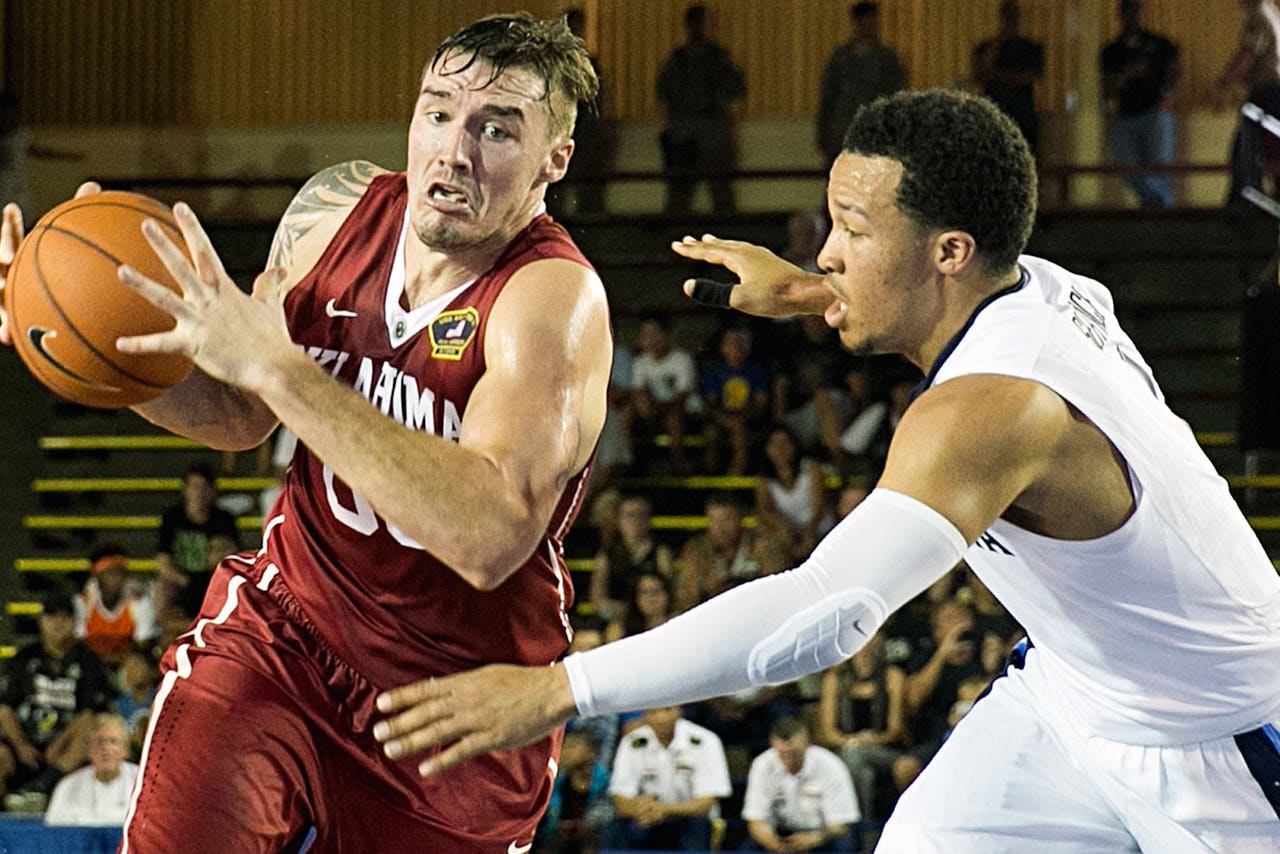 Ryan Spangler (left) is one of five Sooners in double figures, finishing with 11 points in the win.
"That was a freshman against men," Wright said. "(Oklahoma's) guards are men and that's what makes them really good. That's going to be a great lesson for him. He's a smart kid."
The atmosphere in Hawaii added a special weight to the proceedings. Both Kruger and Wright were emphatic about what a fantastic experience it had been bringing their players to Hawaii for the 74th anniversary of the bombing of Pearl Harbor. The teams toured the historic sites, met with Wounded Warriors and had dinner with naval officers at an admiral's house.  
"You wouldn't think that getting blown out like this you can say it's a good experience, but it was a great experience," Wright said. "I think our guys learned a lot about servicemen and women that are currently serving our country because they've been with us and they've been awesome. It was really cool. This was a trip I would do again in a second."
Kruger, too, called this a "great weekend for our guys. We have an even greater appreciation for what our service people have done and how they've sacrificed and our guys will leave with a much higher level of understanding and carry that with them the rest of their lives. The ballgame was very good, but all the other stuff around it much, much better."
Kruger spoke without giving off any whiff of coach speak. This Pearl Harbor Invitational was special. For the Sooners, it was also very telling. Oklahoma proved it's for real.
---
---