Texas Longhorns
Texas Longhorns
Roach hits 3-pointers late; Texas edges Arkansas 73-71 in OT
Published
Nov. 9, 2018 11:31 p.m. ET
FORT BLISS, Texas (AP) — This was exactly the kind of situation Texas had focused on, and when the Longhorns got the chance to prove it they did just that in a 73-71 overtime victory against Arkansas on Friday night in the ESPN Armed Forces Classic.
Two late 3-pointers by guard Kerwin Roach II helped Texas overcome a sluggish offensive showing in the second half and reach overtime, where the Longhorns outscored Arkansas 10-8 to pull out the victory before 1,200 people at Fort Bliss' Soto Gym.
"It was a great way to start my senior season," said Roach, who didn't play in the opener for an unspecified violation of team rules. "That's what I was ready to do. Just play basketball. I even had jitters myself."
Last year, Texas played in 17 games that were decided in the final minute or overtime. They were 8-9 in those games, and that became an offseason focus - changing the outcome of those games.
"We've emphasized all offseason long what goes into winning close games," Texas coach Shaka Smart said. "A little bit here midway through the first half our guys probably felt like this wasn't going to be a close game, but it was."
Roach led Texas (2-0) with 18 points, followed by Jericho Sims with 14 and Dylan Osetkowski with 11 and 13 rebounds. Texas led by double figures, and often by eight or nine, in the first half, and it led 36-30 at the break.
Arkansas (0-1) got a game-high 20 points from center Daniel Gafford, who also had a double-double with 12 rebounds. Joe added 17 points for the Razorbacks, while Jalen Harris and Mason Jones each had 11.
"This was our very first game," Arkansas coach Mike Anderson said. "I thought they came to play. They kept that mindset. Even as Texas went up, double figures, 9, 10, whatever it was, our guys stayed the course. They got connected defensively and tried to make Daniel (Gifford) a big part of what we were doing."
Arkansas trailed 36-30 at the half, but a 10-0 run midway through the second half allowed the Razorbacks to take a 49-47 lead after a 3-pointer by Joe.
The Razorbacks outscored Texas 33-27 in the second half, but free-throw shooting kept the Longhorns in it. They went 14-for-20 shooting from the line in the second half and 4 of 6 in overtime. That allowed Texas to overcome cold shooting, including a stretch of 9:47 without a field goal in the second half.
A dunk by Gafford put Arkansas ahead 62-59 with a minute to play. After an airball by Texas, Osetkowski made 1 of 2 free throws to make it 62-60. Gafford then missed the first of two free throws to push the lead to three, setting up Roach II's tying 3-pointer with 1 second left that forced overtime.
In overtime, the teams traded points and Arkansas led 71-70 after a pair of free throws by Harris. But Courtney Ramey banked in a floater to regain the lead for Texas, and Elijah Mitrou-Long added a free throw to seal it.
BIG PICTURE
Friday's game was a look at two teams who are NCAA postseason regulars.
Arkansas began its pursuit of a third consecutive NCAA tournament berth. The Razorbacks, who were one of eight SEC teams in last year's NCAAs, have made the tournament three times in the past four years, and are looking to add to that with the nation's No. 25-ranked recruiting class. Arkansas was picked 10th in the preseason SEC poll.
Texas played in its earliest season opener Friday. The Longhorns, who also made the NCAA tournament last season, return four of five starters from last year's team. Texas was picked fourth in the Big 12 preseason rankings. The Longhorns feature last year's No. 8-ranked recruiting class.
FOR THE TROOPS
Friday's game was more than a year in the making, and both teams were excited about the opportunity.
"You can't put a price on that," Arkansas' Anderson said. "That was breathtaking for our guys to spend some time (here). It's an honor to come in and play in front of these guys. ... It was a great experience."
Roach echoed those sentiments.
"The experience here was great," he said. "I got family in the military. It was just wonderful here. We went to the training simulators. We shot fake guns, the simulator of being on the top of a tank and shooting. It's like real life Call of Duty here. It was real life that these people go through every day. We play basketball, but it's really life or death for them. We really appreciate the mentality they have protecting our country."
NICE THREADS
Both teams were playing on Veteran's Day weekend in uniforms that had a military look, which camouflage and military-style letters and numbers. But there were no player names on the back - just "USA" on the jerseys of both teams.
GYM TIME
The game was played at Fort Bliss' Soto Gym, which seated 1,200 for the game. The intimate environment, and bright lights much closer to the court, gave the game the feel of an old-time contest played in an armory. The bleachers around the court were only six rows deep.
UP NEXT
Texas: The Longhorns continue their non-conference schedule with a home game Monday against Louisiana Monroe, followed by a home game on Friday against The Citadel.
Arkansas: The Razorbacks get Saturday and Sunday off before hosting UC Davis on Monday, which is part of the Hardwood Showcase event. All games are at Bud Walton Arena. Arkansas will play Indiana (Nov. 18), Montana State (Nov. 21) and UT Arlington (Nov. 23) in its other games in the Showcase.
---
---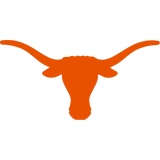 Get more from Texas Longhorns
Follow your favorites to get information about games, news and more
---