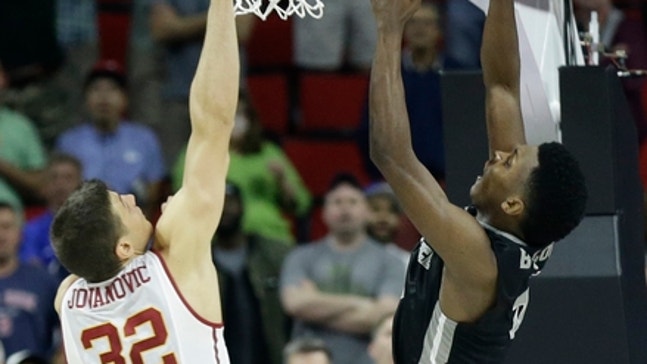 Providence beats USC on layup for first tourney win since 1997
Published
Mar. 18, 2016 12:23 a.m. ET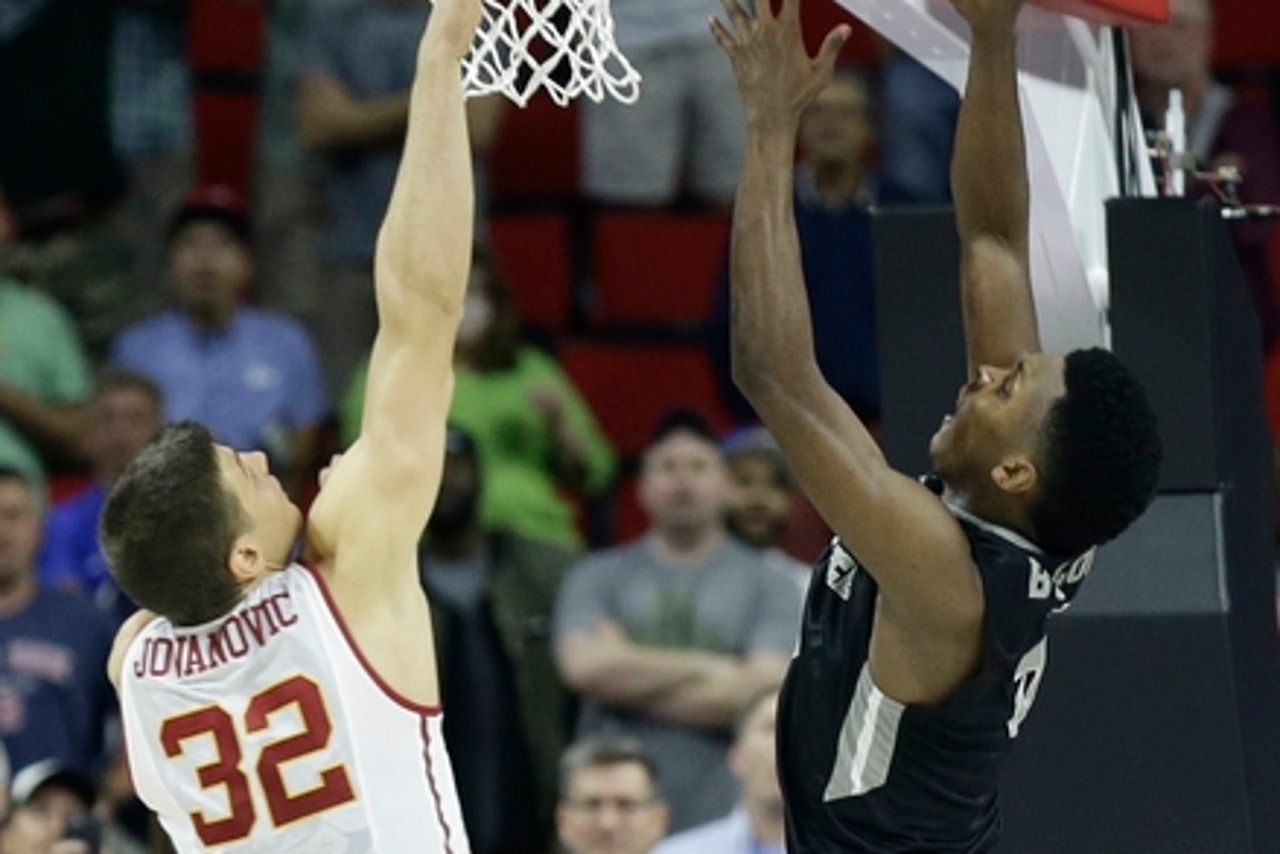 RALEIGH, N.C. — Providence expected Southern California to focus on stopping either the Big East's player of the year, or perhaps that league's top scorer.
Not Rodney Bullock.
So with a critical inbounds pass in the final seconds, the Friars slipped Bullock under the bucket and he hit the shot that kept them in the NCAA Tournament.
Bullock's layup with 1.5 seconds left helped Providence beat USC 70-69 on Thursday night in the first round.
The reason Bullock was so open was because Big East player of the year Kris Dunn and top scorer Ben Bentil drew so much of the Trojans' attention.
"Kris is a focal point, Ben's a focal point and you take advantage of what the defense gives you," Providence coach Ed Cooley said. "On this stage, to end the game like that, that's that one shining moment."
Bentil scored 19 points and Bullock finished with 16 points and 10 rebounds to help the ninth-seeded Friars (24-10) earn their first win in the tournament since 1997. They will face top-seeded North Carolina (29-6) on Saturday in the second round of the East Regional.
Jordan McLaughlin had 15 points for eighth-seeded Southern California (21-13), which missed the front ends of two one-and-ones in the final minute.
"We just looked very immature at the end," guard Julian Jacobs said. "We had the game in our hands, and we just let it fall right through.
Jacobs' missed free throw with 11.6 seconds set up Providence's last chance. Dunn missed a jumper with about 5 seconds left and the rebound went out of bounds to the Friars.
Drew Edwards then inbounded the ball to Bullock and he banked in the go-ahead layup.
"I was supposed to curl off of Kris, and both of the defenders went with Kris," Bullock said. "I was wide open under the basket."
Jacobs took the inbounds pass for USC and let it fly from midcourt but failed to draw iron.
Dunn finished with 16 points despite persistent foul trouble. He hit a 3-pointer over McLaughlin that tied it at 68 with about 90 seconds to play.
Nikola Jovanovic had 14 points for the Trojans. Bennie Boatwright finished with 11 and hit a free throw with 58.7 seconds left that gave Southern Cal a 69-68 lead.
After the teams traded misses on the three possessions that followed, the Trojans' Elijah Stewart missed the front end of a one-and-one with 27.6 seconds to play before Providence wound up giving the ball right back to USC.
Kyron Cartwright finished with 10 points for the Friars, who went one-and-done in the tournament in each of the last two years. Their previous victory came during their God Shammgod-led run to the Elite Eight in 1997.
"It means a lot. I know what it feels like to be on the other end," Dunn said. "I think Providence College as a whole and as a community, they've been waiting for a long time for something like that."
Elijah Stewart finished with 10 points for the youth-dominated Trojans, whose first tournament appearance since 2011 wound up being a short one.
STAT SHEET
It was perfectly fitting that Bentil and Dunn combined for 35 of the Friars' 70 points. For the season, their combined scoring average is 37.2 points — a sliver over half of the team's average of 74.
QUOTABLE
"We call that play `Carolina.' Nah, I'm only joking." — Cooley, asked what the name of the Friars' game-winning play is, referring to their next opponent.
TIP-INS
Providence: Bentil, who was 7 of 21, and Dunn, who was 5 of 13, combined to take 34 of the Friars' 62 shots. ... Providence shot 40 percent.
Southern Cal: The Trojans shot 54 percent. ... They led by seven with about 7 1/2 minutes to play after scoring on five straight possessions, but hit just two field goals the rest of the way.
UP NEXT
Providence plays top-seeded North Carolina on Saturday in the second round.
---
---