Pregame skirmish fuels another top 10 stunner as Florida rocks No. 9 West Virginia
BY foxsports • January 30, 2016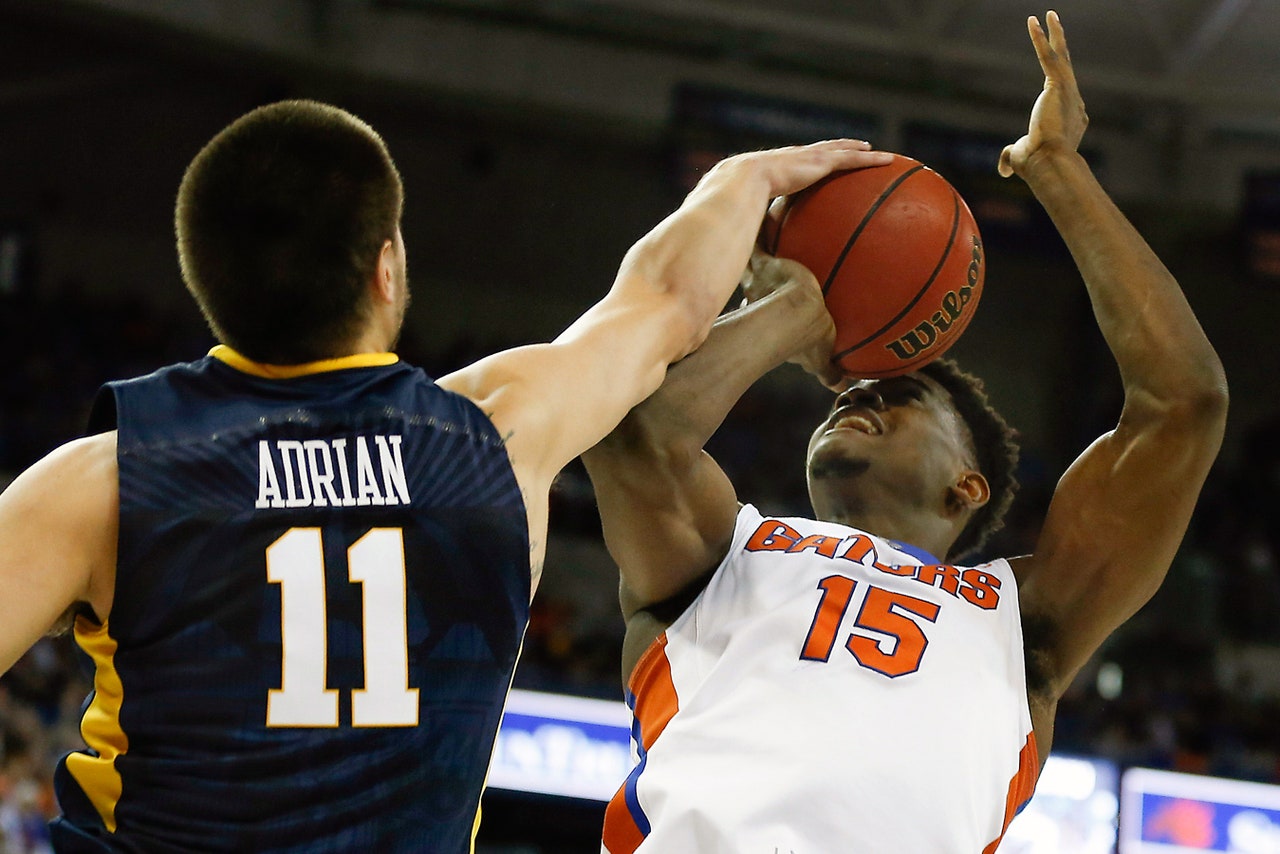 GAINESVILLE, Fla. -- Florida coach Mike White congratulated his players in the locker room and then challenged them to match the energy, effort and efficiency they played with against West Virginia.
It won't be easy.
Dorian Finney-Smith scored 24 points, Brandone Francis-Ramirez hit three huge 3-pointers and the Gators upset the ninth-ranked Mountaineers 88-71 in the Big 12/SEC Challenge on Saturday.
It gave White a signature win in his first season and surely will help his team's chances of making the NCAA tournament in March.
"It's a really big win," White said. "I'm worried about this team being as good as we can be and seeing how far we can play into the postseason and getting into the real postseason that we want to be in, and this is a step for sure. This doesn't guarantee anything, obviously. We have a ways to go. ... Most importantly, it shows our guys this is what we're capable of. Can we match that?"
Florida (14-7) had lost its last 12 games against top 10 teams, but put together arguably its most complete outing of the season against West Virginia (17-4).
Finney-Smith made 7-of-12 shots, including 5 of 7 from 3-point range, and the Gators never trailed after his first trey off the opening tip. His last one with 1:02 to play -- as fans chanted "S-E-C" and "overrated" -- led to a standing ovation.
"We needed a big win," Finney-Smith said.
Jaysean Page and Tarik Phillip scored 15 apiece for West Virginia, which gave up its most points of the season.
Coach Bob Huggins used timeouts and different lineups but found no answer for Florida's ball movement and outside shooting. The Gators hit 12-of-20 from behind the arc.
"I think the biggest thing is they shot 60 percent from 3, which they haven't done and we haven't given up," Huggins said. "Combination: They played really, really well and we didn't play well. We have to play with our hairs on fire because we're not the greatest shooting team in the world."
The Mountaineers shot 43 percent and finished with 18 turnovers.
Florida closed the first half with a 14-3 run that turned a four-point game into a double-digit affair, and when Finney-Smith hit his third 3 right after the break, it was clear this was going to be the Gators' day.
They opened up a 20-point lead midway through the second half and closed it out from the free-throw line, finishing 24 of 31 from the stripe.
KeVaughn Allen chipped in 19 points for the Gators, and Chris Chiozza finished with 10.
Francis-Ramirez was the surprise of the day. The freshman entered the game 5 for 40 from 3-point range and had missed 22 of his last 23 from behind the arc. But he seemingly couldn't miss against West Virginia, and even had Kasey Hill apologizing for missing him wide open in the corner late.
"You see him make them every day in practice, so I'm just happy the lid came off the rim today and he got to see the ball go in," Finney-Smith said.
MISSING MEN
West Virginia played without starting forward Jonathan Holton, who was suspended indefinitely Thursday for an undisclosed violation of team rules. Huggins said there was no timetable for his return. The Gators were without starting forward Justin Leon (concussion).
PREGAME SKIRMISH
The teams had to be separated just before the national anthem, after Florida players took exception to West Virginia circling up on their side of the floor. Referees reviewed video of the incident but did not call any technical fouls. "I'm glad it didn't get ugly," Florida center Schuyler Rimmer said. "It kind of jolted us. It woke us up and made us realize this was going to be a fight. It was the first inclination of what this game was going to be like."
West Virginia and Florida combined for 48 fouls and 47 free throws.
TIP-INS
West Virginia: Fell to 0-3 in the Big 12/SEC Challenge. The Mountaineers lost to LSU last year and to Missouri during the 2013-14 season. ... Remained winless against Florida in the Sunshine State, dropping to 0-4 in Gainesville (0-2), Jacksonville (0-1) and Miami (0-1).
Florida: Former Gators Jason Williams and Lee Humphrey attended the game. ... Florida assistant Darris Nichols played 141 games for West Virginia (2004-08), scoring 993 points. ... Football coach Jim McElwain, making an appearance during a big recruiting weekend, spoke to the crowd at halftime.
UP NEXT
West Virginia plays at Iowa State on Tuesday.
Florida hosts Arkansas on Wednesday. 
---
---