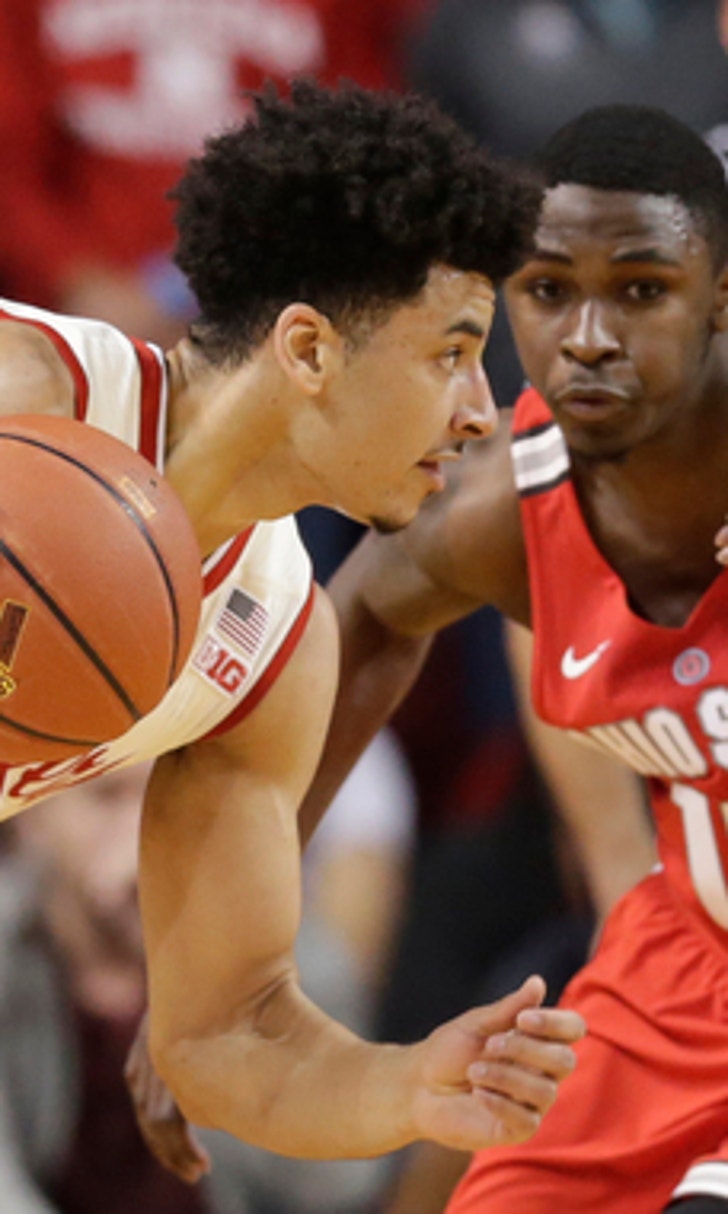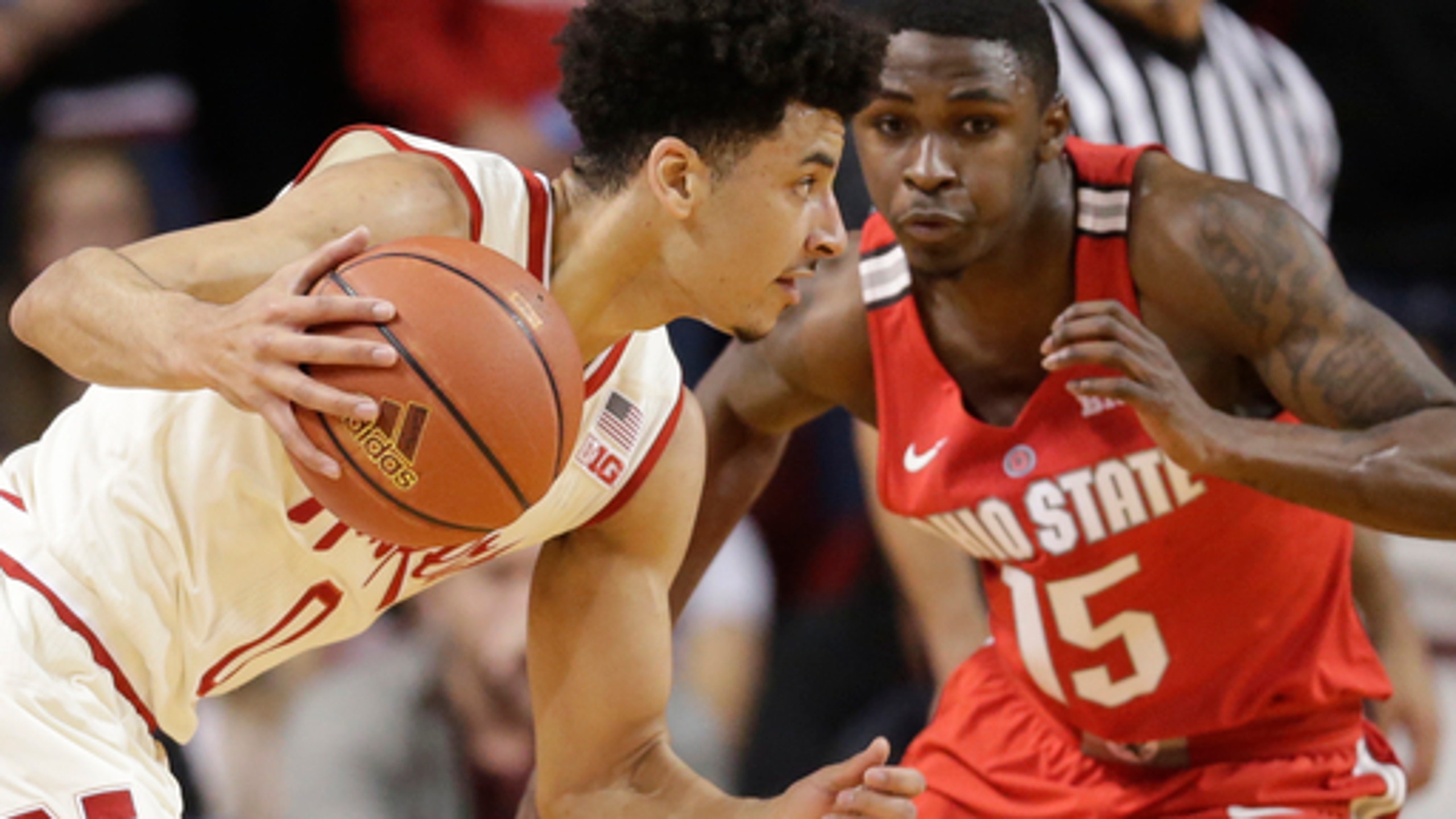 Ohio St. steals 67-66 win from Nebraska on last-second shot (Jan 18, 2017)
BY AP • January 19, 2017
LINCOLN, Neb. (AP) Marc Loving was so open when he caught C.J. Jackson's inbounds pass, there was only one thing for him to do.
''Easy,'' he said. ''Lay it in.''
Loving did just that after he took Jackson's pass from under the basket. The ball bounced on the rim before dropping through with less than a second to play, giving Ohio State a 67-66 victory over Nebraska on Wednesday night.
Loving had moved freely into the lane after the man guarding him, Tai Webster, switched off him and Glynn Watson Jr., who was coming to defend, fell down.
''The basketball gods kind of looked out for us because the guy just fell and left Marc wide open,'' Jae'Sean Tate said. ''It was good patience by C.J. to read the defense because I think it was like 4 1/2 seconds before he got the 5-second call and threw it, and Marc did the rest. We got a little lucky.''
Nebraska coach Tim Miles said, ''When we lost our feet, well, then you're dead.''
Watson didn't come to the postgame interview room, but he tweeted, ''Worst feeling ever ... let my team down.''
Webster had driven for Nebraska's go-ahead layup with 35 seconds left, and Ohio State played for the last shot. Loving missed a 3-pointer, but JaQuan Lyle got the rebound under the basket, and the Buckeyes were able to call timeout with 1.9 seconds left to set up the winning play.
Loving had 15 points, and Lyle and Jae'Sean Tate added 13 apiece for the Buckeyes (12-7, 2-4 Big Ten), who have won two straight.
''About time something good happened for us,'' Buckeyes coach Thad Matta said. ''C.J. made a tremendous read on the play, taking the ball inbounds, and did a tremendous job of being patient with it.''
The Buckeyes, who have won four straight over the Huskers, were turnover-free in the second half after committing 11 in the first while falling behind 40-32. They capitalized on Nebraska's awful shooting. The Huskers hit 50 percent from the field in the first half but just 29.2 percent in the second.
''Everybody is going to remember the last play, obviously, and deservingly so,'' Matta said. ''We weren't very good the first half, which was obvious. I talked about some things at halftime and told them we need to chip away. We really competed. Look, I could give 15 game balls away in that second half.''
Webster had 18 points to lead the Huskers (9-9, 3-3), who have lost three straight.
BIG PICTURE
Ohio State: The Buckeyes are building steam after an 0-4 start in Big Ten play. They came to Lincoln off a 72-67 win over Michigan State, and then overcame a bad first half to pick up a huge road victory.
Nebraska: The Huskers really needed to beat the Buckeyes to stay in contact with the Big Ten leaders. Three straight losses have wiped out what was their best start in conference play since 1975-76.
FREE-THROW WOES
Nebraska was 11 of 20 from the line, a continuation of its free-throw struggles. The Huskers were 15th nationally a month ago, making 78.3 percent. Since then they are shooting 63.2 percent from the line and rank 115th.
HE SAID IT
''Coming into the game, it's actually funny, Coach Matta said the magic number to beat them is 67. He's been saying that all week in practice. In the locker room, he kept that in our minds.'' - Tate.
DOUBLE FIGURES, AGAIN
Nebraska's Webster has scored in double figures in all 17 games this season and 18 straight dating back to last season.
UP NEXT
Ohio State: Plays at home Sunday against Northwestern. The Buckeyes have beaten the Wildcats 12 straight times since 2009.
Nebraska: Plays Saturday at Rutgers. The Huskers have won all three meetings since joining the Big Ten in 2011.
---
---