Northern Iowa's half-court buzzer-beater was the greatest shot in NCAA tournament history
Published
Mar. 19, 2016 12:45 a.m. ET

Death, taxes and the University of Northern Iowa hitting miraculous buzzer-beaters in the NCAA tournament.
Five years after school legend Ali Farokmanesh drilled a 3 to upset top-seeded Kansas in a second-round game in Oklahoma City, UNI added a major dose of Madness to March with yet another buzzer-beater (also in Oklahoma City) — this one far more of the "I don't believe what I just saw" variety. After Texas tied the game on a floater with 2.7 seconds left, UNI senior Paul Jesperson took the inbounds pass near the sideline, dribbled once to his left and then launched a halfcourt Hail Mary. It looked long the whole way, likely making everyone on the floor, in the crowd and at home think the same thing: overtime. Well, the ball was long. Perfectly long.
There have been better game-winning plays (Tyus Edney going the distance, the throw to Bryce Drew) and in bigger moments (Christian Laettner and N.C. State), but in terms of straight buzzer-beating shots with context thrown out, Jesperson's immediately goes down as one of the greatest in tournament history, if not the best. A contested, halfcourt, banked buzzer-beater? Insta-history is a plague on sports analysis, but in the frantic minutes after the shot, it really does seem to be one of the best buzzer-beaters the NCAA tournament has ever seen. That was a sentiment repeated on the CBS/Turner postgame show by a number of panelists, as well as the masses on Twitter who all reacted with similar shock and awe.
UNI's win was the 10th by a double-digit seed and the eighth by a team seeded No. 11 or worse (both records) in a wild first round that saw its final three games all go the distance late Friday night. But the night and the round belong to Jesperson. Thankfully the bank stays open late in OKC.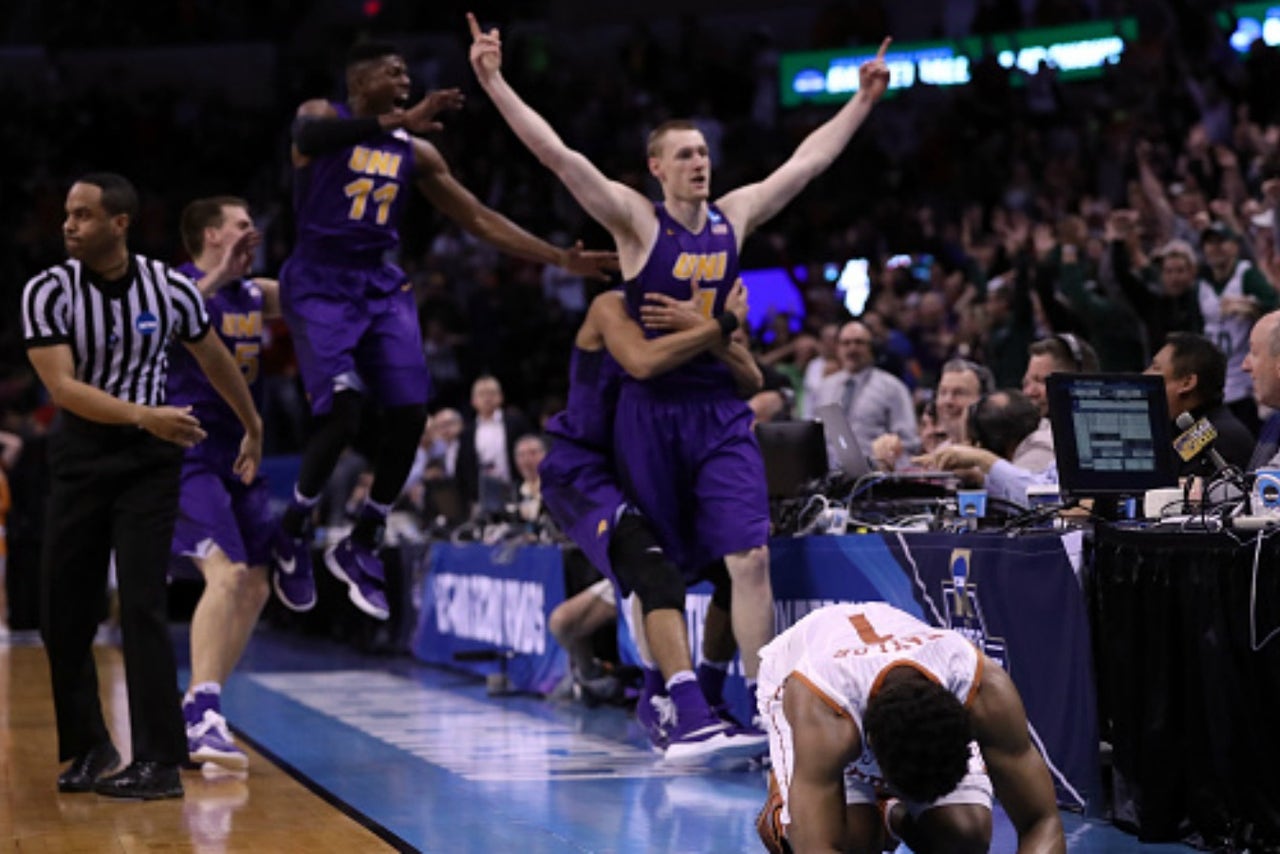 The picture says it all. (Photo by Ronald Martinez/Getty Images)
---
---