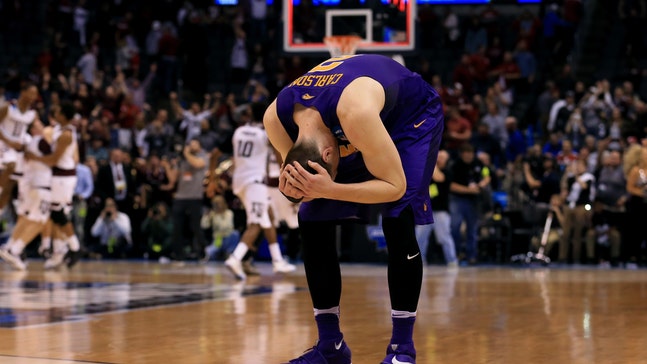 Northern Iowa suffered the greatest collapse the NCAA tournament has ever seen
Published
Mar. 20, 2016 11:20 p.m. ET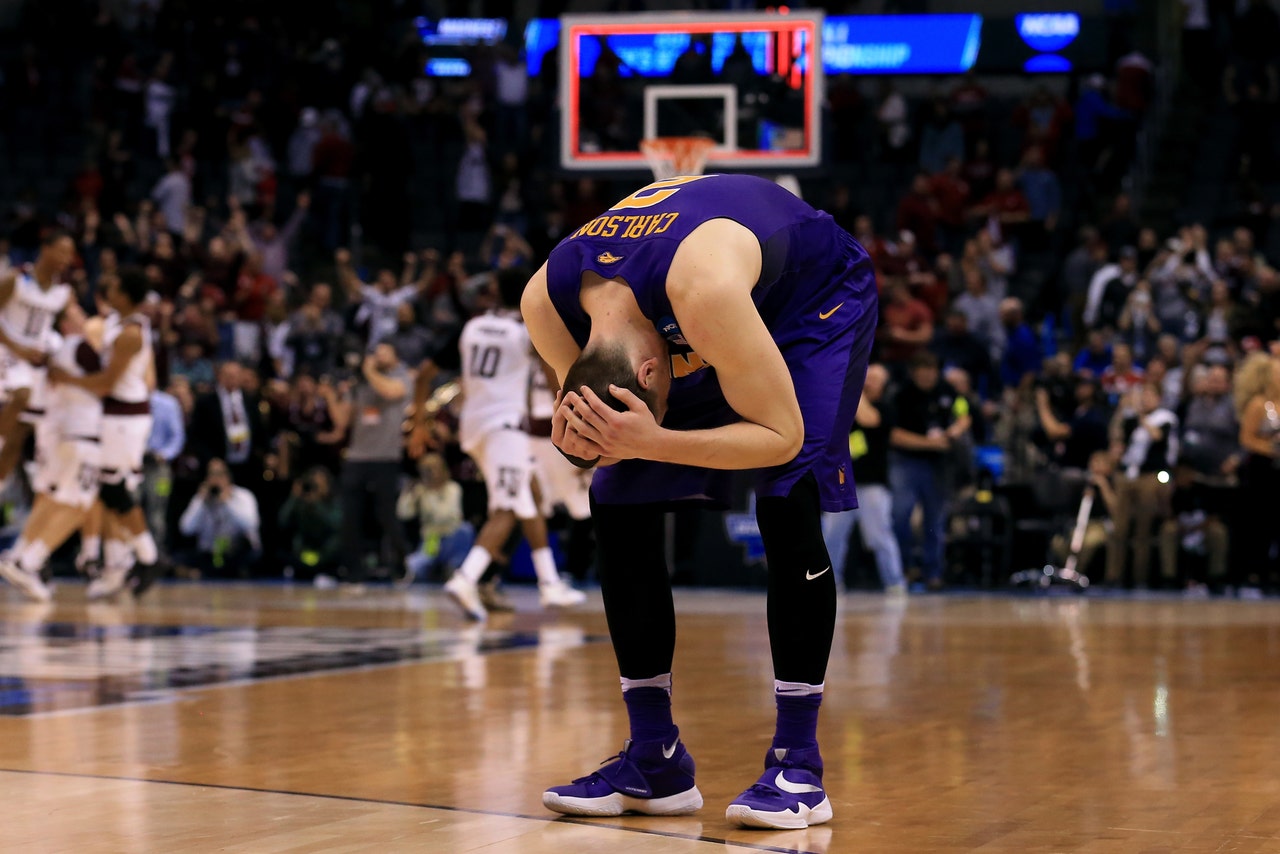 Two days after winning one on of the greatest shots in NCAA tournament history, Northern Iowa suffered one of its great defeats on Sunday, impossibly blowing a 12-point lead with 35 seconds left, then eventually falling in double-overtime to a Texas A&M team that appeared as stunned to have made the comeback as UNI was to have allowed it. 
Nothern Iowa was cruising for most of the second half against the third-seeded Aggies, nursing double-digit leads, seeing A&M get back to single digits and then getting right back up 10 or more. With 58 seconds left, UNI led by eight. But 14 seconds later, they had scored four points to take a 69-57 lead. Game. Period. I had written it down on my bracket in pen. Why wouldn't I? 
Twelve points. Forty-four seconds. And then this: 
(0:34) A&M missed jumper, offensive rebound layup, 59-69 
UNI inbounds to player in corner who's forced to call team's last timeout
(0:26) Subsequent inbound dropped, A&M scoops up for a lay-in, 61-69 
(0:21) Another inbound to a trapped player. A&M gets it again, 63-69 
(0:20 )This inbound pass went to no one, just floating to the sideline. A&M drilled a three after, 66-69. 
If you're counting at home, that was five points in six seconds.
(0:17) Then, immediately after that, UNI threw a home run pass that led to an easy layup, making the score 71-66. The miracle comeback seemed halted. Seemed being the operative word.
(0:12) Down 5, A&M's Alex Caruso hit a finger roll and as the ball was dropping into the hoop, the latest whistle of the tournament was blown - a blocking foul - giving the Aggies an and-one, which was converted, 69-71. It was both a dumb play by UNI's Paul Jesperson and an unnecessary whistle by the official.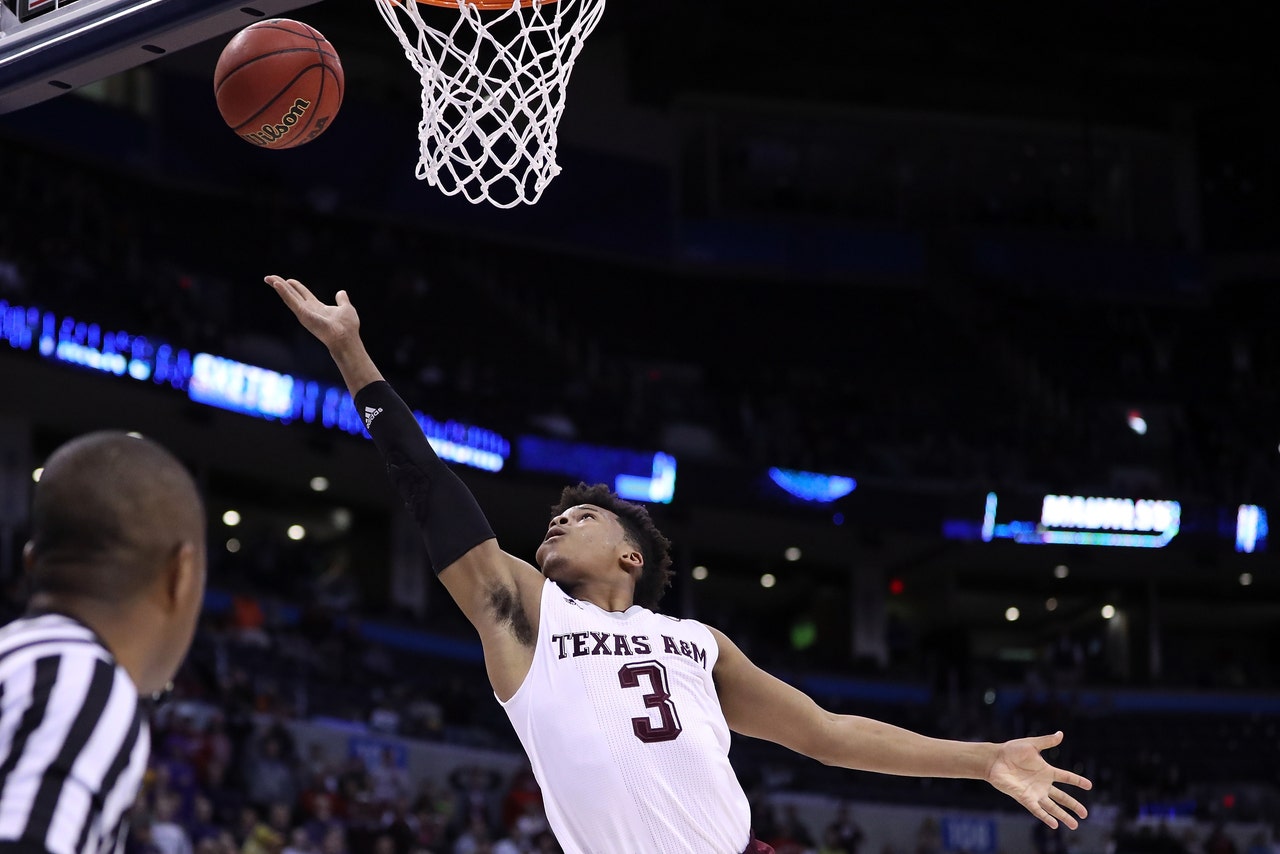 The game-tying shot. (Photo by Ronald Martinez/Getty Images)
The inbound with 11 seconds left somehow went into another corner. Again. Pinned, Wes Washpun panicked for six seconds and then tried to throw it off an A&M defender. The ball went right into Admon Gilder's hands and he hit a tougher-than-it-looked layup to tie the game 71-71. That's 14 points in 35 seconds for A&M, thanks mostly to those six UNI inbound passes in the final 45 seconds, five of which ended in turnovers, an unconscionable result that has to be blamed on coaching and nerves.
Eventually, the Aggies would win in double-OT, but not before UNI had a chance to win at the end of the first extra session, only to see Friday's hero, Jesperson attempt another miracle. This time he inexplicably shot with close to five seconds on the clock. From halfcourt. Jesperson shot so early and missed so bad UNI was actually credited with a rebound afterward. It was the perfect metaphor for the previous 15 minutes.
Northern Iowa should have won the game on about six separate occasions. That 12-point lead that began with 44 seconds remaining was still intact with 36 ticks on the clock, meaning the actual blown lead was even worse than is being quoted on TV. But even being up by eight points with 0:26 left should have been insurmountable. Check out this statistical generator that shows the odds of a team winning given a specific game situation:
The statistics said there was no shot of Texas A&M winning the game. It wasn't an improbability, it was an impossibility. This wasn't one of the worst collapses in NCAA tournament history, it was one of the worst in the history of college basketball. (It goes without saying that it takes two to tango and A&M was game in accepting the repeated gifts UNI was giving. That game-tying layup, in particular, was a thing of beauty.)
The game was a fitting coda to what might have been the best set of opening-round games the tournament has ever seen. And years from now, nothing will define the 2016 tournament more than the Northern Iowa Panthers, a potential Cinderella who was on top of the world Friday night and then, just 48 hours later, was at the bottom of it, suffering one of the most gut-wrenching defeats the game has ever seen.
The NCAA tournament: It's the best. And the worst. 
It's March Madness. 
(Photo by Ronald Martinez/Getty Images)
---
---