Baylor Bears
Baylor Bears
Motley 23 points for No. 25 Baylor, 80-41 over Prairie View
Published
Dec. 3, 2015 12:22 a.m. ET

WACO, Texas (AP) Lester Medford and Johnathan Motley are adjusting to their new roles for No. 25 Baylor.
Medford had nine assists and four steals, along with a block that started an early run in which the Bears' new starting point guard had a part in five consecutive field goals, and sixth-man Motley scored a season-high 23 points in an 80-41 victory over Prairie View on Wednesday night.
''It's fun coming off the bench,'' said Motley, who as a freshman last season started every game. ''I get to cheer my teammates on, get in the rhythm of the game on the bench and get hyped on the bench when you're waiting to go in. I just come in with a lot more energy and ready to play.''
Rico Gathers had his 27th career double-double for Baylor (5-1) with 15 points and 13 rebounds. Terry Maston scored 12 points.
Avery Lomax had a steal less than 3 minutes into the game and drove for a layup attempt that would put the Panthers (0-7) ahead, but the 5-foot-10 Medford blocked shot of the visiting guard shorter than him.
''Lester was pretty pumped, guards don't get a chance to show off their blocking skills very often,'' coach Scott Drew said.
Prairie View grabbed the offensive rebound, but Medford then had a steal and turned that into a 3-pointer by Ishmail Wainwright for an 8-4 lead. That started a 14-0 run in which he assisted on two more baskets, including a dunk by Motley, who returned the favor by passing to Medford for a field goal.
After Maston took a pass from Medford for a jumper, it was 16-4 only 7 1/2 minutes into the game.
''Just trying to find people, find open shots and find the easiest shot for my team. And my teammates did a good job of finishing on the other end,'' said Medford, who didn't' have a turnover in his 25 minutes. ''It's just really fun, because we've got so many guys that can score.''
Baylor had 24 assists on its 28 field goals.
Tevin Bellinger had 15 points for Prairie View (0-7), which made only 11 of 47 shots (21 percent).
During a span of just more than 3 minutes midway through the second half, Motley scored 11 consecutive points for Baylor. His jumper with 8:15 left made it 61-26.
Motley added a couple of highlight dunks after that. The 6-9 sophomore even had a nifty behind-the-back pass to Maston, who was then fouled and made both free throws.
''He was real impressive, and that's one thing he's capable of,'' Drew said. ''He always gives us a lift, but some games he's dominant, and we'd like for him to do that more often, because obviously he's fun to watch when he is,''
HEARD HIGHTLIGHT
Soon after entering the game with about 4 1/2 minutes left, senior walk-on forward John Heard made a running one-hander while being fouled. Motley embraced him in a huge bear hug under the basket while teammates excitedly jumped off the bench. After Heard made the free throw to make it 74-32, even Drew had a big smile on his face when he sat back down.
TIP-INS
Prairie View: The Panthers played the seventh of nine games before their home opener, which is Dec. 16 against Texas State, and is their only nonconference home game.
Baylor: The Bears are 49-0 against current Southwestern Athletic Conference teams, including 14 games against Prairie View. ... Baylor has won 29 consecutive non-conference home games since losing to Northwestern on Dec. 4, 2012.
UP NEXT
Prairie View has an extended break before playing Dec. 11 at TCU.
Baylor is home Sunday night against No. 16 Vanderbilt.
---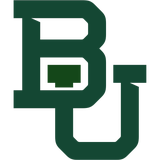 Get more from Baylor Bears
Follow your favorites to get information about games, news and more
---