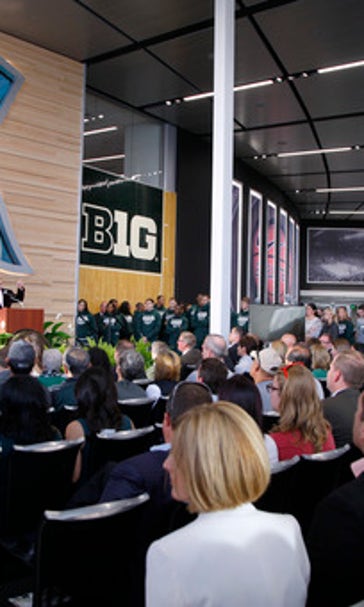 Michigan State's players put on a show at Midnight Madness
October 21, 2017

EAST LANSING, Mich. (AP) Michigan State's basketball team drew so many fans to Midnight Madness that some of them had to settle for seats without much of a view for part of the show.
The Breslin Center has 14,759 seats and each seemed to be filled with fired-up fans, some of whom had an obstructed view because of a video screen that was set up behind a baseline.
''My whole dream was to someday fill this place,'' Izzo said Friday night, standing on a stage with his team. ''And, we've got an overflow crowd.''
Izzo looked as if he was dressed for a practice, wearing a green pullover and athletic pants. In the past, he has gotten into costumes for the event and dressed up as characters such as Dracula or has done a stunt such as repelling from the rafters.
''For 22 years, most of the time I'm doing something insane,'' he said.
This time, Izzo let his players become the feature during a high-flying scrimmage that all in attendance could see because the screen was lowered. Bridges made the first shot in a spirted scrimmage on a dunk.
The Hall of Fame coach repeated a message Bridges delivered last spring when he made a relatively stunning decision to return for his sophomore season instead of being a top pick in the NBA draft.
''It's not about me,'' Izzo said. ''It's about us.''
Bridges will lead a team with eight of their top 10 scorers back from last season plus highly touted freshman Jaren Jackson, a 6-foot-11 forward. The deep and talented team may give Izzo a great shot to win a second national championship.
''We're going to try our hardest to live up to the expectations that everybody has and that's to put another banner up in the sky,'' he said.
Here's a look at some of the Midnight Madness-style events Friday:
ARIZONA: Coach Sean Miller told a sold-out crowd at the McKale Center his team ''can do some special things,'' in his first appearance in front of fans since a scandal shook his and other programs in college basketball. Wildcats assistant Emanuel Richardson was arrested for allegedly accepting a bribe and paying at least one player to attend the school.
Several recruits attended Arizona's Red-Blue Game, including the school's two committed players for the 2018 class, Brandon Williams and Shareef O'Neal, whose father, Shaquille O'Neal, sat courtside.
Coveted recruit Jahvon Quinerly recently retracted his commitment less than a month after Arizona's basketball program became entangled in a federal probe. FBI documents say Richardson accepted $20,000 in bribes and used money to influence an unnamed recruit who committed to the school `on or about Aug. 9, 2017.'' Quinerly, a five-star point guard from New Jersey, announced his commitment to the school on Aug. 8.
DUKE: The Blue Devils' ''Countdown to Craziness ,'' featured perhaps the nation's top freshman class led by Trevon Duval, Gary Trent Jr., Wendell Carter and Marvin Bagley. Duke will need them to replace Jayson Tatum, Frank Jackson and Harry Giles, who jumped to the NBA after their lone college season.
SYRACUSE: The Orangemen attracted a modest crowd of perhaps 1,000 fans at the Carrier Dome that has nearly 50,000 seats.
---
AP Sports Writers Joedy McCreary, John Kekis and John Marshall contributed to this report.
---
More AP college basketball: http://collegebasketball.ap.org and http://www.twitter.com/AP-Top25
---
Follow Larry Lage at www.twitter.com/larrylage
---
---