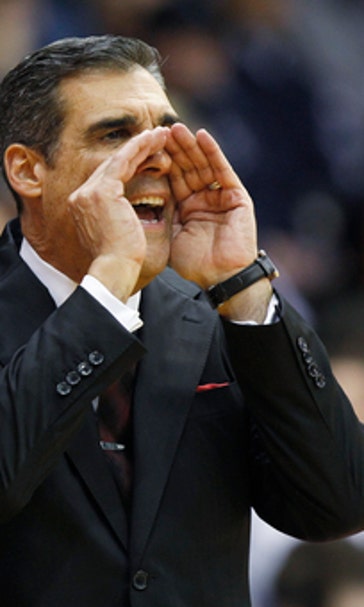 Martin, No. 22 Butler rally to stun No. 2 Villanova, 74-66 (Feb 22, 2017)
February 23, 2017

VILLANOVA, Pa. (AP) Butler coach Chris Holtmann told his players to expect to be punched in the mouth playing on the road against one of the best teams in the nation.
The Bulldogs took the punch - and then delivered a knockout blow few people saw coming.
Kelan Martin scored 22 points and fueled a stunning second-half rally to lead No. 22 Butler past No. 2 Villanova 74-66 on Wednesday night, snapping the Wildcats' on-campus home winning streak at 48 games.
Kamar Baldwin added 15 points for the Bulldogs (22-6, 11-5 Big East), who have handed the defending national champion Wildcats two of their three losses this season.
''We've never won here,'' Holtmann said. ''Not many people have. It's certainly a significant regular-season win for our program to beat a top two team on the road.''
Jalen Brunson scored 24 points and Josh Hart had 18 for Villanova (26-3, 13-3), which came into the game having already clinched at least a share of their fourth straight Big East regular-season championship.
The game marked the first time Hart and fellow seniors Kris Jenkins and Darryl Reynolds lost a game at the Pavilion in their four-year careers.
''I'm really proud of them,'' Villanova head coach Jay Wright said. ''You can tell a lot about guys when they get beat how they compete. And our guys competed until the last second. We've got great seniors.''
With Villanova leading by seven with 10:30 remaining, Butler scored the game's next 18 points to take a 60-49 lead. Martin led the comeback effort with nine points during that stretch, including two 3-pointers.
Despite a frenetic `Nova press, Butler held on with some clutch free throw shooting down the stretch to snap Villanova's seven-game winning streak.
''When they got down, they didn't crack at all,'' Wright said. ''They just kept executing. We didn't crack either. We just couldn't get buckets against them.
''It wasn't that we weren't good,'' he added. ''They were just a better team than us tonight.''
The Bulldogs also upset then-No. 1 Villanova in Hinkle Fieldhouse on Jan. 4. They gave the defending champs even more fits Wednesday at the Pavilion, the Wildcats' on-campus home where they hadn't lost since Feb. 3, 2013, against Providence.
Playing without starting center Reynolds (rib injury) for the fourth straight game and using a six-man rotation most of the way, the Wildcats missed their first six shots and committed four turnovers before the opening TV timeout.
Villanova didn't take its first lead until Brunson hit a contested 3-pointer from the top of the key with just under 1 minute left in the first half.
The Wildcats led by as many as eight points early in the second half before the Bulldogs flipped the script and stunned a sold-out Pavilion crowd not accustomed to seeing any losses.
''Coach told us (their seniors hadn't last here) during shootaround,'' said Martin, who added eight rebounds and shot 7 for 11 from the field. ''We wanted to be the first team to beat them.''
BIG PICTURE
Butler: After a rough patch that included three losses in four games, the Bulldogs have won three straight and are suddenly in good position to nab at least a top-four seed in the NCAA Tournament.
Villanova: Despite the loss, the Wildcats need just one win in their final two regular-season games to capture their fourth straight outright Big East title - every year since the league was re-formed as a 10-team conference in 2013-14.
PREGAME PREMONITION
Memphis transfer Avery Woodson finished with 13 points and said games like this are one of the reasons he wanted to end his college career at Butler.
''I had a special vibe this morning when I woke up,'' he said. ''I just felt extremely blessed to be here at Butler and to wear their jersey and to have an opportunity play one of the best teams in the nation.''
MR. 500
Wright wasn't in much of a mood to celebrate after the game, but before tipoff he was honored for surpassing 500 career wins with every fan holding up a sign with ''500'' on it. He reached the milestone in Villanova's 73-57 win over Xavier on Feb. 11.
UP NEXT:
Butler: The Bulldogs stay on the road and play Xavier on Sunday before hosting Seton Hall in their regular-season finale. They're still mathematically alive to share the Big East regular-season title with Villanova.
Villanova: The Wildcats host No. 23 Creighton in the final game at the Pavilion before their on-campus home is renovated and reopens as the Finneran Pavilion in the fall of 2018.
---
More AP college basketball: www.collegebasketball.ap.org and https://twitter.com/AP-Top25.
---
---