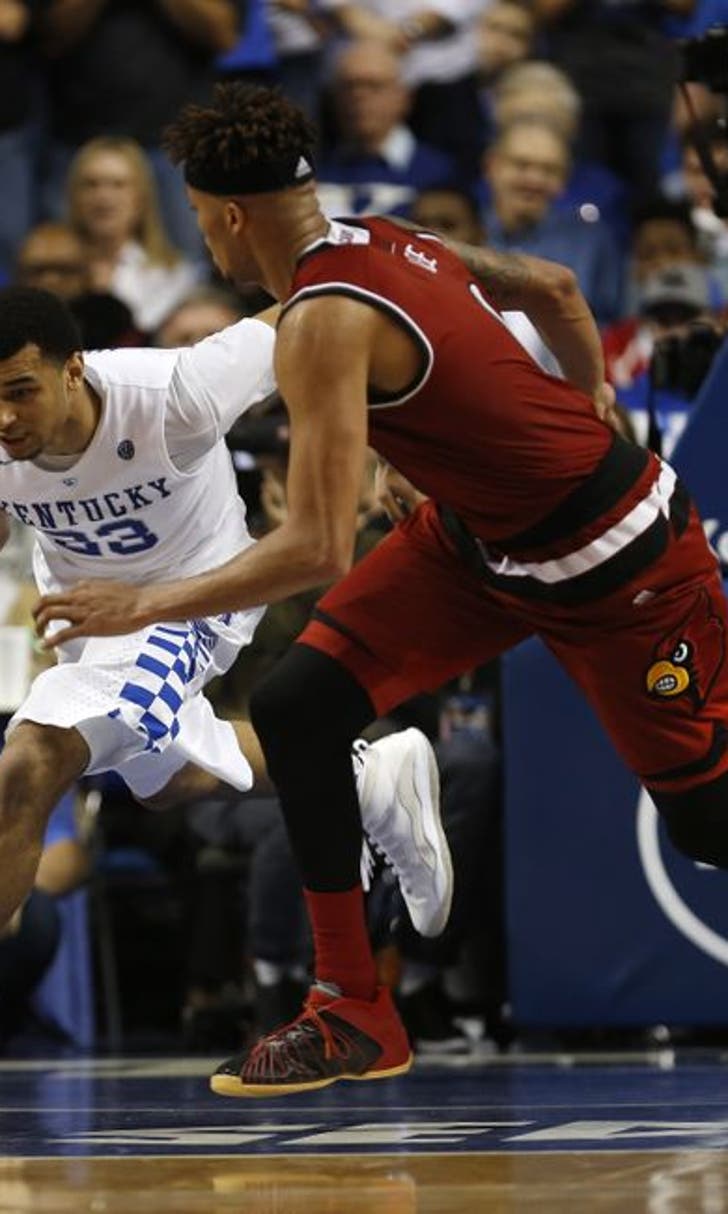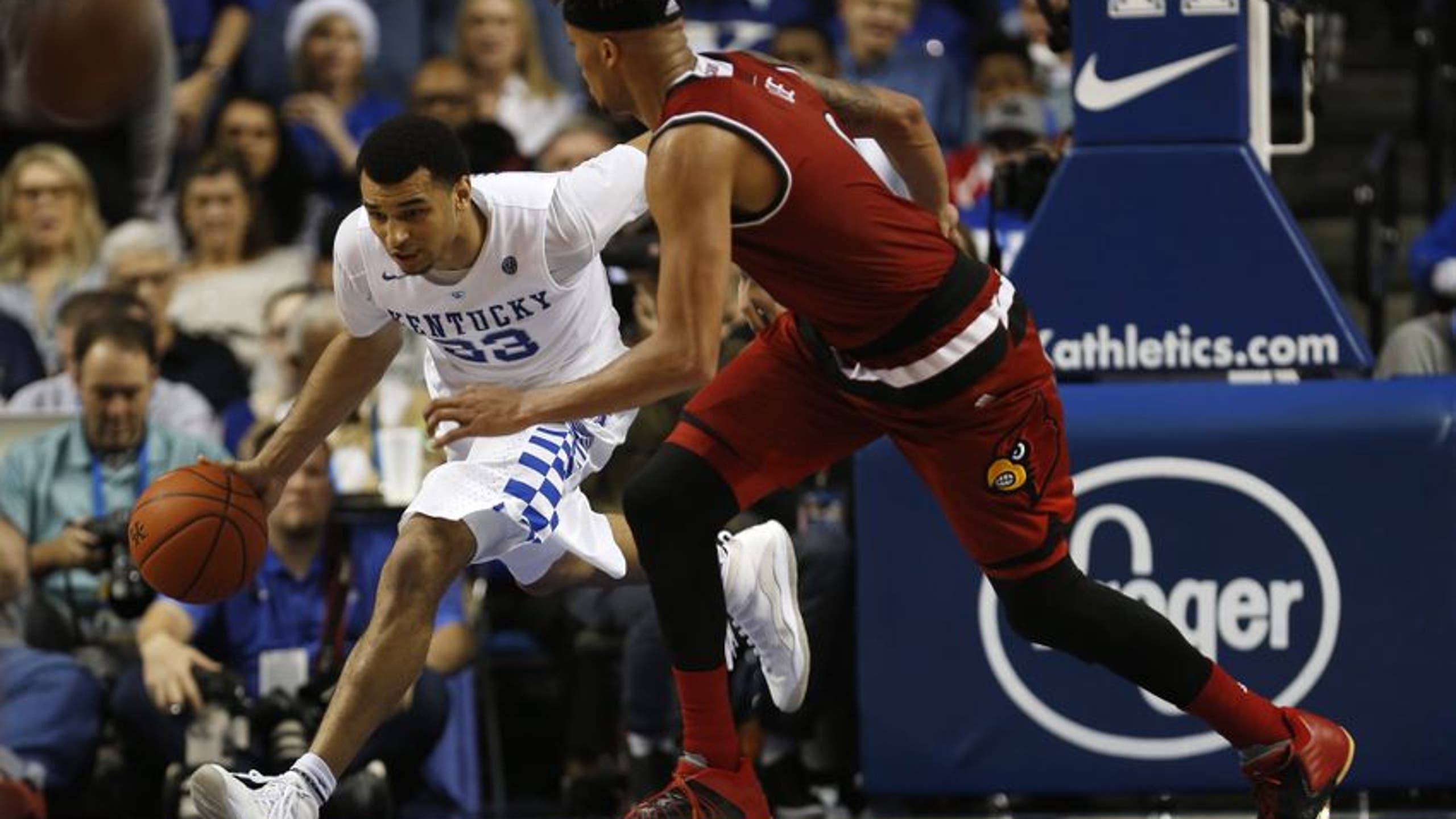 Louisville Basketball: 5 Impact Players For The UK vs. UofL Game
BY Fansided and Derek Snyder/FanSided via Big Red Louie • December 17, 2016
We take a look at the five most important players going into the Louisville basketball and Kentucky game on Wednesday.
The Louisville basketball team is heading into a four game stretch that will test them to their breaking point for the next few weeks. Games against Kentucky, Indiana, Virginia, and Notre Dame will tell us everything we need to know about this squad.
However, this upcoming game against Kentucky may be the toughest team they will face all season.
With that being said, let's take a look at the five impact players for the game:
Dec 7, 2016; Louisville, KY, USA; Southern Illinois Salukis guard Leo Vincent (5) scrambles for a loose ball with Louisville Cardinals guard Donovan Mitchell (45) during the second half at KFC Yum! Center. Louisville defeated Southern Illinois 74-51. Mandatory Credit: Jamie Rhodes-USA TODAY Sports
Donovan Mitchell
Guard, University of Louisville
Season Stats: 29.4 min, 11.4 points per game, 2.6 steals per game, and 5.6 rebounds per game
Donovan Mitchell has been the main reason why the Cards have been able to hang in the top fifteen this season. His improved shooting and ability to force turnovers has turned out huge for a Louisville team that has been plagued by taking low-percentage shots so far this season.
With that being said, it's mightily important that Mitchell comes out on fire against Kentucky. He needs to have an amazing night from the perimeter if Louisville wants a chance to win this game.
I don't care how good of defense you play against the Cats, they are just flat out going to get their points.
The best thing Louisville can do is try to slow the game down and get Mitchell hot from the three point line.
Dec 17, 2016; Las Vegas, NV, USA; Kentucky Wildcats guard De
De'Aaron Fox
Guard, University of Kentucky
Season Stats: 30.2 min, 15.1 points per game, 6.9 assists per game, and 1.7 steals per game
If there is one guy that I would love to see play for Louisville, it would be De'Aaron Fox. This kid is something special and is going to be a successful player in the NBA for many years to come. However, the bigger and more pressing problem is if he will torch the Cardinals this coming week in the Yum Center?
Fox is one heck of a point guard for John Calipari. His ability to pass the basketball, force turnovers, and be athletic as Lamar Jackson is what makes him one of the best players in America.
Okay, I may have jumped over too far with the Lamar Jackson comparison, but you get the picture.
Louisville cannot afford to let Fox beat them with his scoring on Wednesday night. He isn't a guy that they rely on to get points, but he does tend to close games with his ability to score in transition.
If the Cards can keep him silent, then that will give them a great shot of being in this thing until the end.
Nov 23, 2016; Lexington, KY, USA; Kentucky Wildcats forward Edrice Bam Adebayo (3) shoots the ball against the Cleveland State Vikings in the first half at Rupp Arena. Mandatory Credit: Mark Zerof-USA TODAY Sports
Bam Adebayo
Forward, University of Kentucky
Season Stats: 25.3 min, 12.6 points per game, 1.8 blocks per game, and 8 rebounds per game
It's almost scary to think about how much of a size advantage that Bam Adebayo is going to have against Louisville this week. He stands at 6-foot-10, but his 260 pound frame just punishes other defenders in the paint. The Cards will have a very hard time defending him on Wednesday night.
The most important thing Louisville can do against him is be as physical as they can and be consistent with their hands. The Cards can get some opportunities to score if they can force him to turnover the ball down low.
It will also be important for the Cards to go right at him on offense. Yes, he is big and physical, but fouls are still fouls.
If the Cardinals can get Adebayo into foul trouble early in both halves, then Louisville just may have a chance to dominate the boards and come out with the upset.
Nov 24, 2016; Paradise Island, BAHAMAS; Louisville Cardinals forward Deng Adel (22) reacts after a score in front of Wichita State Shockers forward Zach Brown (1) during the first half in the 2016 Battle 4 Atlantis in the Imperial Arena at the Atlantis Resort. Mandatory Credit: Kevin Jairaj-USA TODAY Sports
Deng Adel
Forward, University of Louisville
Season Stats: 28.4 min, 10 points per game, 3.6 assists per game, and 4.8 rebounds per game
One way or another Deng Adel is going to be an impact player in this highly important basketball game on Wednesday night. The bigger questions is whether he is going to be an impact player for Louisville or for Kentucky.
If he can take more high-percentage shots and pass the ball well, then he will have a positive impact for the Cards and could be the difference.
However, if he starts taking bad shots and driving the lane when Kentucky already has it blocked off, then he will be the Wildcats' best friend.
All we hear is how Adel is the best NBA prospect on the Cards' roster, but we haven't seen him play like it yet this season. There is no better time than against Kentucky to get his season back on track and put the Cards in the win column against a team they haven't beat in their last four tries.
Dec 17, 2016; Las Vegas, NV, USA; Kentucky Wildcats guard Malik Monk (5) smiles after scoring a three point bucket during a game against the North Carolina Tar Heels at T-Mobile Arena. Mandatory Credit: Stephen R. Sylvanie-USA TODAY Sports
Malik Monk
Guard, University of Kentucky
Season Stats: 28 min, 19.4 points per game, 2.6 rebounds per game, and 2.4 assists per game
This is easily going to be the player that will decide who will win this game on Wednesday. Monk is currently leading the Wildcats in scoring and will be looking to continue his hot shooting, which won Kentucky the game against North Carolina on Saturday.
As only a freshman, Monk has become one of the best guards in the entire country under John Calipari. Not only is he one of the main reasons why Kentucky is so good, but he is the main reason why they will be heading towards the Final Four come March.
Not to mention, he just put up a career-high in points against the Tar Heels with 47. Monk hit 8 three pointers on the way to a slim, three point victory for the Cats.
With that being said, the Cards have to defend this guy on the perimeter. Laziness on defense will kill Louisville if they can't defend the perimeter at a high level for 40 minutes.
All we can hope for is that Monk has an off game, but they cannot count on that whatsoever.
More from Big Red Louie
This article originally appeared on
---
---