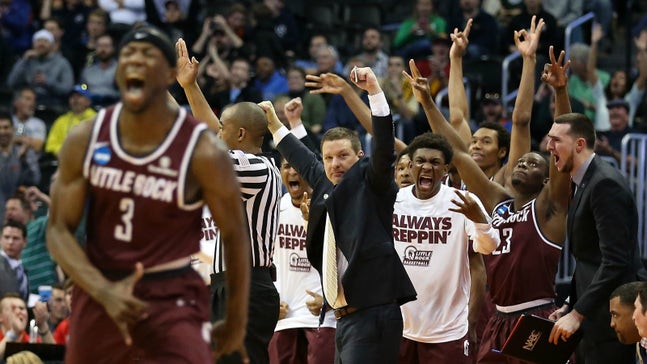 Little Rock knocks out Purdue in 2 OT for second 12-5 upset of the day
Published
Mar. 17, 2016 7:43 p.m. ET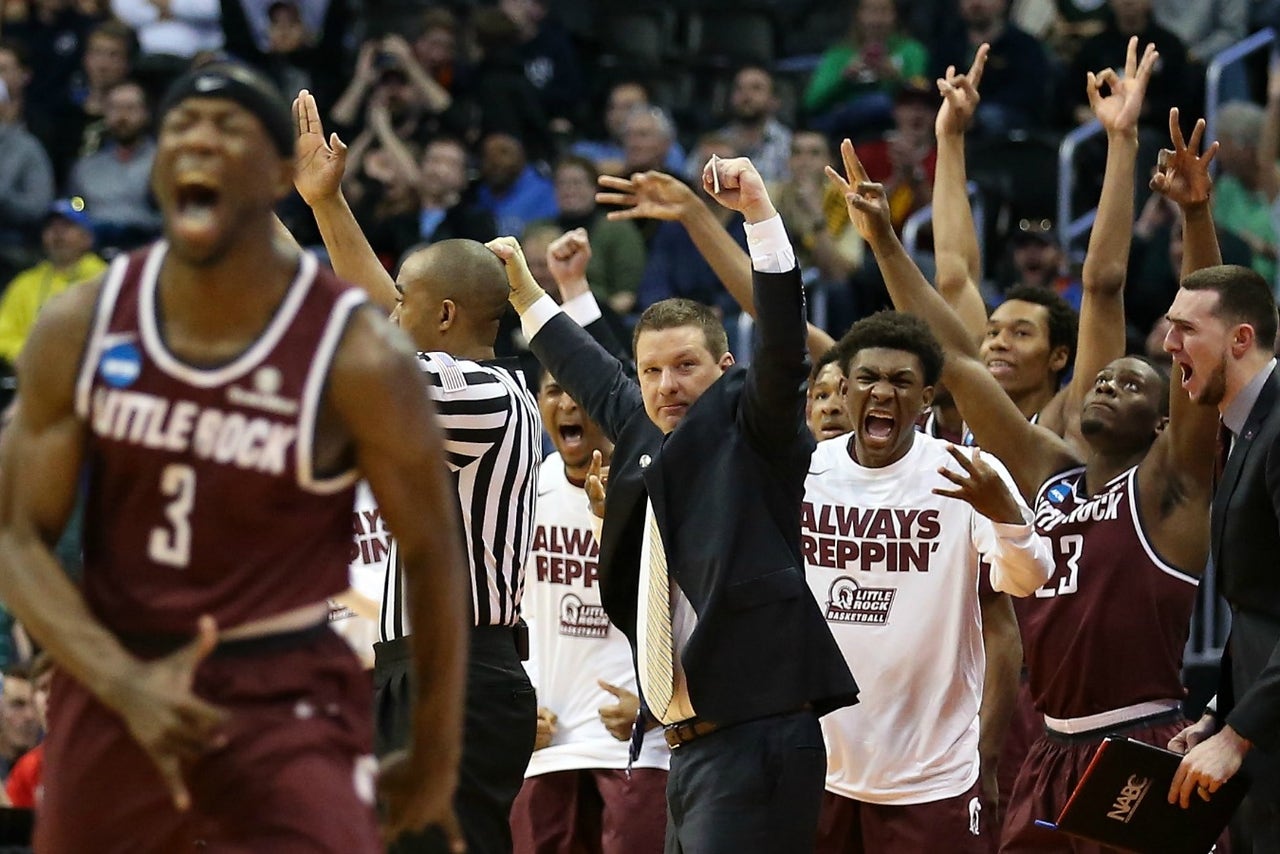 DENVER — All looked lost for Little Rock. An underappreciated but no-longer-unknown guard named Josh Hagins wasn't quite done playing.
Celebrating his 22nd birthday, the 6-foot-1 senior made a 3-pointer from the edge of the half-court logo to send the game into overtime, a high looper off glass to send it into double-overtime, then kept right on scoring — 31 points in all — until his team had beaten Purdue 85-83 and grabbed a spot in the second round of the NCAA Tournament.
"Don't ever count the little guys out," first-year coach Chris Beard shouted toward press row as he ran off the court after his team joined Yale as the second No. 12 seed to beat a 5 on Thursday.
Hard to blame anyone who did, though.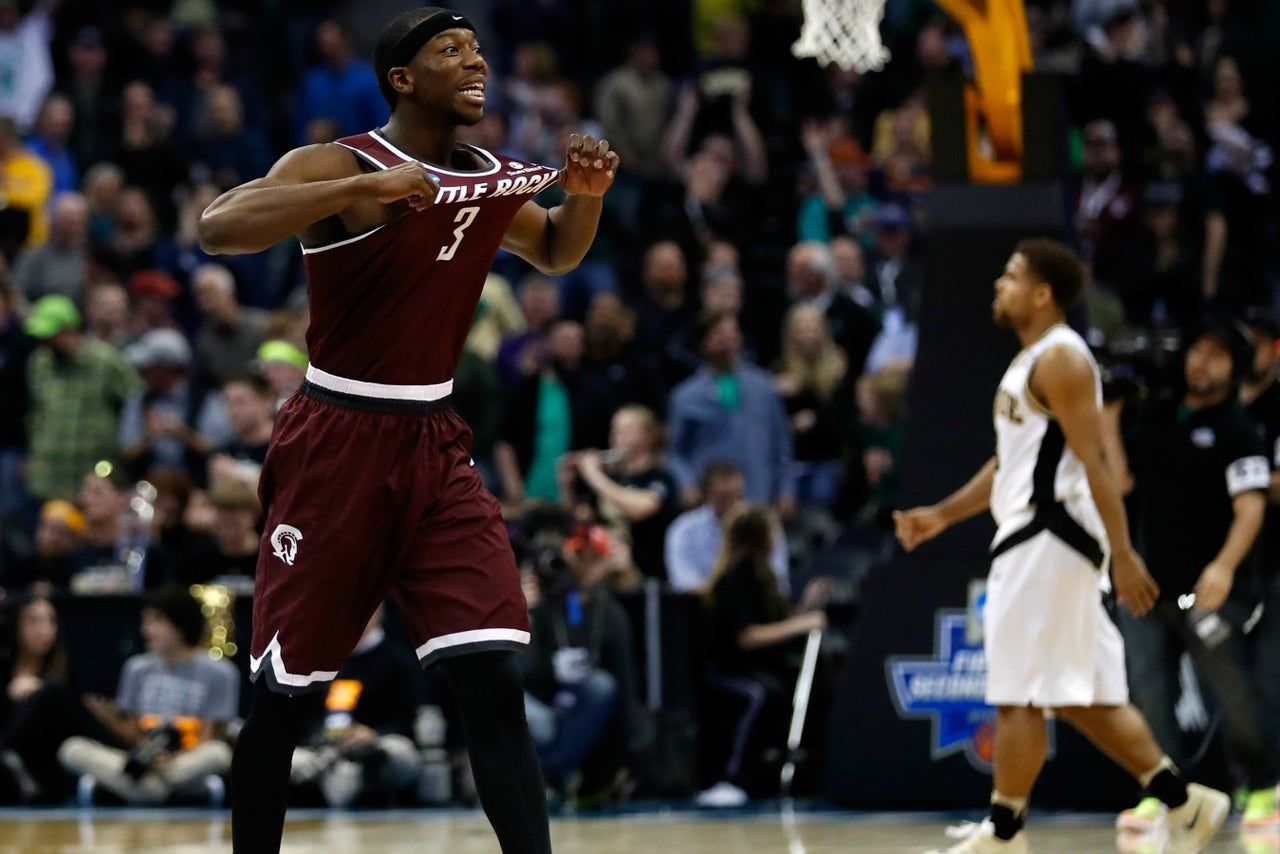 Little Rock's Josh Hagins after taking the game into overtime. 
The Trojans (30-4) were trailing by 13 and going nowhere with 3:33 left in regulation.
Suddenly, the champions of the Sun Belt Conference — yes, the same league that gave us Georgia State and coach Ron Hunter falling off his chair in last year's tournament — started making shots and injecting the madness into this March.
"I'm a senior," said Hagins, who added seven rebounds, six assists and five steals to his career-high point total. "I've waited 22 years, to be honest, to get to this point, this one game. I wasn't going to go out like that. I wasn't going to go without a fight. I made shots, missed them. I was going to go out swinging."
Trailing 68-64 with 33 seconds left, Hagins missed a 3 badly, but it rimmed sharply to the corner, and into the hands of 6-foot-11 Lis Shoshi. His 3-point attempt struck iron, bounced straight up and dropped.
Vince Edwards, who led the Boilermakers (26-9) with 24 points, hit two free throws to extend the lead back to three. Then Hagins worked the ball across half court looking only for one thing: a shot. Working against Purdue's P.J. Thompson, Hagins couldn't find room until he backed to the edge of the "March Madness" logo, about 30 feet away, and launched. It went with 5.1 seconds left.
Edwards was so shocked he stood still for a few seconds after taking the inbounds pass. Instead of a decent look, Purdue settled for a half-court heave at the buzzer and the game moved to overtime, tied at 70.
On Little Rock's last possession in the first extra period, Purdue tried to stop Hagins with Rapheal Davis, but he didn't have any luck, either. Hagins drove, stopped on a dime and arched a shot that kissed off glass to tie things at 75.
"I live for those situations, man," Hagins said.
In the second overtime, Hagins opened with a pull-up 12-footer that gave the Trojans a lead they wouldn't relinquish.
Other Hagins highlights: A dribble drive to the baseline, then a fadeaway pull-up — a la Isaiah Thomas — for an 83-79 lead with 1:01 left. Hagins also made the game's last free throw, and after the buzzer sounded, Beard went to center court and kissed the floor.
Beard, a longtime assistant for Bob Knight at Texas Tech, coached with a splint on his right hand, courtesy of a motivational haymaker he threw at a greaseboard last Sunday at halftime of the Sun Belt title game. At halftime of this one, Hagins had a grand total of two points.
"I challenged him a bit at halftime," Beard said. "I thought about using my left hand this time, but I stayed away from it."
Whatever he said worked.
Purdue never saw it coming. Senior A.J. Hammons finished his college career with 16 points, 15 rebounds and six blocked shots. When he hit two free throws with 3:33 left, the Boilermakers looked like a sure bet to be moving on.
"We got complacent with our lead," Boilermakers coach Matt Painter said. "We didn't put our foot down and take control of the lead and keep it going, stay strong."
And so, little by little, it was Little Rock carving a path to its first tournament victory since 1986. Next up, a Saturday meeting with Iowa State.
"Bottom line ... we're not one of those teams that came here to give Purdue a good run or anything like that," Hagins said. "We believe in ourselves and have enough confidence to win the game."
TIP-INS
Little Rock: Former Knicks coach Derek Fisher, the Trojans' biggest star — at least before Thursday — was on hand and talked to the team in the locker room. ... The Trojans' only other tournament victory came in 1986 against Notre Dame. ... Keeping Little Rock in the game early was Roger Woods, who finished with 13 points.
Purdue: The Boilermakers are still winless in the tournament since 2012. ... Caleb Swanigan had six points and 10 rebounds for Purdue, which only won the rebounding battle 52-45 despite having two 7-footers.
NEXT UP
Little Rock: Saturday vs. Iowa State.
Purdue: Season over.
---
---