Notre Dame Fighting Irish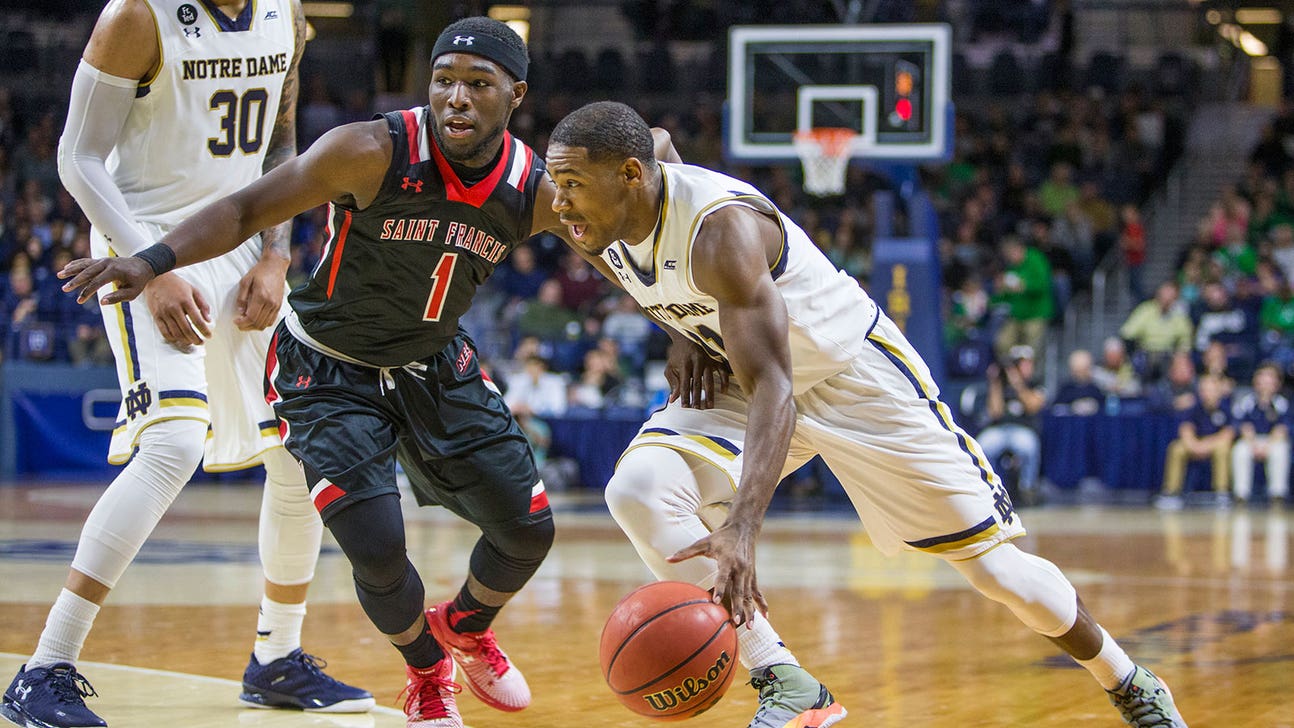 Notre Dame Fighting Irish
Jackson's career-high 27 spark No. 19 Notre Dame's rout in opener
Published
Nov. 13, 2015 10:38 p.m. ET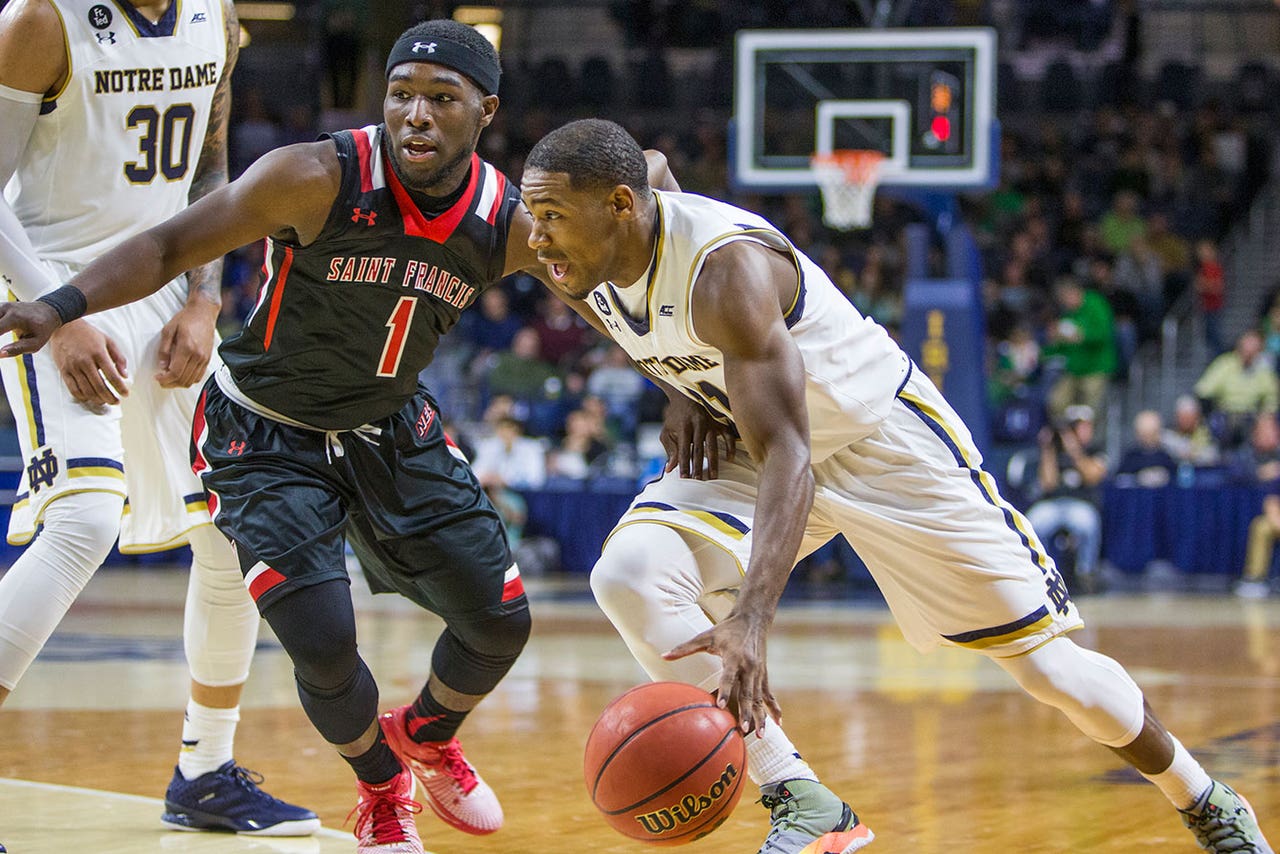 SOUTH BEND, Ind. — Demetrius Jackson deflected credit to his teammates for his big night.
Jackson scored a career-high 27 points to lead No. 19 Notre Dame to an 87-56 victory over St. Francis (Pa.) on Friday night in the season opener for both teams.
Jackson made 10 of 14 shots from the field, including three 3-pointers, for the Fighting Irish.
"It was my teammates getting me open and finding me in good spots and coaches putting confidence in me to continue to shoot and be aggressive," Jackson said. "They just encouraged me all week to be aggressive and don't turn down drives."
How was Jackson able to look for his shot and have everything fall?
"Just getting reps up," Jackson said. "I did a lot of stuff in the gym. Just getting shots up."
Not only did Jackson make shots on the perimeter, the 6-foot-1 junior had a dunk and several other drives to the basket.
Zach Auguste added 15 points and 14 rebounds for Notre Dame and Steve Vasturia had 10 points.
Auguste, a 6-10 senior, grabbed 10 defensive rebounds while going 6 of 12 from the field.
Greg Brown scored 15 points for the Red Flash.
Notre Dame used a 22-5 run in the second half to pull away. Its biggest lead of the first half was 35-21.
The Irish outscored the Red Flash 19-10 in the last 10 minutes of the opening half and 21-9 in the first 10 minutes of the second half.
St. Francis experienced a stretch of nearly 5 minutes without a point in the second half as Notre Dame extended its lead to 56-37 and never let the Red Flash get closer than 22 points the rest of the game.
The biggest lead in the second half was 87-53.
Auguste, who had 10 defensive rebounds, went in expecting a double-double.
"That's an individual goal I have," Auguste said. "My team believes in me just as much as I believe in them. It's something I wanted to go out and do."
The 6-foot-10 senior also expects to be a low-post presence.
"I just had to be aggressive," Auguste said. "I've got to be the guy in the middle."
On a night when Notre Dame celebrated its 2014-15 Atlantic Coast Conference tournament title, the Irish got off to a hot start for 2015-16.
"I told our guys before the game, `You know the Golden State Warriors dropped a banner and then just played their backsides off to start the next season," Notre Dame coach Mike Brey said. "Can we be men enough and focused enough to be a little bit like them. And I thought we were. When Demetrius Jackson and Zach Auguste, your two best players, get started like that, it's a good start for us."
While not the outcome, St. Francis coach Rob Krimmel praised his team's effort.
"We played hard for 40 minutes," Krimmel said.
TIP-INS
St. Francis: The Red Flash last led the game at 11-10 with 12:37 to go in the first half.
Notre Dame: The Irish enjoyed a 53-31 rebounding advantage, including 31-17 in the second half.
FOR OPENERS
Notre Dame is 93-18 all-time in season openers and has won all 16 openers under coach Mike Brey. The last time the Irish lost in the opener was in 1998, against Miami (Ohio).
St. Francis has lost six straight openers. The last season-opening win for the Red Flash came in 2009-10. They have not won a true road season opener since 1966, at Duquesne.
ANOTHER NOVEMBER TO REMEMBER
Notre Dame is 58-1 at home in November under Brey.
UNBLEMISHED
Notre Dame's all-time record against the Red Flash is 13-0 and it is 25-0 all-time against current members of the Northeast Conference.
UP NEXT
St. Francis: Hosts Westminster on Tuesday.
Notre Dame: Hosts Wisconsin-Milwaukee on Tuesday.
---
---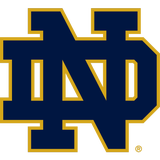 Get more from Notre Dame Fighting Irish
Follow your favorites to get information about games, news and more
---