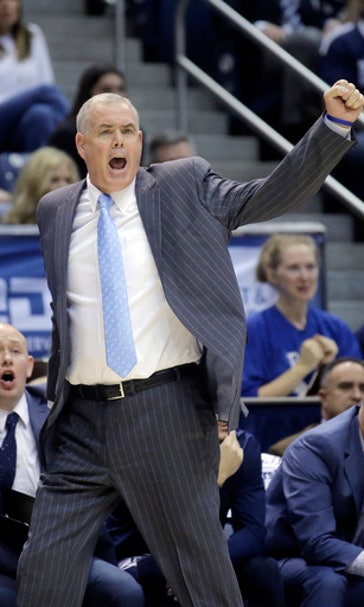 Hermanson scores 17, No. 22 Saint Mary's beats BYU 70-57 (Feb 18, 2017)
February 19, 2017

PROVO, Utah (AP) Saint Mary's knows all about the raucous atmosphere at BYU. The Gaels hadn't won in Provo since 2013 and had only come out on top in three of their previous 12 trips.
Make it four out of 13.
Calvin Hermanson scored 17 points and No. 22 Saint Mary's cruised to a 70-57 victory over BYU on Saturday night, snapping a three-game road losing streak to its West Coast Conference rival.
''It's definitely one of the tougher places to play for us,'' Hermanson said. ''Coming in here we know it's a huge crowd and we know they can get riled up on any 3-point shot or any run they make. We wanted to try to limit their runs and their big plays.
''The second half was pretty unbelievable how quiet the crowd was. It felt great for us.''
With two games remaining on the regular-season schedule, the Gaels (24-3, 14-2) clinched a second-place finish in the conference standings behind top-ranked and undefeated Gonzaga.
Saint Mary's controlled the game most of the night, riding its staunch defense on one end and running efficient offense on the other. The Gaels were able to get to the rim consistently, but also knocked down 10 3-pointers.
BYU (19-10, 10-6) shot 39.7 percent from the field and connected on four 3s.
Evan Fitzner had 15 points for Saint Mary's, including 11 in the second half.
''We didn't turn the ball over and we shot the ball well,'' Gaels coach Randy Bennett said, ''and were able to get some separation and then it made it tough on them. We kind of just wore them out after that.
''We're a little different team with Fitzner out there. He spaces the floor,'' Bennett added. ''We just play a little different with Fitzner out there versus Jock (Landale). It's nice to have a Plan A and Plan B.''
Saint Mary's took a 41-30 lead into halftime thanks to Hermanson's hot shooting and plenty of that trademark defense. The Gaels began the day ranked second in the nation in scoring defense, then held the Cougars to 37.9 percent shooting from the field in the first 20 minutes.
Saint Mary's shot 57.1 percent at the other end, including a 3-for-4 effort from Hermanson from behind the arc.
''I feel like we're better than we showed tonight,'' BYU guard TJ Haws said. ''That team made a lot of runs on us. Tough defensive and offensive team. Very poised and disciplined.
''I want our team to just fight. When they punch us in the face, I want us to punch them right back.''
BYU kept Landale under control in the half - and in foul trouble throughout - but Saint Mary's scored 22 of its 41 first-half points in the paint.
Eric Mika had 18 points for BYU, and Yoeli Childs added 13.
''The key to the game was that they were comfortable the entire time in our gym,'' BYU coach Dave Rose said. ''That's on us. We need to be ahead. We need to get them to speed up a little bit because they're a little bit uncomfortable.
''But the game went pretty much exactly how they wanted it to go and we couldn't flip it. We couldn't get on top.''
BIG PICTURE
Saint Mary's: The Gaels will be the No. 2 seed in the WCC tournament. No. 1 Gonzaga secured the regular-season title Saturday with a win over Pacific. An early December defeat to UT-Arlington is the Gaels' only bad loss this season, with the other two coming against Gonzaga.
BYU: The Cougars likely needed a win against the No. 22 team in the country to make an argument for the NCAA Tournament off their regular-season credentials. BYU has lost all three games against ranked opponents by double digits, including to Saint Mary's twice, and doesn't have a signature win. The Cougars get one last chance against Gonzaga next Saturday.
POLL IMPLICATIONS
No. 22 Saint Mary's might find itself moving up a bit after No. 17 Florida State and No. 21 South Carolina lost on Saturday.
UP NEXT
Saint Mary's: Travel to face Pepperdine on Thursday.
BYU: Play at Portland on Thursday.
---
---