Gonzaga makes resounding statement in earning Final Four berth
March 26, 2017

SAN JOSE, Calif. – Mark Few began getting the question as early as November — and again in December, January and February. Is this your best team? "It's not fair," the Gonzaga coach kept saying.

So, would he go there now?

"They're 36-1, going to a Final Four," a victorious Few said from the postgame dais here Saturday. "Absolutely. I mean, it is."

Few's 2016-17 team has officially reached the summit that no team before it could scale. Gonzaga is finally headed to the Final Four.

While their coach of 18 years insisted there was never a monkey on his back, hammering it into his players that a Final Four does not define one's season, the reality is that to most college basketball fans, it does.

"We believed from day one, when we all stepped foot on this campus, that we could go to Phoenix," Gonzaga star Nigel Williams-Goss said. "We didn't shy away from setting that goal. 

And to all those memorable 'Zags of years past — from Matt Santangelo and Richie Frahm to Ronny Turiaf and Adam Morrison; Robert Sacre and Elias Harris to Gary Bell and Kevin Pangos — let there be no mistaking the magnitude of the current group's feat.

"As the clock was running out, I started to lose it," Mike Roth, Gonzaga's athletics director since 1997, said. "The emotion of this moment is indescribable."  

After eking out an ugly 61-58 Sweet 16 win over West Virginia, the West region's No. 1 seed spared any suspense in the Elite Eight, throttling upstart Xavier, 83-59, amidst a torrid afternoon of 3-point shooting. At one point the 'Zags had hit 10 of 16 from behind the arc, laying waste to Xavier's zone defenses that gave its previous tourney opponents fits.

All told, the 'Zags hit 50 percent of their 3s (12-of-24) and 55 percent of their shots on offense. But Ken Pomeroy's most efficient team in the country is known first and foremost for its defense, which for the fourth time in five games held an opponent to one of that team's two worst offensive performances of the season.

"They're really, really good," Xavier coach Chris Mack said. "They've proven it all year long. They lost one game."

And yet the doubters persisted, due to a combination of playing in the lightly regarded West Coast Conference and to a series of infamous tourney exists over the years. Never mind that Gonzaga had reached the Dance in 19 consecutive seasons and was one of just three teams to reach the three most recent Sweet 16s.

There's a stigma that comes with no Final Fours to speak of. No amount of regular-season dominance could erase it.

That is, until now.

"We've had a lot of great teams, a lot of great players, and the one thing they can't say is they made the Final Four," junior guard Silas Melson said. "It's a great feeling to be a part of the first Gonzaga team to make it."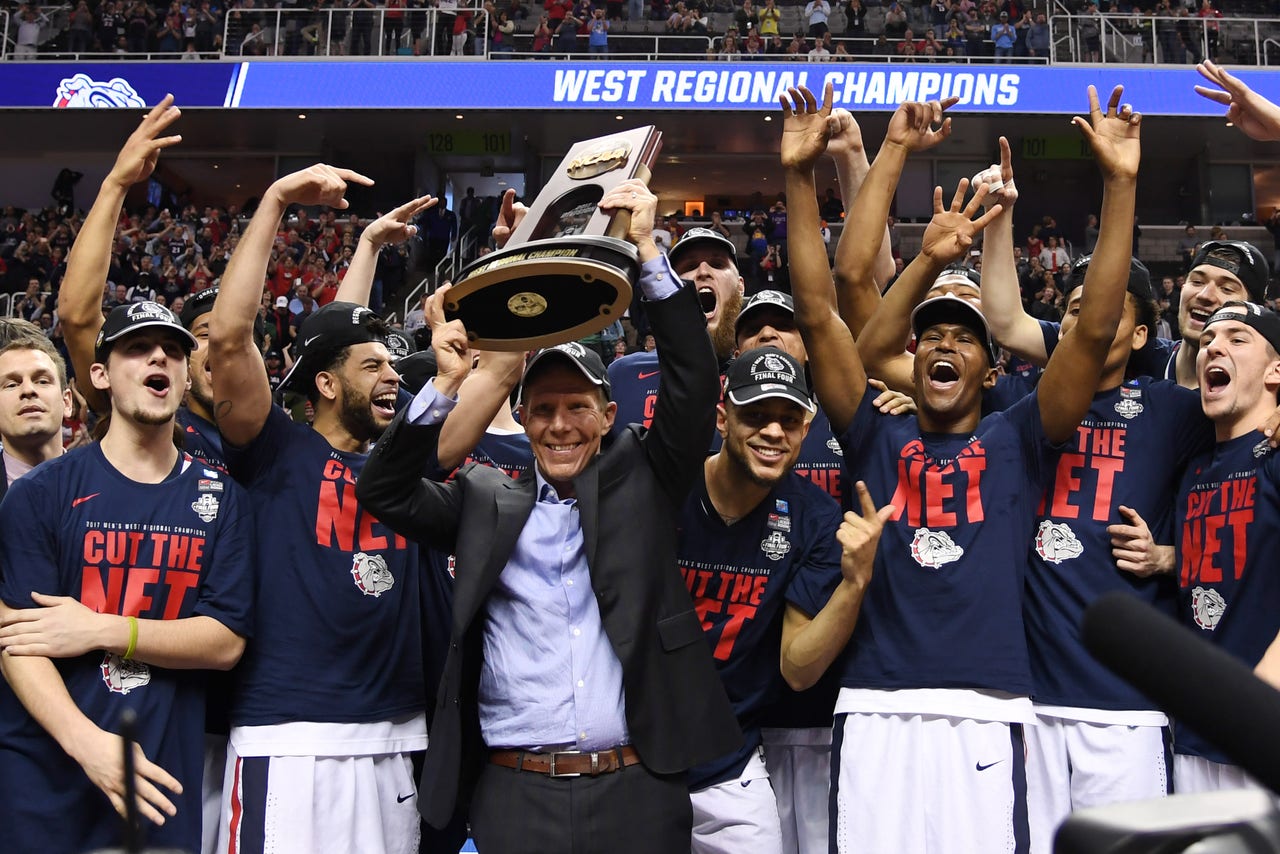 The unique thing about this particular Gonzaga team is that it wasn't built like any of Few's teams before it. A program that's thrived in large part due to developing players over their careers and by recruiting internationally turned this year into more of a melting pot for domestic re-settlers.

Its leading scorer against the Musketeers, Williams-Goss (23 points), is a transfer from Washington. The regional's Most Outstanding Player, Johnathan Williams (19 points, eight rebounds), began his career at Missouri. The guy who hit the late go-ahead shot to beat West Virginia, Jordan Mathews, is a grad transfer from Cal.

Center Przemek Karnowski and guards Josh Perkins and Silas Melson were the only regular contributors with previous Gonzaga experience — and Karnowski missed nearly all of last season to injury.

"I walked out there on the practice floor [in the preseason, and was like, we've never ever started with this many new people," said Few, as far as meshing them together. "They deserve all the credit in the world, they're as connected as any team we've had that's played together for four years. We've had some classes that redshirted and stayed together for four years. These guys are every bit as connected as them."

It shows in the fluidity with which they play. The 'Zags neutralized Xavier's zone in part due to Karnowski's exceptional passing ability, particularly for a big man. Somebody was always open.

And Gonzaga's length, athleticism and discipline on defense allowed it to shut down previously dominant Xavier scorer Trevon Bluiett, who came in averaging 25 points per game in this tournament but scored just 10 points Saturday on 3-of-14 shooting.

"Our defense has got us this far all year," Few said, "and it basically won all four games in the tournament for us."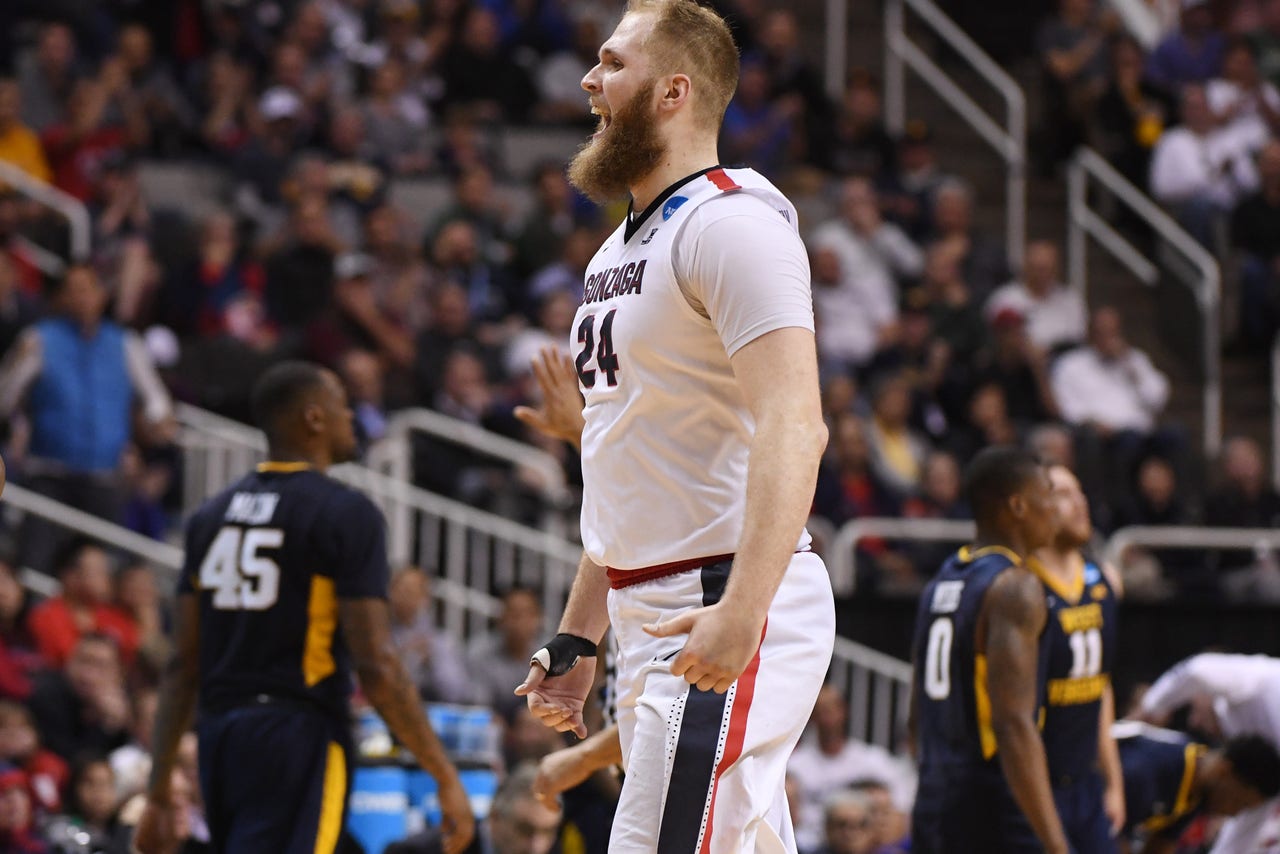 Of course, the tournament did not end Saturday. Next up, Gonzaga heads to Glendale, Arizona, where it will meet the winner of Sunday's improbable Florida-South Carolina clash. Just like in every game so far this tournament, the 'Zags will be favored.

Which means soon enough, the story will turn from Gonzaga reaching its first Final Four to Gonzaga trying to capture its first national championship.

In fact, as the final seconds ticked off  the blowout, a smiling Few walked down the sideline line and, according to center Zach Collins, just kept repeating: "We might as well win it all."

Might as well shut up the skeptics once and for all.


---
---