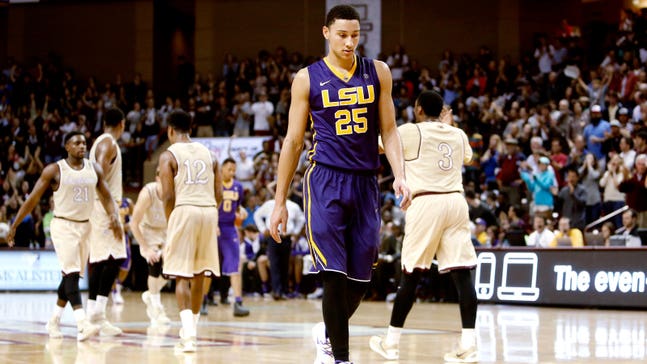 'Eye opener' -- Simmons, LSU thumped by COC, lose third straight
Published
Nov. 30, 2015 10:36 p.m. ET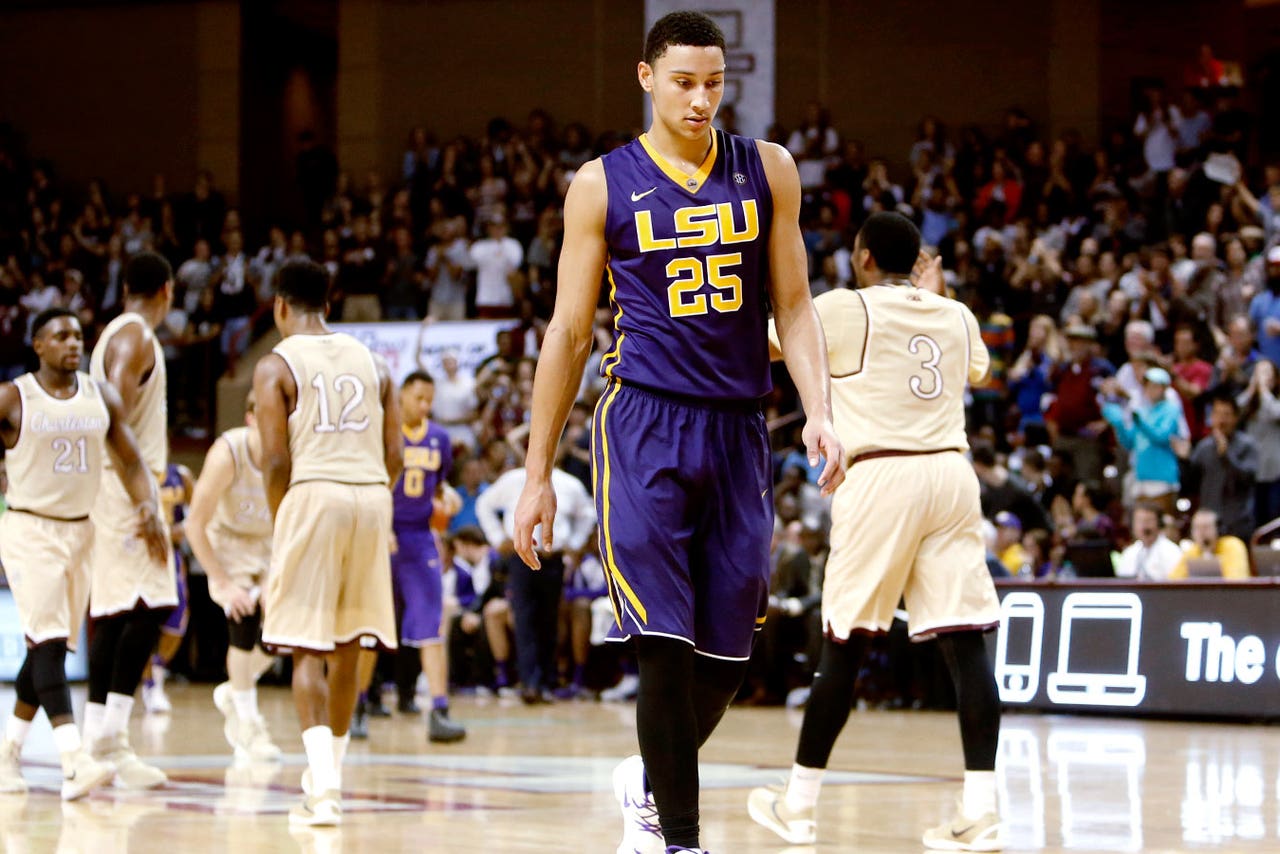 CHARLESTON, S.C.
For College of Charleston coach Earl Grant, the game was showing of how hungry his Cougars are. For LSU freshman Ben Simmons, it was a wakeup call for the struggling Tigers.
The Cougars (4-2) used a big first half to build a 24-point lead and held on to send LSU to its third straight defeat, 70-58, on Monday night.
Charleston had come off a hard-fought, 57-56 win against Western Carolina last Friday night -- one where Grant apologized to fans who showed up for a stagnant offensive effort.
This time, there were no apologies, with Canyon Barry scoring 19 points to lead the upset.
"I'm starting to realize these guys are hungry," said Grant, the Cougars second-year coach. "I like that."
He certainly liked what he saw in this one.
Charleston used a 13-0 burst early on to lead 24-10. It steadily grew the lead to 39-17 at half, then held its largest advantage when Payton Hulsey hit to foul shots to start the second period.
LSU (3-3) turned up the defensive pressure, gradually slicing the lead to 63-56 on Jalyn Patterson's 3-pointer with 1:08 to go. The Tigers got no closer.
Simmons, the Southeastern Conference's preseason player of the year, led LSU with 15 points and 18 rebounds for his fourth double-double in six college games.
"Hopefully, it's an eye opener for our team," Simmons said. "What we have to work on and get fixed as soon as possible."
Fans rushed the court when the clock ran out, celebrating the Cougars latest win over Power Five conference team. Charleston has beaten North Carolina, South Carolina and Tennessee in the TD Arena's seven seasons.
The Cougars pushed the pace early, made outside shots and played strong defense on LSU dynamic freshman duo of Simmons and Antonio Blakeney.
The two, who came in averaging better than 32 points a game, would end up with just 4 in the first 20 minutes on combined 1-of-10 shooting.
LSU went through several scoreless stretches, the longest lasting more than six minutes as the Cougars pulled away.
Barry finished the first half with 12 points.
Very little went right for LSU in the opening period. It shot just 24 percent (6 of 25) and missed seven straight foul shots.
The Tigers ended shooting 31 percent for the game and made just 15 of 27 foul shots.
TIP INS
LSU: The Tigers played in this arena in 2011, participating in that year's eight-team Charleston Classic. LSU fell to eventual tournament champion Northwestern to start things before rallying for fifth place with victories over Western Kentucky and Georgia Tech.
College of Charleston: The Cougars biggest win in their seven-year-old building unquestionably came in January 2010 with an 82-79 overtime victory over No. 9 North Carolina. Charleston's Andrew Goudelock had 28 points including the final eight in regulations as part of Cougars 12-1 run to force the extra period.
HEY, ISN'T THAT ...
Canyon Barry is the youngest son of NBA Hall of Famer Rick Barry. He was recruited by then Charleston coach Bobby Cremins, who recruited Barry's sons Jon and Drew to play at Georgia Tech. If there was any doubt about Barry's lineage, it was answered at the foul line where Canyon sealed the game in the final minute with five foul shots -- all done in his father's signature underhanded style.
NO BLAKENEY
LSU coach Johnny Jones said nothing was wrong with freshman Antonio Blakeney, just a bad shooting -- 0-of-9 overall, 0-of-4 from three -- night for a first-year player. "We just didn't get very much from him tonight," Jones said. "He's a much better player than that."
UP NEXT
LSU: Hosts North Florida on Wednesday night.
College of Charleston: Plays at city rival Citadel on Saturday.
---
---