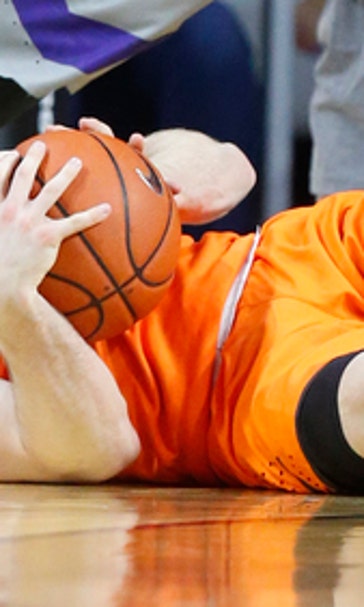 Evans, Hammonds lead Oklahoma State over Wildcats (Feb 22, 2017)
February 23, 2017

MANHATTAN, Kan. (AP) Down 14 points and hopes fading, Oklahoma State head coach Brad Underwood had a simple message to his team: Get out of bed and start playing. The alarm was sounded and by the end of the game, the Cowboys could rest easy as they traveled back to Stillwater with a win.
Jawun Evans and Leyton Hammonds led Oklahoma State back from a 14-point first-half deficit to defeat Kansas State 80-68 on Wednesday night.
''We talked at halftime being down on the glass, which has not happened to us a lot.'' Underwood said. ''Leyton Hammonds was terrific throughout the night on the glass.''
With 6:07 left in the first half, Oklahoma State (19-9, 8-7 Big 12) used a 14-0 run over the next 3:08 to tie the game at 33. An Evans' 3-pointer as time expired at the half left the Cowboys with a one-point deficit.
Oklahoma State took the lead on a Hammonds layup with 16:03 left in the game. Hammonds finished with 18 points on 7-of-14 shooting and grabbed 10 rebounds. Evans scored a game-high 21 points, making 11 of 12 free throws, and had nine assists. Brandon Averette added 13 points.
The Cowboys outscored the Wildcats 42-29 in the second half.
''It is a great accomplishment,'' Evans said. ''My teammates and I fought hard. We started off slow but ended up picking it up at the end of the first half. It is a great feeling.''
Wesley Iwundu led the Wildcats (17-11, 6-9) with 21 points, shooting 14 of 17 from the free-throw line, and collecting nine rebounds. Dean Wade scored 11 points.
ON A STREAK
The Cowboys have won four in a row. The win by the Cowboys snapped a five-game skid by the Cowboys in Bramlage Coliseum that dates back to 2010.
The Wildcats have lost four straight at home.
QUOTABLE
First-year Cowboys coach Brad Underwood, who played at Kansas State (1984-86) and also served on the Wildcats staff (2006-12), on his return to Manhattan:
''I probably had more problems with it the first game because it was playing K-State and I had not done that. I had been for K-State my whole life. That part was just a different feeling. Coming back in here was different. Walking through the tunnel for the shoot-around this morning and hanging a left instead of a right in terms of going to the visiting locker room. It was great seeing friends. There are a lot of people here that I have so much respect for and they are friends for life. I am appreciative of the relationships and people, that's what makes Kansas State and Oklahoma State very special.''
UP NEXT
Oklahoma State: Hosts Texas Tech on Saturday
Kansas State: Travels to Oklahoma on Saturday
---
---