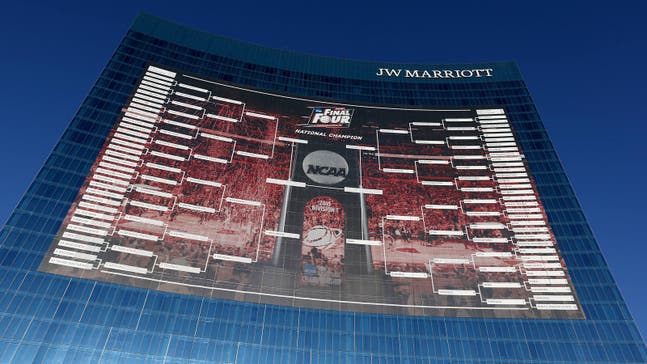 Disaster! NCAA tournament brackets leak during Selection Show
Published
Mar. 13, 2016 6:34 p.m. ET

It was CBS's worst nightmare come true. Well, other than a Baylor-Xavier final.
While the NCAA's new, two-hour selection show was dragging on worse than an episode of 2 Broke Girls, a bracket was leaked online and quickly went viral, ruining the suspense of the most anticipated announcement in sports. Obviously, when anything like that hits the Internet, skepticism is the knee-jerk reaction. But after the leakedbracket nailed the first two regionals that were announced (Kansas and Oregon's), it was pretty clear the NCAA or CBS had sprung a leak.
But you know what's not fun? Looking at the bracket before it's announced. It's like peeking at your Christmas present before Dec. 25. I tried to look away, like a scaredy-cat watching a horror movie (and I'm referring to myself there), but you could only miss so much if you were on Twitter. The whole affair should be taught in communications classes about the power of going viral. Though it can't be verified, this seems to be the tweet that started it all.  
While my thoughts on the leak are clear (I like surprises), plenty of others enjoyed knowing the field before it was announced. And there was one bit of Schadenfreude to be had for all: For the first time ever, the Selection Show was two hours this year. It started as a 30-minute show, then went to an hour and then, as everything in sports invariably does, it expanded this year. Bad move. The whole thing was interminable. Instead of burning through all 68 teams and then analyzing things after, CBS went region by region with the requisite commercial breaks in between.
I mean, the second half of the bracket started 62 minutes after the show began! The first half of Saturday's ACC championship took 37 minutes! At one point, Charles Barkley was playing with one of those smart televisions John King uses during CNN's election coverage, attempting to move his picks (featuring teams he knows nothing about) through the bracket, and it was like teaching my mom how to use her iPhone. On television. It was whatever the opposite of riveting is.
So, note to the NCAA: Don't leak things and don't draw things out. Give the people what they want. If not, they're apparently going to get it anyway. 
---
---