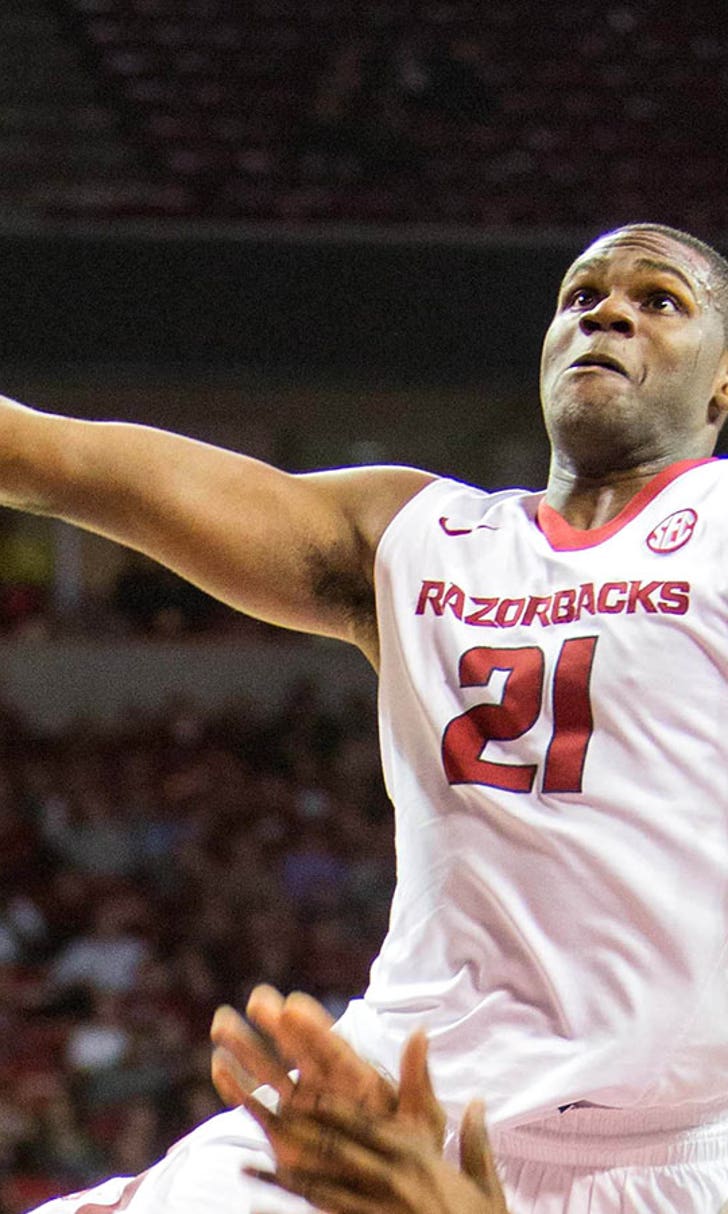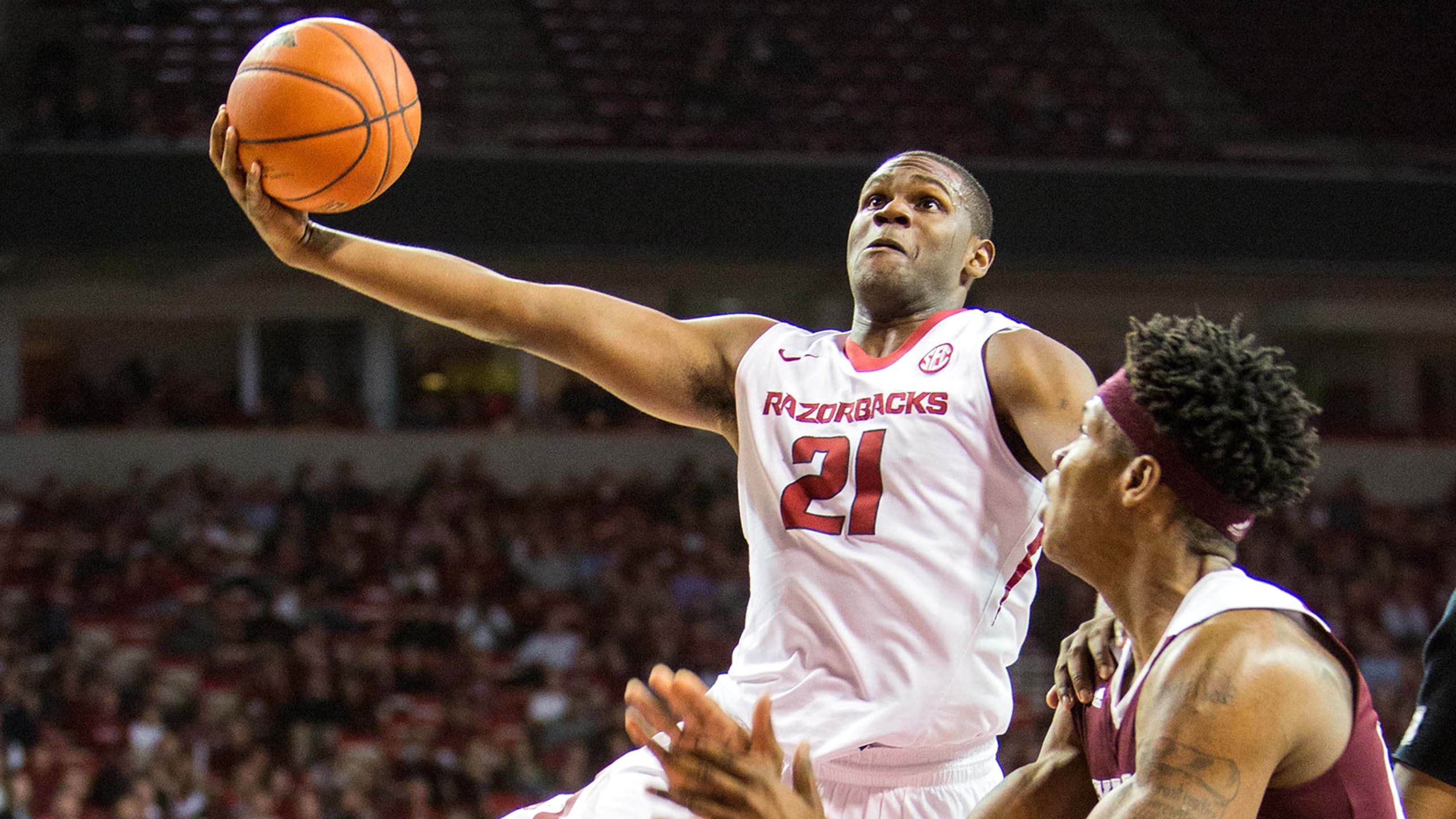 Arkansas snaps No. 5 Texas A&M's 10-game winning streak
BY foxsports • January 27, 2016
FAYETTEVILLE, Ark. — Texas A&M had won three games on the road during its longest victory streak in five years.
However, a familiar house of pain was where the streak ended for the No. 5 Aggies on Wednesday night.
Despite 24 points and 4-of-5 3-point shooting from senior Danuel House, Texas A&M (17-3, 7-1 Southeastern Conference) lost for the eighth straight time in Fayetteville with a 74-71 defeat to Arkansas.
The defeat ended a 10-game winning streak for the Aggies, who were ranked the highest they had been in school history. They committed a season-worst 21 turnovers and were 19 of 48 (39.6 percent) from the field.
Tyler Davis added 14 points and Jalen Jones and Alex Caruso had 10 each for the Aggies, who were attempting to win their eight consecutive conference game — the school's most since winning seven in a row as a member of the former Southwest Conference during the 1979-80 season.
It wasn't meant to be. Texas A&M trailed by as many as 10 points in the first half and struggled to keep the Razorbacks (10-10, 4-4) off the free-throw line in the closing minute.
"We've won a bunch of games, and we haven't played a lot of close games," Texas A&M coach Billy Kennedy said. "We weren't very organized at the end, and I've got to do a better job helping them with that."
For Arkansas, the close win was particularly satisfying. It was 1-6 this season in games decided by five or fewer points, including two in down-to-the-wire fashion in its past three games.
Moses Kingsley had 18 points and 11 rebounds, while Dusty Hannahs and Anthlon Bell scored 17 points each as the Razorbacks put an end to a season-worst three-game losing streak.
"We've been getting to the finish line, we just haven't been finishing," Arkansas coach Mike Anderson said. "Tonight, we finished and we finished against an outstanding (team)."
Hannahs was the key in the closing minutes, hitting a late jumper as the shot clock expired and connecting on a pair of free throws with 6.4 seconds remaining to give the Razorbacks the final 74-71 lead.
Still, the game wasn't decided until Texas A&M's DJ Hogg missed a 3-point attempt at the buzzer, securing the Aggies first loss since a 67-54 defeat at Arizona State on Dec. 5.
"I was just hoping (Hogg) didn't make it," Hannahs said. "But when he let it go, it's almost like, `No.' With our luck, it would have hit the shot clock and went in."
The Aggies trailed throughout the first half and by as many as 10 points while struggling to keep possession of the ball against an Arkansas team they defeated 92-69 in College Station on Jan. 2.
Texas A&M committed 13 first-half turnovers and trailed 40-33 at halftime, but took a one-point lead three times in the second half, the last coming when a pair of free throws by Davis produced a 60-59 advantage.
Arkansas regained the lead for good on a floater by Manuale Watkins, and Hannahs extended the lead to 69-64 with a baseline jumper as the shot clock expired following an inbounds play.
Anton Beard and Hannahs then hit free throws in the final minute to help secure the win.
"I know it's painful to watch, but it's even more painful to be a part of when you come up so short," Hannahs said. "To be able to come out here and beat a team that's as good as Texas A&M, it really helps everybody."
TIP-INS
Texas A&M: The Aggies committed 20 turnovers in a victory over Southeastern Louisiana on Nov. 16. Jones had five against Arkansas and Caruso four.
Arkansas: Kingsley's double-double was his 10th of the season in 20 games, after the junior had one in his previous two seasons. ... In a conference-opening loss at Texas A&M on Jan. 2, Arkansas trailed 47-26 at halftime.
FAYETTEVILLE FRUSTRATION
Texas A&M's last win in Fayetteville came on March 1, 1986, when the schools were both members of the Southwest Conference. Coming into the game, the Aggies had won four of the last six meetings overall.
UP NEXT
Texas A&M hosts No. 14 Iowa State on Saturday.
Arkansas hosts Texas Tech on Saturday.
---
---