Chevrolet unveils new IndyCar Aero Kit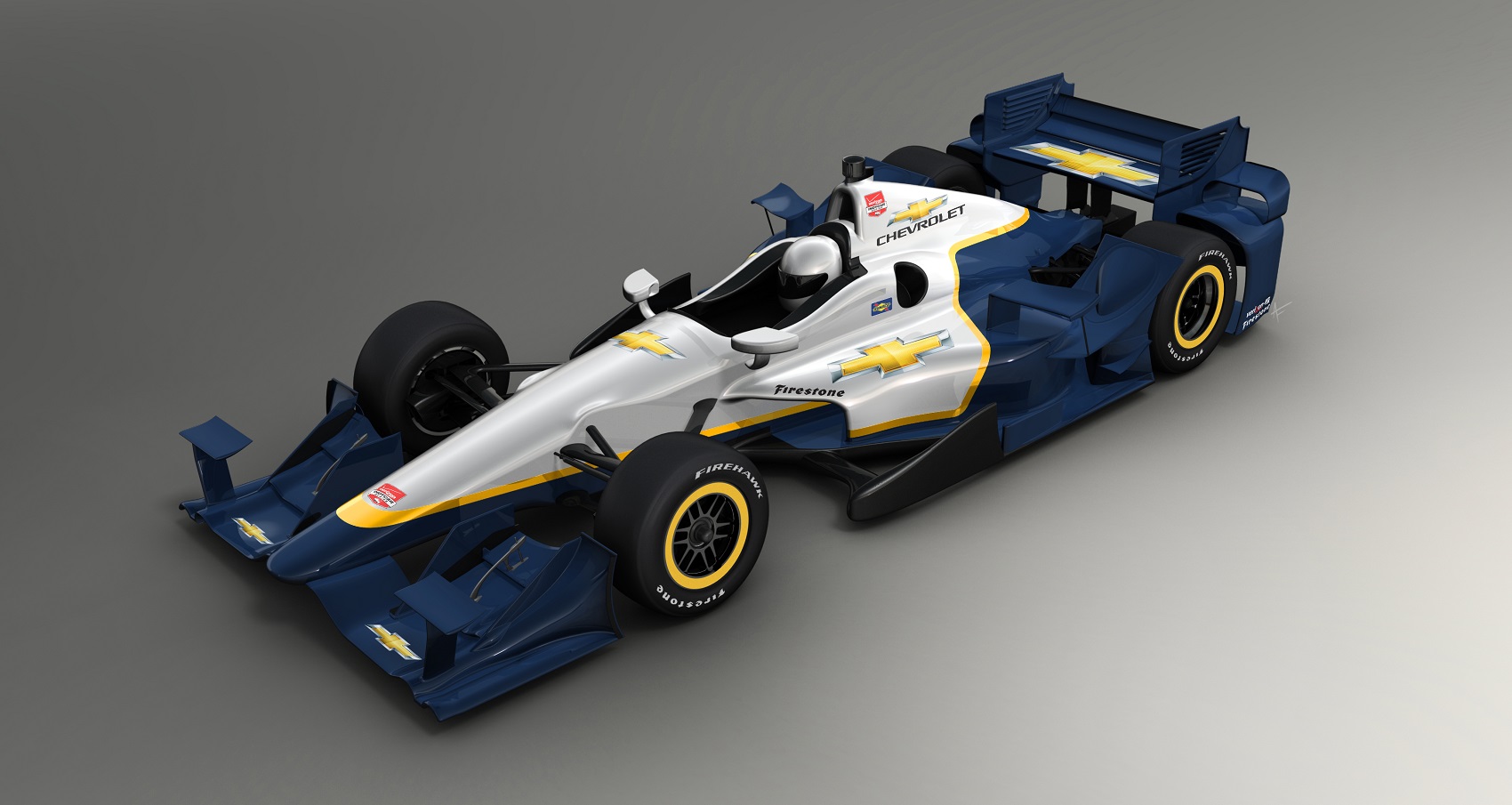 INDIANAPOLIS – After much anticipation, an Aero Kit for the 2015 Verizon IndyCar Series is finally public as Chevrolet unveiled its Aero Kit Tuesday at the snow-covered Indianapolis Motor Speedway. Honda, however, will not make its Aero Kit design public until next month when the Aero Kit testing window begins on March 13.
INDYCAR President of Competition Derrick Walker has referred to the introduction of Aero Kits to this year's series as "breaking the mold" as it brings a different look to the teams that run Chevrolet or Honda. From an engineering standpoint, it will also dramatically increase performance by lowering the drag and increasing the downforce.
That means speeds will be faster this season, especially at the Indianapolis Motor Speedways where speeds will exceed 230 miles per hour for the first time since 2002.
The road course configuration's changes over the 2014 DW12 aero package are easily identified by major components, including:
"For the IndyCar Series 2015, when we decided to come back into the series leading into 2012, we really worked with IndyCar on a few things, a few priorities," said Jim Campbell, General Motors U.S. Vice President, Performance Vehicles and Motorsports. "We love the engine formula in this series, smaller displacement engines, direct injection, boosting, turbo charging, use of smaller V6 powerful engines, then use of a biofuel. We came with a 2.2 liter twin turbo direct injector V6. That was one of the key reasons we came back in the series and why we still love the series. It relates to what we sell in the showrooms that delivers that great combination of power, fuel economy and durability.
"Finally, we wanted to come back in IndyCar because we had the opportunity to develop aero kits. It was our opportunity to differentiate our look, drive innovation, look for ways to improve performance and speed, lap times. That's exactly what we've been doing. We've been working with Mark Miles, Derrick Walker to bring this package to life. Obviously our competitors are doing the same thing."
Development of Chevrolet's new IndyCar aero package consisted of nine key phases:
"The new Chevrolet aero kit has more downforce capability," said Mark Kent, Director, GM Racing. "So in addition to ensuring that parts are light, we need to ensure they can withstand the higher loading."
Chris Berube is Chevrolet's IndyCar Program Manager and was a key member of the design and testing of the Chevrolet Aero Kit.
"Once we got to the point where we produced full-sized prototype parts, we tested this road course and short oval components on real cars on Homestead, at COTA (Circuit of the Americas) and Phoenix for a short oval," Berube said. "We were glad to have Helio Castroneves and Juan Pablo Montoya help us at Homestead. At COTA we had Will and Simon in the car. Then at Phoenix we had Scott Dixon and Tony Kanaan running for us. We got a number of team Chevy drivers through this that helped us keep making progress in the validation phase, which is what the track testing is all about."
Chevrolet's Aero Kit consists of 123 new parts. All of those have to fit to the current Dallara DW012 chassis. None of the new pieces are adjustable while driving.
"I think it's exciting," Campbell said. "It's about innovation. It's about speed. It's about faster lap times. That was what we looked for as we looked about coming back into the series. We looked at the engine package. Then the ability to do an aero kit was something we were very interested in doing."
INDYCAR regulations set a fixed cost of the Aero Kits at $75,000 for the first two kits and $90,000 for every subsequent kit.
"This new aero kit provides Chevrolet drivers the capability to enter and exit corners faster, while maintaining high speeds on the straights," Berube said. "We took a clean-sheet approach to the aero kit, delivering an optimized and efficient design that should really give our Chevrolet teams an edge."
**
Be sure to catch Bruce Martin's Verizon IndyCar Series Report on RACEDAY on FOX Sports Radio every Sunday from 6-8 a.m. ET.