Barrett-Jackson reaches historic highs at 2015 Scottsdale auction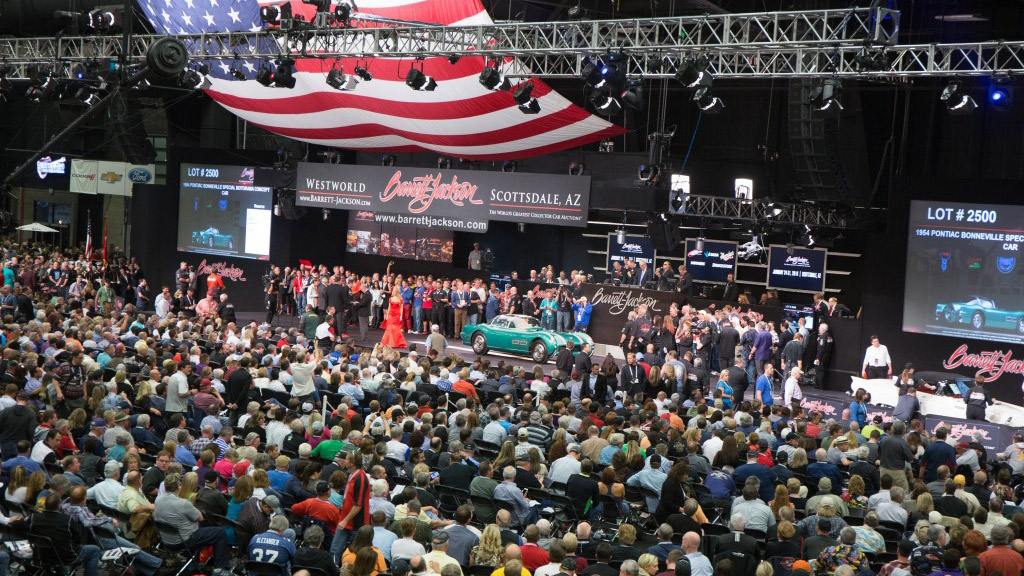 Over 1,611 vehicles were sold during the 2015 Barrett-Jackson Scottsdale auctions last week, totaling over $130 million (unaudited).
The 10-day auction also set a world record $6.55 million in automobilia sales (unaudited), making it the highest auction in sales to date. The Ron Pratte Collection alone brought in over $40.44 million in vehicle and automobilia sales.
"This year's Scottsdale auction was on a scale unlike anything in our 44-year history," said Craig Jackson, chairman and CEO of Barrett-Jackson. "Our week kicked off with a gala and continued to build excitement with our largest vehicle consignment in history, including the sale of the Ron Pratte Collection on Tuesday. Everyone who attended this year's Scottsdale auction was a part of automotive history."
In addition to the record-setting docket, a record number of bidders attended the Barrett-Jackson Scottsdale auction.
The top 10 cars sold in Scottsdale include:
"It's been an absolute pleasure working with Ron and building his collection over the years," said Steve Davis, president of Barrett-Jackson. "It's been as equally rewarding to work with him to prepare for this once-in-a-lifetime sale of his vehicles. Ron took great pride in the cars and automobilia. He painstakingly restored many of the vehicles, making them truly outstanding collectibles. It's wonderful to see ownership of some amazing vehicles pass along to new collectors."
Led by a 1950 GM Futurliner that raised $4,650,000 ($4 million bid and $650,000 in additional pledges) on Saturday evening, a total of 10 cars crossed the Scottsdale auction to raise $8,735,000 to benefit local and national charities.
The record-breaking auction also brought in celebrities from across the globe, including Jeff Gordon, Bubba Watson, Sharon Stone, Tim Allen, CeeLo Green, Rodney Atkins, Thompson Square, Alice Cooper, Reggie Jackson, Michael Anthony and Steven Seagal.