Why Clemson's win over Alabama was the best title game in college football history
Sorry, Vince.
Sorry, Maurice.
It's Deshaun's turn to sit on the throne.
Clemson claimed the national championship Monday night with an incredible, jaw-dropping, engrossing 35-31 win over No. 1 and previously undefeated Alabama in Tampa, with Deshaun Watson's 2-yard touchdown pass to Hunter Renfrow deciding the contest with one second remaining on the clock.
The contest was everything you could possibly want from a college football game and more.
And while there is steep competition for the title of best title game ever, you must consider Monday's College Football Playoff national championship game the cream of the crop.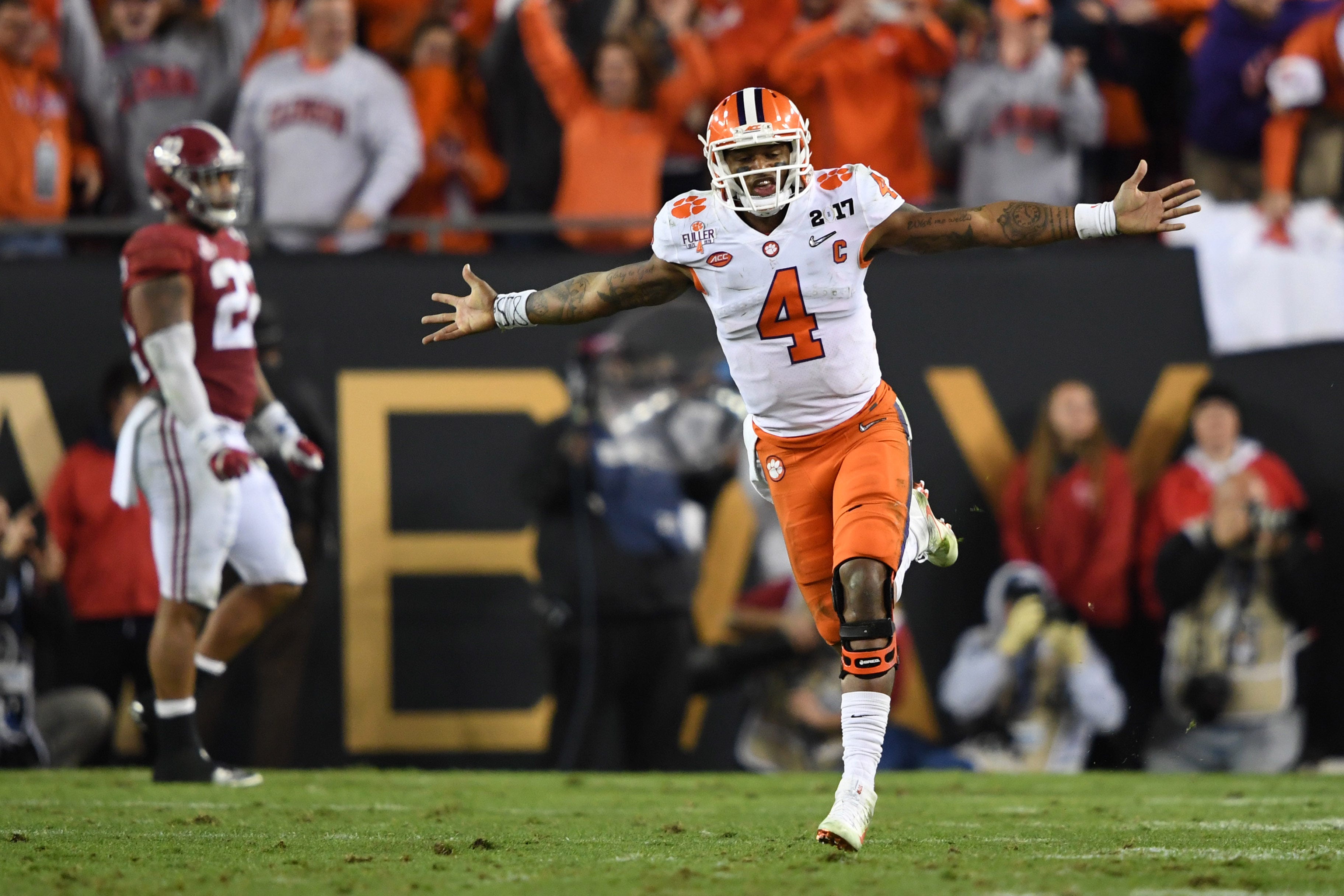 There's little doubt that this game was better than Ohio State's 2003 Fiesta Bowl win to claim the title over Miami. While that game had an incredible finish, it went into overtime with a 17-17 score — a tremendous overtime can't overcome some of the lackluster moments of the first four quarters.
I'll even take this contest over the 1984 Orange Bowl, a de-facto title game, where Miami beat Nebraska 31-30 with a pass breakup on the Huskers' game-winning two-point conversion try with less than a minute to go (this, following a touchdown on fourth-and-8 where Nebraska ran an option run). It was an all-time great game, but it doesn't stack up — had Nebraska converted, Miami still would have been given time to score. It would have been difficult, sure, but it was Nebraska coach Tom Osborne's decision to put the game on the line and not go for the tie and the national championship (remember, there was no overtime those days and Nebraska would have remained undefeated). It was good drama, but it doesn't match the palpitations that come from a truly last-second play to win.
No, when comparing all-time great title games, it really comes down to Monday's contest and the 2006 Rose Bowl.
The games are wildly similar, though the anticipation was significantly higher for the USC-Texas Rose Bowl — a big part of the reason so many consider it the greatest game of all-time, because it lived up to the hype.
The 2006 Rose Bowl ended, as we all remember, with Young's 8-yard touchdown on a fourth-down run to give Texas a 39-38 lead. Young's two-point conversion pushed Texas ahead by 3.
But do you remember how much time was left on the clock after Young's score?
Young's touchdown is without question or debate one of the greatest plays in college football history, but it did not win the game the moment the ball crossed the goal line.
That game ended on an incomplete pass from Matt Leinart. There wasn't even a field goal attempt or a Hail Mary.
The last two plays of Clemson's title victory were the 2-yard touchdown pass and a surprise onside kick, recovered by the Tigers.
Now that's an all-time ending.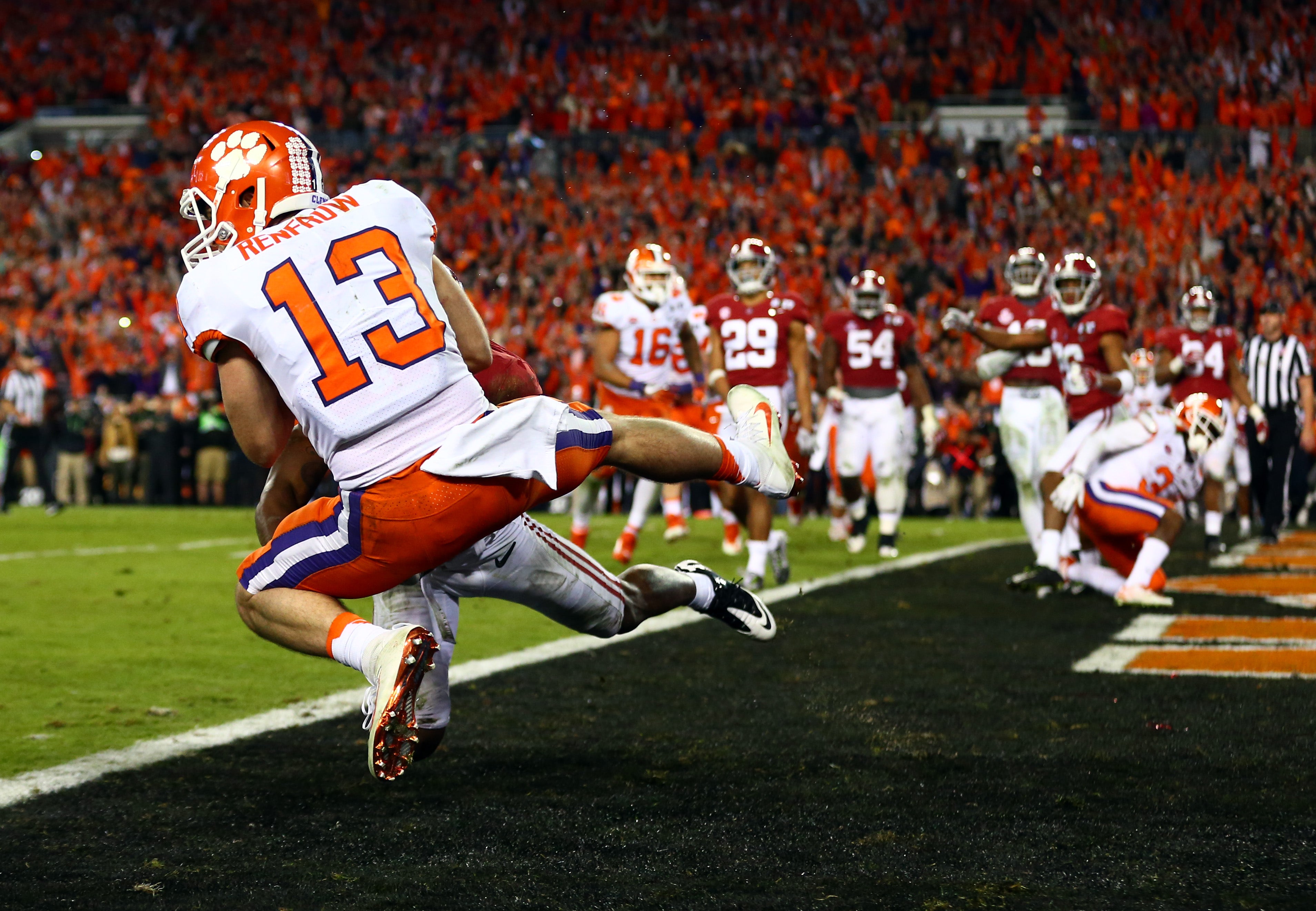 And the events that preceded it are on par with that Rose Bowl game from more than a decade ago.
Clemson, like Texas, was a touchdown underdog taking on the preeminent college football program of the era — perhaps the greatest college football team that ever took a field; Clemson, like Texas, was behind by double-digits in the fourth quarter; and Clemson, like Texas, started the game-winning drive with roughly two minutes to play.
The two games are close, no doubt, but on top of the stronger finish, Clemson's win has another advantage over the 2006 Rose Bowl: it will ultimately mean more for college football.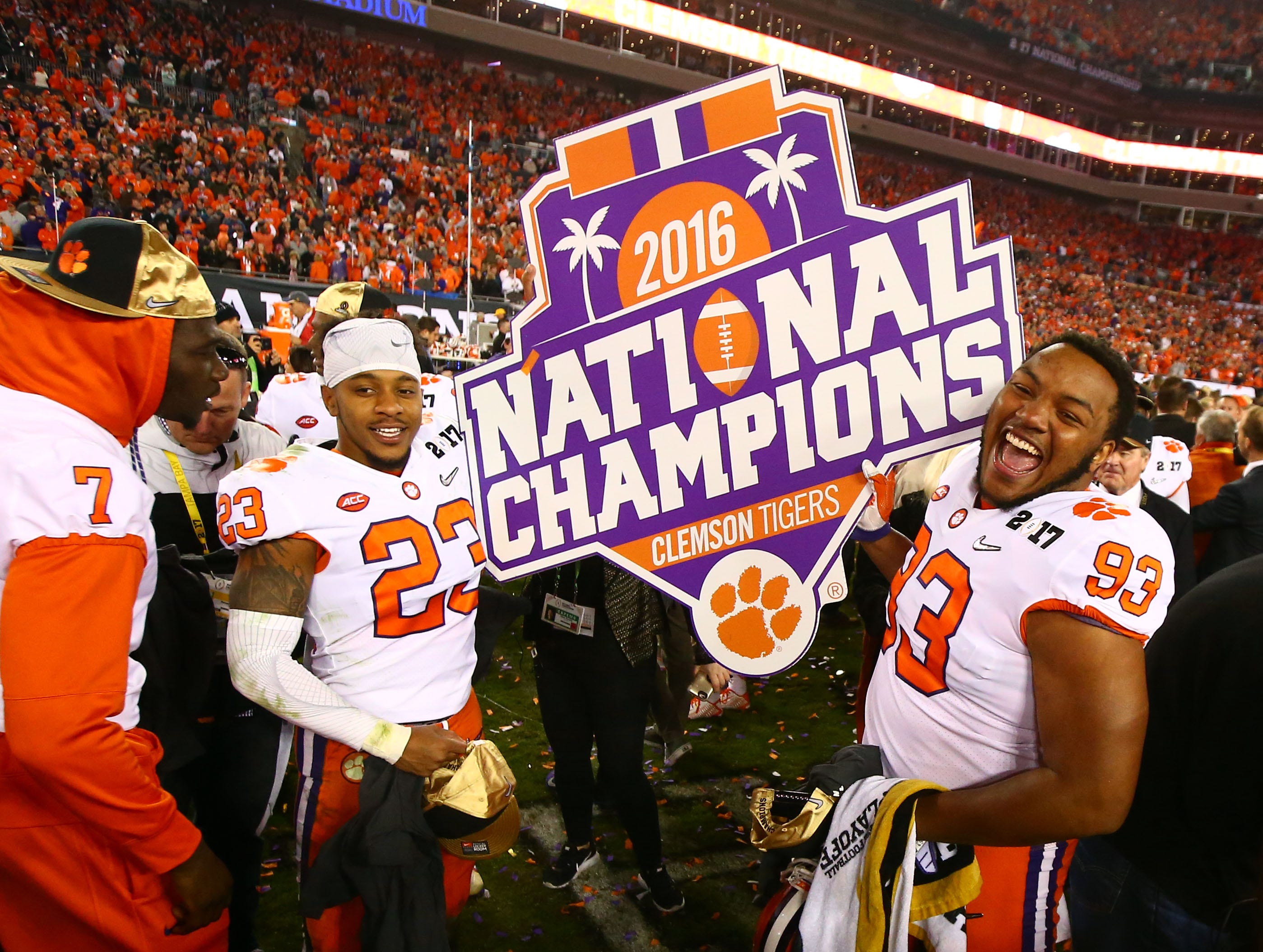 Both contests were seen as a triumph of good over evil from the neutral perspective, but both Texas (even though it hadn't won a title in 30-plus years, like Clemson) and USC were traditional powers — bluebloods — like Alabama. Clemson's 2016 title might not be the first in the school's history, but make no mistake, the Tigers are new money.
Clemson establishing itself as a perennial power in the Nick Saban era was impressive enough — Dabo Swinney has given every college football coach a blueprint on how to build an elite program from, essentially, scratch — but there's little doubt that Clemson beating Saban's best team (and make no mistake, the 2016 Tide was Saban's best team) a year after falling to them in heartbreaking fashion will be a watershed moment in college football history.
Alabama's title-winning days aren't behind it — not by a long shot — but neither are Clemson's, and unlike Texas, they represent something a bit more savory in a college football landscape that has had a dark cloud of Alabama's domination looming over it for the last two years (and really, the last eight).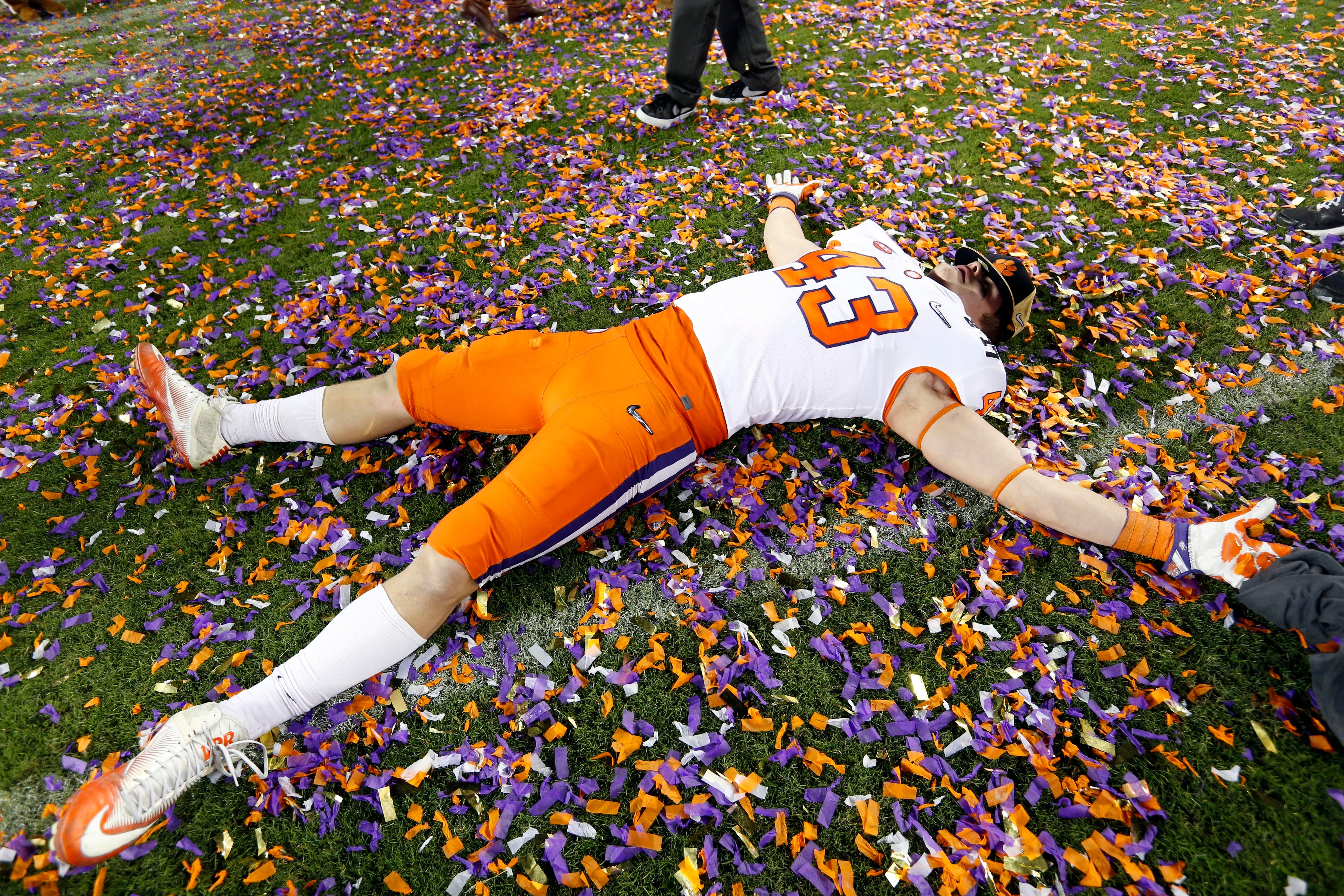 Clemson's win established it as a new blue blood in college football, much like that 1984 Orange Bowl win did for Miami. Dabo can only pray that the path forward from here is as fruitful as The U's.
What did Texas' win represent to college football as a whole?
You might not believe it now, but trust me, time will bear it out — if you watched Monday night's game, you witnessed the greatest title game in college football history.