15 Greatest QB/WR Duos of All Time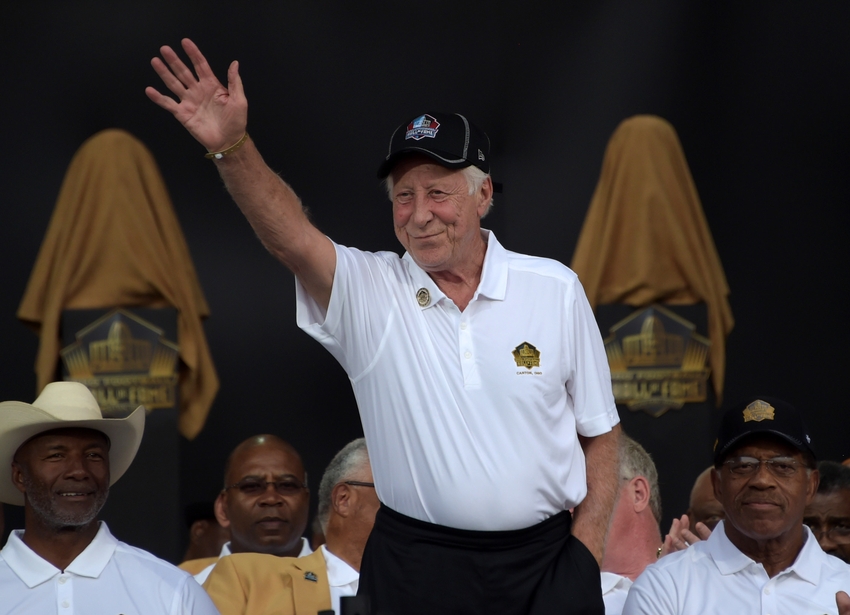 Quarterbacks and wide receivers are key to a team's success, so here are the 15 most impressive QB/WR duos that we've ever seen in college football.
According to Bob Boyles and Paul Guido, the first overhand, spiraled, completed and legal forward pass happened on September 5, 1906 in a game between St. Louis University and Carroll College.
After several players had lost their lives during the 1905 season, the rule-makers of what would become the NCAA instituted the forward pass to open up the game and make it safer.
Following an incompletion on his first attempt, St. Louis University's Brad Robinson threw to Jack Schneider for a touchdown in the second half, and the game of football was transformed forever. St. Louis University went on to win the game, 22-0, and then went 11-0 on the season, outscoring opponents 407-11.
Many rules, however, restricted the value of the forward pass in the early days. For example, if a pass hit the ground without being touched, it would be an automatic turnover, and if a pass was dropped by the receiver, it was a loose ball. Also, a defender was allowed to hit the receiver before he caught the ball. For more on this, if you're interested, you should check out Tom Perrin's Football: A College History.
Because passing under such conditions was so difficult, the run dominated college football for decades.
Then came figures like Dixie Howell and Don Hutson at Alabama, and Sammy Baugh and Davey O'Brien at Texas Christian in the 1930s. In an era that continued to be dominated by the running attack, Howell, a halfback, and Hutson, an end, invented newly-designed passing routes and began building systems into the passing game. Soon after, Baugh and O'Brien arranged the coordinates of the quarterback position, both throwing for over 1,000 yards and double-digit touchdowns in their respective single seasons.
Thus the era of passing grew into its adolescence.
My list begins in the 1960s when the passing game and quarterback/wide receiver combos advance in college football. While there are multiple great duos from several of the teams represented in this list, I gave myself two parameters: 1. choose only one duo per school, and 2. highlight that duo's best season.
What follows is a chronological list of the 15 greatest QB/WR duos of all time.
Let the arguments, disputations and disagreements commence.
1964: Florida State
Steve Tensi and Fred Biletnikoff
Steve Tensi was tall. Fred Biletnikoff wasn't. Steve Tensi was big. Fred Biletnikoff wasn't. Tensi's jersey looked tight around his shoulders. Biletnikoff's jersey looked like it may have been a size too big for him, or maybe the same size as Tensi's.
In 1964, the Florida State passing and catching tandem made defenses dizzy. The Seminoles went 9-1-1 under coach Bill Petersen and won the Gator Bowl, 36-19, against Oklahoma.
Tensi finished the season in the top five in most of the nation's major passing categories: pass completions (144), pass completion percentage (60.0), passing yards per attempt (8.3), passing touchdowns (19), and passing efficiency rating (144.0).
Biletnikoff led the nation in touchdown receptions (15) and receiving yards (1,179). His 15 touchdown catches marked the first time any player had caught 15 or more touchdowns in a single college season.
That year's Gator Bowl was Florida State's first major bowl game. And the Seminoles had to face the celebrated Oklahoma Sooners, a true powerhouse program.
Tensi wasn't bothered. A giant rarely is. He completed 23 passes for 303 yards and five touchdowns against the Sooners.
As for Biletnikoff, he was, well, himself. Wriggling and darting, he made the Sooner secondary look like they were trying to find their way out of a labyrinth. Along the way, he caught 13 passes for 192 yards and four touchdowns.
For the first time in Gator Bowl history, two players won co-MVP: Steve Tensi and Fred Biletnikoff.
By the end of the season, Biletnikoff had earned a Consensus All-America selection. And, as we all know, there's also this award thing that now bears his name.
Steve Tensi and Fred Biletnikoff in 1964 jump-started what would become the Florida State Seminoles, the team that few fans today can remember as anything other than one of college football's perennial programs.
1964: Notre Dame
John Huarte and Jack Snow
John Huarte grew up on a farm, listening to Notre Dame football on the radio.
By the time he made his way to South Bend to play quarterback for the Fighting Irish, Huarte, a lean 190 lbs, didn't look like a huge threat. But he was tough enough to play some linebacker during one particular practice. The clean-cut slinger, wearing number seven on his jersey entered into the glorious '64 season with a new game plan: throw the football.
As soon as Huarte started throwing, the nation's eyes were on Notre Dame. Huarte and his tremendous target, Jack Snow, were showing the state of Indiana that passing the ball could be as much a part of the Irish tradition as running it had been.
In Ara Paseghian's first year as head coach, the Fighting Irish went from a 2-7 team the previous season to a 9-1 team.
To give you an idea about how radical the change was, take a look at these comparative facts:
In 1963, John Huarte threw 42 passes (the entire season) for 243 yards (again, the entire season) and one touchdown (you get the point). Even with his long strides and soft hands, Jack Snow had an equally unimpressive season. He had the second most receptions on the '63 team with six and the second most receiving yards on the team with 82. Snow didn't catch a single touchdown.
Then, like an unexpected storm, 1964 happened. Huarte threw about five times as many passes as the previous season for 2,062 yards and 16 touchdowns. He led the nation in passing yards per attempt (10.1), was second in passing efficiency rating (155.1), third in total yards (2,069), and fourth in both passing yards and passing touchdowns.
Snow caught ten times as many passes as the previous season for 1,114 yards and nine touchdowns. The sensational receiver finished third in the country in receptions (60), receiving yards, and touchdown receptions, just as his team finished #3 in the final AP Poll.
The clichéd words "night and day" come to mind.
By the end of the '64 season, John Huarte took the Heisman Trophy while Jack Snow came in fifth in the voting, and both Huarte and Snow earned Consensus All-America honors.
1964: Tulsa
Jerry Rhome and Howard Twilley
To have been there to see them play. To have been conscious in 1964 to witness the game of football change before our eyes. To have been in Tulsa, Oklahoma.
1964 was a golden year for the college football passing game—Tensi and Biletnikoff were flying up and down the field at Florida State, and Huarte and Snow were butchering secondaries at Notre Dame.
But Jerry Rhome and Howard Twilley did things on the field that boggled the traditional football minds of the day. Just as Steve Tensi and Fred Biletnikoff were elevating the Seminoles, just as John Huarte and Jack Snow were shaking the bedrock of Fighting Irish football, Tulsa's quarterback-receiver tandem of Rhome and Twilley were playing football like the big kids on the playground going up against the first graders.
Twilley led the nation in reception with 95 and would have led the NCAA in receiving yards and touchdown receptions if it weren't for that Florida State guy. In fact, Twilley's 1,178 receiving yards were only a single yard shy of Biletnikoff, and his 13 touchdown receptions were just two behind.
In comparison to his rivals at the quarterback position, Tensi and Huarte, who were hovering high in sky above everyone else, Jerry Rhome was in the stratosphere. Neither the Seminole giant nor the Heisman winner put up anywhere close to Rhome's numbers. You had to look at Arizona State's John Torok to come close, and even he didn't.
Rhome was almost 1,000 yards ahead of everyone else in total yards (3,128) and had over 1,000 total yards more than the Heisman winner, Huarte. He also led the nation in nine major categories, including total touchdowns (40), pass completions (224), pass completion percentage (10.2), passing efficiency rating (172.6), and passing touchdowns (32). The next closest competitor for passing touchdowns was over ten behind–ASU's Torok, who threw for 20.
As if that weren't enough, Rhome also led the team in rushing touchdowns with eight.
Rhome finished second in the Heisman voting by a mere 30 votes (Huarte, 216; Rhome, 186). The following year, Howard Twilley would also come in second in the Heisman voting, losing to USC's Mike Garrett.
The Tulsa Golden Hurricanes finished the season at 9-2, winning their Bluebonnet Bowl Game, 14-7, over Mississippi and closing with a six-game winning streak to end the '64 season.
1969: San Diego State
Dennis Shaw and Tom Reynolds
In 1969, Dennis Shaw and Tom Reynolds made touchdowns the way childhood friends would make forts, with triumph and absolute joy.
That season, Shaw led the country in most major passing categories: touchdowns (39), yards (3,185), yards per attempt (9.5), and passing efficiency rating (162.2).
On the receiving end of almost half of Shaw's touchdown passes was Reynolds. He caught 18 touchdowns, which not only led the nation but also broke a single-season record, eclipsing the previous mark of 16 set by Tulsa's Howard Twilley four years earlier. Heaven only knows how many more touchdowns Reynolds would have caught had he not gone down with an injury during the season.
The '69 San Diego State team went 11-0, winning the Pasadena Bowl. Leading the nation in scoring offense, averaging 44.7 points per game, the Aztecs made quick work of Boston University in their bowl game, 28-7, and also finished the season Pacific Coast Athletic Association (PCAA) Champions, a new conference that included Fresno State and San Jose State, among others.
In one particularly legendary game against New Mexico State, Shaw threw nine touchdown passes. Not a typo. Nine. It was an NCAA record that stood until 1990. Reynolds caught six of them. The score by the end of the game was 70-21.
Both Dennis Shaw and Tom Reynolds went on to play on Sundays. Shaw won Offensive Rookie of the Year for the Buffalo Bills, and Reynolds played two years for the New England Patriots before suffering another devastating injury.
But nothing, not injuries or the passage of time, will stop Aztec fans from remembering what Shaw and Reynolds did on the field at the close of the decade.
1971: Nebraska
Jerry Tagge and Johnny Rodgers
The 1971 Huskers smashed opponents on both sides of the ball, scoring 39.0 points per game while only giving up 8.0 points per game. They scored over 500 points on the season while only giving up 104 points cumulatively to the teams they played.
Their quarterback, Jerry Tagge, was wide-bodied and strong. He was named MVP of the Orange Bowl at the end of the 1970 season, and then was named MVP of the Orange Bowl again the following season. Both of those Husker teams went undefeated behind Tagge.
Of course, Tagge had help.
To call Johnny Rodgers a running back is inaccurate. The truth is, there isn't a name yet for what Johnny Rodgers was. He was more than any of the positions he played.
However, since he had more receptions than rushing attempts in 1971, more than double the receptions of any other Husker receiver that season, and since it would be an injustice to leave this duo off this list, we're going to call Johnny Rodgers a receiver, for now.
In '71, Tagge was second in the NCAA in pass completion percentage (59.7), third in the country in total touchdowns (26), top five in passing efficiency rating (149.2) and passing touchdowns (17), and top ten in passing yards (2,178). He also finished seventh in the Heisman voting.
Yet as good as Tagge was, it was Rodgers who turned the football field into a work of abstract art. His 57 receptions were top ten in the NCAA, as were his 956 receiving yards, and he was top five in the nation in receiving touchdowns with 11. Rodgers received Consensus All-America honors.
Nebraska's only test all season was in the "Game of the Century" against Oklahoma, a game in which Rodgers played the role of Techmo Bowl Bo Jackson–before Techmo Bowl and before Bo Jackson. And a game in which Tagge would become the first Husker to exceed the 2,000-yard total offense mark in a single season.
Nebraska went 13-0 under coach Bob Devaney in '71, winning the Orange Bowl, 38-6, over Alabama. They were the Big 8 Champions and National Champions, finishing #1 in the final AP Poll for the second straight season.
1971: Auburn
Pat Sullivan and Terry Beasley
Pat Sullivan wasn't a big quarterback. He wasn't quite Flutie-small, but he was close. At 6'0", 191 lbs., Sullivan might not have been able to see easily over the line, but he was able to rise above the rest of the country's best football players at the end of the season when he hoisted the Heisman Trophy.
The previous season, in '70, Sullivan came in sixth in the Heisman voting, but he took home the Sammy Baugh Trophy and SEC Player of the Year honors.
By '71, he was a Consensus All-American and also Walter Camp Player of the Year. Among other categories, he was in the top ten in the nation in pass completions (182), pass completion percentage (56.0), passing yards (2,262), passing touchdowns (21), and passing efficiency rating (127.8).
Terry Beasley, Sullivan's partner in dismantling defenses, was also a Consensus All-American in 1971, finishing in the top five in the NCAA in receptions (61), receiving yards (963), and receiving touchdowns (12). With incredible athleticism and sticky fingers, Beasley was an excellent target with an equally excellent ability to find open space. He's the only Auburn receiver to win All-American honors twice.
Under coach Ralph Jordan, Sullivan and Beasley led the Tigers to a 9-2 record, and Auburn finished 12th in the final AP Poll.
They lost the Sugar Bowl, 40-22, to Oklahoma. But their biggest win would come in the "Deep South's Oldest Rivalry" against the #7-ranked Georgia Bulldogs in Athens. In front of over 60,000 fans, Sullivan, Beasley, and the Auburn Tigers would gash the Bulldogs for 35 point in a 35-20 victory.
Both were drafted in consecutive rounds. Terry Beasley went in the first round to the San Francisco 49ers, and Pat Sullivan went in the second to the Atlanta Falcons.
1981: Pittsburgh
Dan Marino and Julius Dawkins
1981 was Dan Marino's third season at Pittsburgh, and it was without a doubt his best. He finished fourth in the Heisman voting, shredding cornerbacks and safeties like old documents. Marino's co-conspirator in the shredding was Julius Dawkins.
In Pitt's ninth game of the season, facing Army, Marino completed 19 passes for 282 yards and four touchdowns, all of them to Dawkins.
In the game, not only did Pitt put up 48 points but Dawkins also broke the record for most touchdown receptions by a Panther receiver in the school's history, a mark that stood until one Larry Fitzgerald vaulted over it in 2003.
The Panthers went 11-1 in 1981, losing only to a Todd Blackledge/Curt Warner-led Penn State team in the final game before the Sugar Bowl.
Marino, Dawkins, and the rest of the Panthers took their frustrations out on the poor #2 ranked Georgia Bulldogs, upending the Bulldogs and holding phenom Herschel Walker to fewer than 100 yards rushing, even though Walker did score two touchdowns.
Marino completed 26 passes for 261 yards and three touchdown, and Dawkins caught six passes for 77 yards and one touchdown. Pitt won the thriller 24-20.
With all due respect to Rod Rutherford and Larry Fitzgerald, and their incredible numbers in '03, no Pittsburgh quarterback-receiver tandem was better than Marino and Dawkins were in 1981.
1989: Houston
Andre Ware and Manny Hazard
Unless you were at the games in 1989, you didn't get to see them play live. The athletic program at Houston got into a little bit of trouble. They were placed on probation.
But unless you lived under a very large mountain, you heard what was happening in the Lone Star State. Numbers that had never been heard of before were being heard of now.
Taking snaps was Andre Ware, throwing the football was Andre Ware. Catching the football was Manny Hazard. Records were broken.
Let's begin with Ware. He won the Heisman Trophy, becoming the first African American quarterback to do so in the history of NCAA football. He wasn't only the best quarterback in the nation. He was the best football player in the nation. So much so that not even the loss of live televised games could stop him from earning the attention and respect he deserved.
In his record setting '89 season, Andre Ware threw for 4,699 yards and 46 touchdowns.
The ball looked so good leaving Ware's hand, so enthralling spinning through the air, that Manny Hazard had no choice but to pluck it out of the sky. Hazard wouldn't let anyone else have it. He wanted it for himself.
And Hazard got it, always. His 142 receptions in 1989 is the NCAA single-season record. He also led the nation that season with 22 touchdown receptions.
Live television or no, Houston went 9-2 and finished the season ranked #14 in the AP Poll.
It's hard not to wish we all had season tickets to watch the Cougars play that season. I can only imagine that we would all be better people had we been there to see it.
1994: Penn State
Kerry Collins and Bobby Engram
In 1994, Penn State went 12-0, demolishing the Big Ten and everyone else in their path. The Nittany Lions led the nation in points per game, averaging an unbelievable 47 points every time they took the field. Kerry Collins was throwing to Bobby Engram.
Collins completed 176 passes for 2,679 yards and 21 touchdowns. He finished fourth in the Heisman voting and would go in the first round, the fifth overall pick, to the Carolina Panthers. But 1994 earned him a slew of honors: Big Ten Offensive Player of the Year, Consensus All-American, Davey O'Brien Award, Maxwell Award, and Sammy Baugh Trophy.
He led the Big Ten in pass completion percentage (66.7), passing yards and passing touchdowns. He also led the nation in passing efficiency rating (172.9) and passing yards per attempt (10.1).
Collins was basically throwing for a first down every time he released the football.
Bobby Engram caught 52 passes for 1,029 yards and seven touchdowns, averaging a staggering 19.8 yards per catch. Engram won the Fred Biletnikoff Award, finishing second in the Big Ten in receptions and receiving yards: two catches and 67 yards behind Michigan's Amani Toomer.
Behind Collins and Engram, Penn State won the Rose Bowl, 38-20, over Oregon.
After mopping up the field with Ducks jerseys in the Rose Bowl, the Nittany Lions still hadn't done enough to prove they were the number one team in the nation. Unfortunately for Collins, Engram, and the rest of the team, the Nebraska Cornhuskers went 13-0 that same season, beating Miami in the Orange Bowl. Unbeaten Penn State finished ranked #2 in the nation.
Penn State fans probably still dream of what a matchup between their Nittany Lions and the Huskers would have been like. In cases like this one in '94, why not let the two teams decide whether or not they want to play one more game?
We can be sure that Kerry Collins and Bobby Engram would have been among the first jump at the opportunity.
1995: Syracuse
Donovan McNabb and Marvin Harrison
When Donovan McNabb was a freshman, Marvin Harrison was a senior. The year was 1995.
After redshirting in '94, McNabb took over the offense as if it had been his all along. He threw for 1,991 yards and 16 passing touchdowns, and just six interceptions.
McNabb's 61.8 pass completion percentage, 16 passing touchdowns and 162.3 passing efficiency rating led the Big East that season, as did his 9.6 yards per pass attempt, which was second in the nation behind Florida's Danny Wuerffel.
Harrison, meanwhile, caught 56 passes for 1,131 yards, had 8 receiving touchdowns, and he averaged an awe-inspiring 20.2 yards per catch. Harrison's receiving yards and yards per reception led the Big East.
As an aside, that same season Harrison also led the Big East in punt return yards (369), punt return yards per return (16.8), and punt return touchdowns (2).
At the end of the 1995 season, Harrison entered the NFL draft and was selected in the first round by the Indianapolis Colts. McNabb also went in the first round three years later, the second overall pick, taken by the Philadelphia Eagles. The rest, as they say, is history.
In their New Year's Day game against Clemson in the Gator Bowl, which was Syracuse's first Gator Bowl since 1966, McNabb completed 13 passes for 309 yards and three touchdowns, and he also ran for a touchdown. Over half of his completed passes, not to mention passing yards and passing touchdowns, were caught by Harrison, who finished with seven receptions, 173 yards and two touchdowns.
After bludgeoning Clemson, 41-0, McNabb won MVP of the Gator Bowl.
Under Paul Pasqualoni, Syracuse went 9-3, dealing blow after blow to their Big East opponents and finishing #19 in the AP.
1997: Marshall
Chad Pennington and Randy Moss
1997 was the only season Randy Moss played at Marshall, and an undervalued former redshirt named Chad Pennington had just taken the reins of the Thundering Herd at quarterback.
Pennington was phenomenal, completing 276 passes for 3,817 yards and 42 passing touchdowns. He led the nation in passing touchdowns and topped the MAC in pass completions, pass attempts (473), pass completion percentage (58.4), passing yards, passing yards per attempt (8.1), and passing efficiency rating (150.4).
If Pennington was phenomenal, Moss was supernatural. He caught 96 passes for 1,820 yards and 26 touchdowns, averaging 19 yards per reception. Moss led the nation in receiving yards, touchdowns and points (156).
After finishing fourth in the Heisman voting and receiving Consensus All-America honors, not to mention winning the Fred Biletnikoff Award and MAC Offensive Player of the Year, Moss went on to be drafted in the first round at the end of that season, taken by the Minnesota Vikings.
Two years later, after finishing fifth in the Heisman voting, Pennington would also go in the first round of the NFL draft to the New York Jets.
After rolling–or thundering, rather–through Toledo in the snowy MAC Championship Game, a game in which Moss received the MVP, Marshall met up with Tommy Tuberville's Ole Miss Rebels in the Motor City Bowl.
After taking a first half 17-7 lead, the Thundering Herd's defense had trouble stopping Rebels quarterback Stewart Patridge and running back Deuce McAllister, and Marshall went on to lose the game by a field goal.
None of which minimizes the 80-yard touchdown pass Randy Moss caught from Chad Pennington on Marshall's first play of the game. Nor does it change their offensive production: Moss finished the day with six catches for 173 yards, and Pennington completed 23 passes for 337 yards.
Under coach Bob Pruett, the Thundering Herd went 10-3 in '97, losing only one game in the conference.
2003: USC
Matt Leinart and Mike Williams
In 2003, before the great Reggie Bush breakout, Matt Leinart and Mike Williams were both sophomores.
A stout lefty with ease and confidence under pressure, Leinart completed 255 passes for 3,556 yards and 38 touchdowns, winning Pac-10 Offensive Player of the Year. He led the conference in pass completion percentage (63.4), passing yards per attempt (8.8), passing touchdowns, and passing efficiency rating (164.5).
Mike Williams was too strong for any one defender to cover. Often, he was too strong for any two defenders. The problem was, defenses needed three or more men to cover him.
In '03, Williams caught 95 passes for 1,314 yards and 16 touchdowns, averaging 13.8 yards per reception. He was a Consensus All-American, leading the Pac-10 in receptions and receiving touchdowns.
Williams finished eight in the Heisman voting, and Leinart finished sixth in the Heisman voting, an award he would win the following season.
After bulldozing Auburn in Week 1, the Trojans had only one hiccup all season, which came against another sophomore quarterback named Aaron Rodgers and the Cal Bears, a game the Trojans lost 34-31. After that it was smooth sailing.
Facing Lloyd Carr's Wolverines in the Rose Bowl proved to be no problem for the Trojans. Leinart made quick work of the Michigan secondary, throwing for four touchdowns, one of them to Williams from 15 yards out.
By the end of the game, not only had USC won, but Leinart had also taken home the MVP.
Coach Pete Carroll knew how much Leinart and Williams meant to USC's success in 2003. The Trojans would go 12-1, winning the Rose Bowl, 28-13, and finishing #1 in the AP.
2006: Hawaii
Colt Brennan and Davone Bess
Hawaii is a paradise on Earth. And somehow paradise got better in 2006. Hawaii football was flying like the airplanes in the sky above the islands.
'06 was a year when Hawaii's offense made opposing defenses as sick as a first-time deep sea fisherman who forgot his Dramamine. Colt Brennan and Davone Bess made sure of it.
That season, Colt Brennan earned himself a Sammy Baugh Trophy and a WAC Offensive Player of the Year. He finished sixth in the Heisman voting.
On the receiving side of Brennan's arm was Davone Bess, who led the nation in receptions (96). Bess finished second in receiving touchdowns (15), tied with Georgia Tech's Calvin Johnson, and top ten in receiving yards (1,220).
Bess was quick on routes. When he swiveled on direction and went the other, ankles (metaphorically) were broken. His feet were blurry at all times.
Davone Bess always seemed to be open, even when he seemed to be covered, because the ball found him and stuck to him.
Brennan, for his own part, led the nation in pass completion percentage (72.6), passing yards (5,549), passing yards per attempt (9.9), passing touchdowns (58), and pass efficiency rating (186.0). His 58 touchdown passes is a single-season record that still stands.
When they were on the field together, there wasn't much a defense could do but hope that Brennan never looked in Bess's direction. Because if he did, it was a completion, a reception, a touchdown.
Hawaii went 11-3 in the 2006 season, winning, you guessed it, the Hawaii Bowl, 41-24, against the Arizona State Sun Devils.
Sometimes life in paradise can be all too easy.
2007: Texas Tech
Graham Harrell and Michael Crabtree
The run-and-shoot blasted off well before the spread offense was refined by Mike Leach at Texas Tech. The moment Leach unleashed the offense that created even wider passing lanes for the air attack, he rose in the ranks among college coaches.
And before Leach coached for Washington State, he coached a quarterback and wide receiver who thrust Texas Tech once again into the eyes of national television viewers. In 2007, Graham Harrell threw and Michael Crabtree caught–everything.
Harrell and Crabtree romped down football fields. They made it look so simple that we all thought something had to be wrong with college football.
Leach's offensive mantra–probably something along the lines of, you don't have to worry about defense, if you score more points than your opponent–swept across the nation like a wind. Now, we've become accustomed to it.
Leach's kind of offensive approach had been used by LaVell Edwards at BYU, by others even before him. The difference seemed to be one of magnitude, the total commitment.
Run? Why? Running's slower to the goal line.
Harrell was first in the nation in pass attempts and pass completions for three straight seasons, spanning 2006-2008. In 2007, Harrell was also first in the NCAA in passing yards (5,705) and passing touchdowns (48), and second in pass completion percentage (71.8).
As far as Crabtree was concerned, the game was equally productive. He was first in the nation in receptions (134), first in receiving yards (1,962) and first in receiving touchdowns (22). Even while splitting receptions with Danny Amendola, who also had over 100 receptions and over 1,000 receiving yards in the '07 season, Crabtree soared above receivers everywhere. In fact, Amendola's presence makes Crabtree's accomplishments more impressive.
Michael Crabtree won Consensus All-America honors and the Fred Biletnikoff Award in back to back seasons, 2007 and 2008. Graham Harrell won the Sammy Baugh Trophy in 2007 and the Johnny Unitas Golden Arm Award in 2008.
The duo would spend the 2008 season together, a season in which their numbers continued to dominate, but the '07 season was beyond magical for this quarterback-receiver combo.
Texas Tech went 9-4 in '07, winning the Gator Bowl, 31-28, against Virginia. The Red Raiders finished the season ranked #22 in the AP Poll.
2013: Fresno State
Derek Carr and Davante Adams
Derek Carr and Davante Adams. Household NFL names now.
Both came from a Central Valley program in California. Fresno State. Home of the Bulldogs. Home of such quarterback-receiver combinations as Jeff Tedford and Henry Ellard, Kevin Sweeney and Stephen Baker, Trent Dilfer and Malcolm Seabron, David Carr and Bernard Berrian–all perhaps worthy of this list.
Fresno State, it seems, has a tradition of QB/WR tandems.
In 2013, Derek Carr and Davante Adams were almost never stopped.
Carr finished the season first in the nation pass completions (454), passing yards (5,083), and passing touchdowns (50), and he was second in pass attempts (659) and eighth in pass completion percentage (68.9).
Carr finished eighth in the Heisman voting, won Mountain West Offensive Player of the Year–for the second straight year–and the Sammy Baugh Trophy.
Adams was his favorite target. Of course he was. It doesn't take long for him to become a favored target on whatever team he plays for. Ask Aaron Rodgers how much he likes Davante Adams. You'll get an ear full.
That season, more than one out of every four passes Carr completed went to Adams, and half of Carr's touchdown passes went to him as well. Adams led the NCAA in receptions (131) and receiving touchdowns (24), and he was second in the nation in receiving yards (1,719).
With that kind of an aerial attack, the Bulldogs went 11-2 and made coach Tim DeRuyter look pretty darn good, even though Carr was inherited from the Pat Hill era.
After beating Utah State, 24-17, in the Mountain West Championship Game, the Bulldogs met up with USC in the Las Vegas Bowl and lost 45-20.
The bowl loss did nothing to stop the Oakland Raiders from stealing Carr in the NFL draft, nor did it keep the Green Bay Packers from scooping up Adams soon after.
Both are highlight makers for their respective NFL teams, and one fine day perhaps they will play together again, and we'll be able to witness what the people of Fresno saw in 2013–just how unstoppable they can be.
List of Honorable Mentions
Bob Griese and Jim Beirne (Purdue, 1966)
Kim Hammond and Ron Sellers (Florida State, 1967)
Bill Cappleman and Ron Sellers (Florida State, 1968)
Jim Plunkett and Randy Vataha (Stanford, 1970)
Mark Herrmann and Bart Burrell (Purdue, 1980)
Steve Smith and Anthony Carter (Michigan, 1981)
Jeff Tedford and Henry Ellard (Fresno State, 1982)
Doug Flutie and Brian Brennan (Boston College, 1983)
Turner Gill and Irving Fryar (Nebraska, 1983)
Kevin Sweeney and Stephen Baker (Fresno State, 1985)
Steve Beuerlein and Tim Brown (Notre Dame, 1986)
Troy Aikman and Willie Anderson (UCLA, 1987)
Tony Rice and Raghib Ismail (Notre Dame, 1989)
Ty Detmer and Andy Boyce (Brigham Young, 1990)
Elvis Grbac and Desmond Howard (Michigan, 1991)
Danny Wuerffel and Reidel Anthony (Florida, 1996)
Peyton Manning and Marcus Nash (Tennessee, 1997)
Tim Rattay and Troy Edwards (Louisiana Tech, 1998)
Chris Weinke and Peter Warrick (Florida State, 1999)
Michael Vick and Andre Davis (Virginia Tech, 1999)
David Carr and Bernard Berrian (Fresno State, 2001)
Jeff Smoker and Charles Rogers (Michigan State, 2002)
Chris Simms and Roy Williams (Texas, 2002)
Philip Rivers and Jerricho Cotchery (North Carolina State, 2003)
Rod Rutherford and Larry Fitzgerald (Pittsburgh, 2003)
Paul Smith and Brennan Marion (Tulsa, 2007)
Matthew Stafford and A.J. Green (Georgia, 2008)
Tyler Sheehan and Freddie Barnes (Bowling Green State, 2009)
Colt McCoy and Jordan Shipley (Texas, 2009)
Bryant Moniz and Greg Salas (Hawaii, 2010)
Case Keenum and Patrick Edwards (Houston, 2011)
AJ McCarron and Amari Cooper (Alabama, 2012)
Geno Smith and Stedman Bailey (West Virginia, 2012)
Shane Carden and Justin Hardy (East Carolina, 2014)
This article originally appeared on