Goldberg Should Enter the WWE Hall of Fame in 2017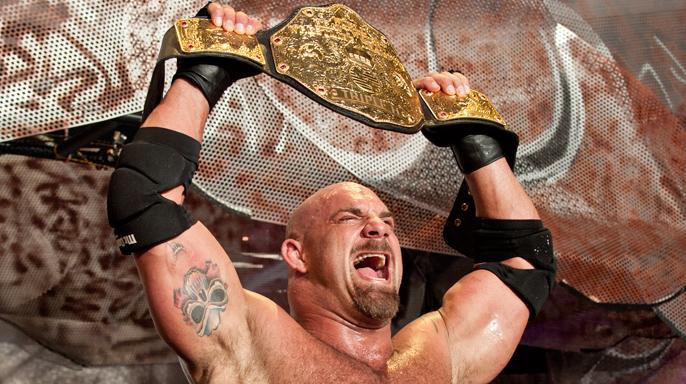 Goldberg returned to WWE this week, so we looked at what it means and where he should be headed in 2017.
This week's episode of Monday Night Raw saw a mega star return to WWE. Bill Goldberg, the former WCW Champion, and one of  WCW's biggest ever stars, made a dramatic return to WWE and set up what could be one of the biggest matches of the year.
In recent weeks, Goldberg had some words for former foe, Brock Lesnar. Last week we saw Lesnar's advocate, Paul Heyman, challenge Goldberg to a fight "anytime, any place, anywhere". Goldberg showed up on Raw and told us he's more than ready for that fight, and that it's not a case of "Who's Next" but more "Who's Last".
As fans, we don't yet know when the match will take place, but it's most likely going to be at Survivor Series in a few weeks time. The last time these two men squared off, at WrestleMania 20, it was one giant mess. Both men were leaving the company following it, the crowd knew it and let them know what they thought of the whole situation. Even special guest referee Stone Cold Steve Austin couldn't save the night for them.
Whilst many may have thought we'd never see them both in the same WWE again, in professional wrestling, it's safe to never say never. If the money was right for both men, and Vince McMahon thought it was worth doing, this was always a possibility.
When Goldberg was announced as a special, pre-order, downloadable character for WWE 2K17, it was pretty easy to imagine that he'd make an appearance on WWE TV at some point. When he started to talk about Lesnar, WWE may as well have announced the rematch right away.
Lesnar is, perhaps, the biggest draw that WWE has. Rightly or wrongly that is probably the case right now, and his match with Goldberg will draw a lot of interest from both fans and media outside of WWE. Lesnar is a crossover star, making his mark in the UFC after leaving WWE the first time round.
One question that is left to be answered is, where does Goldberg go after this match? Well, there's a WWE Hall of Fame Class that could really use a mega star headliner in 2017. And that's exactly where Goldberg should be headed.
After this match with Lesnar, what else is there for Goldberg in WWE? It's not like he's come back in to have a few matches, with Lesnar as the ultimate goal. Goldberg is here for one final match. Come the turn of the year expect him to be announced as the main inductee to next years Hall of Fame Class.
The annual tradition, which happens the night before WrestleMania, would be the fitting way to remember the career of a man who had the longest winning streak in wrestling at one point in the 1990's. Many, younger, fans may have no idea who he is, but wrestling fans who were watching during the Attitude Era will always talk fondly of Goldberg. You only have to look at the reaction to him as he strode out on Raw.
Goldberg may not be here in WWE for a long time, but he will go down in the annals of history as one of the most important men in wrestling history. The Class of 2017 awaits him.
This article originally appeared on