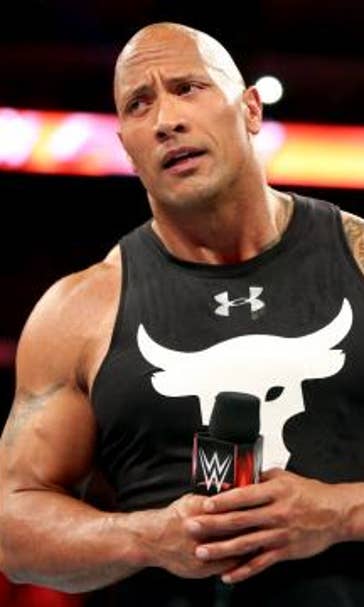 Ranking Dwayne 'The Rock' Johnson's 5 Best Movies
December 31, 2016

Fansided, Josh.0/FanSided via Daily DDT
Since semi-retiring from WWE in 2003, Dwayne "The Rock" Johnson has become one of the world's (literally) biggest movie stars. Here are his 5 best performances.As 2016 draws to a close, it is fitting that we look back at the year had by professional wrestling's biggest success story. It is hard to find a better rags to riches story than the one lived by Dwayne "The Rock" Johnson, who often tells the story about having "seven bucks" in his pocket and using that sobering reality as motivation to achieve his dreams. Several decades after that moment of clarity, The Rock has earned his place among both WWE and Hollywood royalty.Even before he stepped foot on a film set, The Rock had a rabid following of both hardcore and casual professional wrestling fans. His signature phrases and mannerisms stormed into pop culture and cemented his legacy as a certified icon of the sports entertainment industry. Undoubtedly, some people in and out of the business were wary about his transition from squared circle to celluloid since many before him had tried and failed.Since 2009, Johnson has starred in over two dozen movies, almost all of which have found box office pay dirt. Whenever a film studio needs to revitalize a waning franchise, all they need to do is call up The Rock. His appearances are Fast Five, G.I. Joe Retaliation and Journey 2: The Mysterious Island all led to those films doing considerably well with audiences, earning Johnson the apt title of "Franchise Viagra".Lest you think Rock is only a supporting character, he has proven his mettle as a leading man on more than one occasion. He took a starring role in San Andreas, a big budget generic disaster movie in the same vein as Volcano or 2012. Despite a wholly unoriginal concept, people flocked to the theaters to watch The Rock save his loved ones from Mother Nature to the tune of nearly $500 million around the world. His most recent film, Moana, spent 3 weeks at the top spot in United States theaters before being overtaken by another Disney property; Rouge One. With other projects on the horizon such as Baywatch, Jumanji, Fast 8, and Journey 3 all in various stages of production, Johnson is set to make both audiences and studio executives extremely happy.Johnson's first dive into action films was a cameo in the 2001 film, The Mummy Returns which led to a starring role in a spinoff/origin story of his character from that film as The Scorpion King in 2002. The film grossed over $165 million worldwide, and its $36 million opening weekend was Johnson's biggest as a leading man until San Andreas. Since 2002, Rock has appeared in a total of 28 films. The following five movies represent the best of his resume.Next: Chasing Stifler NEW YORK – SEPTEMBER 25: Actors Seann William Scott and The Rock make an appearance on MTV's Total Request Live to promote the new film 'The Rundown' at MTV Studios September 25, 2003 in New York City. (Photo by Evan Agostini/Getty Images)
5. The Rundown
If nothing else, The Rundown gets points for originality. It is not a sequel and it's not an origin story. It didn't launch a franchise and certainly wasn't a big budget action thriller. This was The Rock's second opportunity as a leading man and the first test of his box office potential. The film garnered rave reviews thanks to Peter Berg's unique directing style and the fantastic on-screen chemistry between Johnson and his co-star, Sean William Scott, who was also looking to crawl from beneath the Stifler shadow cast by his American Pie films. The $85 million budget gave The Rundown a pretty steep hill to climb and audiences weren't yet sold on Rock as an automatic box office success.
The film is about a bounty hunter who dreams about retiring, going legit and opening up his own restaurant. Before he can start this new life, he is hired by a mob boss to bring his son back from Brazil. The contract leads him to a small mining town being run by slave labor and criminal control by the always-entertaining Christopher Walken. As always, Walken brings equal parts gravitas and snarling menace to his role as a ruthless and greedy authoritarian. Despite his appearances in more sophomoric ventures, Scott is extremely likable as the estranged mobster's progeny who wants nothing to do with his father's illegal activities. It turns out that he is in Brazil in search of a mythical artifact worth a fortune that would allow him to escape his father's control.
Peter Berg is exceptional behind the camera so the action sequences are done beautifully and the character development moves along at just the right pace. The film ultimately made $80 million worldwide but has developed a cult following in the years since. As an early film in Johnson's career, it is interesting to watch his performance with the benefit of hindsight. He proved to be a capable and physical actor but I also understand the audience hesitation. The action hero torch isn't passed lightly and fans weren't ready to crown Johnson as the next heir to the throne.
MIAMI, FL – APRIL 11: (L-R) Dwayne Johnson, Michael Bay, Mark Wahlberg and Anthony Mackie attend the Miami Premiere of 'Pain and Gain'
4. Pain and Gain
In 2013, big-budget director Michael Bay went back to his Bad Boys-style roots and gave us Pain and Gain, a "based on true events" film about criminal bodybuilders in Miami. Whenever you see the phrase, "based on true events", don't confuse this with "based on a true story" because the "true events" phrase gives screenwriters and directors much more leeway to skew from the source material. Such was the case with Pain and Gain, which took a very unfunny and tragic story of kidnapping, extortion, torture, and murder and turned it into a light-hearted crime dramedy about gym-rat lunkheads whose criminal plans go awry.
Johnson had made a drastic change to his physical appearance for his role as Agent Hobbs in Fast Five a few years earlier and he continued this process to play bodybuilder Paul Doyle (a fictional amalgamation of real-life criminals Carl Weekes, Stevenson Pierre, and Jorge Delgado). Johnson starred alongside Mark Wahlberg and Anthony Mackie who also bulked up for their roles as Doyle's gym companions but were both dwarfed any time they shared screen time with Johnson. The film was loosely based on Pete Collins' Miami New Times articles and book Pain & Gain: This is a True Story about the Sun Gym Gang. It grossed nearly $90 million worldwide on a modest $26 million budget and reaffirmed that Bay can still turn a profit without the help from killer robots.
Because of the deviation from the source material, the film was mired in controversy and bad press from the families of the actual victims as well as investigators within the Miami Police Department who had been involved with the case.
Putting any factual inaccuracies aside, Pain & Gain was a strong performance from Johnson and proved he was more than just an action star. As Paul Doyle, Johnson goes from a man seeking salvation to one corrupted by money, strippers, and cocaine, albeit with a very Three Stooges vibe. As the film progresses, Doyle's confidence crumbles and his paranoia increases, with Johnson giving a believable and solid portrayal of a man who knows his freedom is slipping through his fingers like fine white powder. So long as you aren't looking to know the facts and details surrounding the Sun Gym Gang, Pain and Gain does more than enough to keep you entertained for 129 minutes.
HOLLYWOOD, CA – MARCH 29: (L-R) Actors Ashley Scott, Dwayne 'The Rock' Johnson and his wife Dany Garcia Johnson attend the film premiere of 'Walking Tall' at Grauman's Chinese Theatre on March 29, 2004 in Hollywood, California. The film 'Walking Tall' opens in theaters nationwide on April 2, 2004. (Photo by Frederick M. Brown/Getty Images).
3. Walking Tall
Hollywood loves remakes. Take a film that people haven't thought about in a few decades, polish it up with fresh actors, add some updated special effects and/or action sequences, and you've got a potential hit. Case in point, the 1973 semi-biopic film Walking Tall, which tells the story of a Tennessee sheriff named Buford Pusser who has unconventional methods of law enforcement that mostly involve a 2×4. Fun fact: the back story of the Buford Pusser in the original film was that he was a retired professional wrestler-turned-lawman so perhaps Johnson was destined to play the role after all.
The original film spawned two sequels, a TV movie, and a TV series well before Johnson came on board for the remake in 2004. This is one of Rock's earliest (though not his first) leading roles as the title character renamed Chris Vaughn. While the film itself is little more than standard Hollywood remake fare, Walking Tall is an early example of Johnson's leading man capabilities. The original film starred Joe Don Baker as the tall, broad-shouldered, and no-nonsense Pusser, so the remake required a man of equal size and attitude which made it a perfect vehicle for The Rock.
The film received little praise from critics and did only moderately well at the box office but ranks highly on this list for Johnson's range. His acting career was just starting and taking a role like this was a small but important step in showing that he was more than just a big man who belongs in big movies. Despite a poor showing at the box office, the film did well enough to produce two sequels of its own in 2007, both starring Kevin Sorbo and both were absolutely terrible so stay far away from them.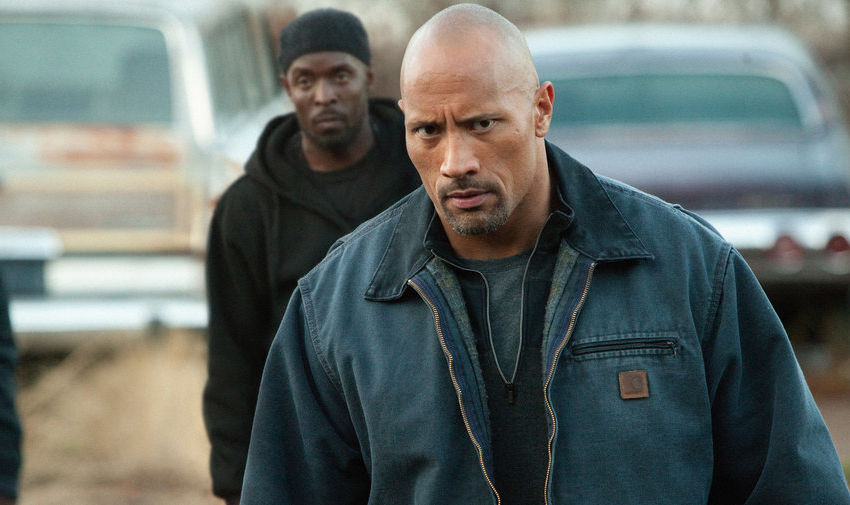 2. Snitch
Snitch isn't your average action film, which explains why you've probably never seen it. Directed by Ric Roman Waugh, the film is loosely based on an episode of Frontline that detailed a United States drug enforcement policy which encouraged prison inmates to snitch on their as-yet-to-be incarcerated accomplices.
Johnson stars as John Matthews, a divorced, blue-collar father to a young man who reluctantly becomes involved in a drugs-through-the-mail business which is apparently a thing. Not being a professional drug dealer, he is immediately apprehended and the trumped-up drug-dealing charges could send him to prison for 10 years thanks to mandatory minimum sentencing. To keep his son safe from spoon shanks and shower assaults, Matthews makes a deal with the U.S. Attorney's office which will require him to infiltrate a local drug racket as a mole.
Because Snitch was such a drastic departure from Johnson's other films done in 2013 (G.I. Joe, Pain and Gain, Furious 6), critics mostly ignored and panned it as brainless filler. Others, like Tom Russo of the Boston Globe, took a different approach:
"Nobody is going to confuse a Dwayne Johnson movie with Les Misérables. But Snitch gets a decent amount of drama (and action, of course) out of the argument that there's paying for a crime, and then there's overpaying."
Perhaps that underlying message was why Snitch suffered at the box office. This was not a simple good vs. evil film; it explored some gray areas about the very real problems that plague our criminal justice system. Important social issues such as the unspoken privilege of race and class, the failed "war on drugs/crime" policies, and even the prison industrial complex all make appearances in this film without hitting you over the head and demanding you face them. The concepts of Snitch make for better discussions inside a sociology or criminal justice class,
The film had a modest $13 million opening weekend and eventually earned close to $43 million on a $12 million budget which makes it a financial success in Hollywood terms. To date, this is the closest Johnson has come to a straight-up dramatic role and with any luck, he will be given more opportunities to do so.
The cast of the movie 'Fast and Furious 5' (from left) director and producer Justin Lin, US actors Tyrese Gibson and Vin Diesel, Spanish actress Elsa Pataky, US actor Paul Walker, Israeli actress Gal Gadot and US actor Dwayne Johnson pose on April 28, 2011 in Marseille during a photocall. The movie will be released on French screens on May 04, 2011. AFP PHOTO / BORIS HORVAT (AFP/Getty Images)
1. Fast Five
Just to be clear, Fast Five isn't a "good" movie in the traditional sense of the word when we talk about character development, story structure, or even plausible events. The plot is ludicrous. The stunts defy logic and physics. The music is loud and unapologetic. All of this is exactly why Fast Five succeeds so well as an action film.
After 2006's Tokyo Drift (the third in the series), the Fast and Furious franchise seemed to be on life support, destined for a spot in the Hollywood cemetery. But things changed with 2009's The Fast and the Furious, which not only did better at the box office than expected but also set up the events for Fast Five. The old showman's edict of "always leave 'em wanting more" seemed to hold true and audiences wanted to see the fate of their favorite characters. While the previous films in the series had always found themselves grounded in some form of reality, it was Fast Five that took your high school physics book and threw it out the car window, while simultaneously spinning around and using it to jump onto a moving train.
Fast Five introduced us to the character who would come to represent the currently somehow-larger-than-he-already-was Dwayne Johnson as government agent/bounty hunter Luke Hobbs. Up to this point, critics had lauded the series as little more than a cliché buffet for those kids who trick out their cars at AutoZone but Fast Five was so over the top in such a fun way that it satisfied both fans and critics alike. Connie Ogle of the Miami Herald called it:
"Embarrassingly fun, the sort of speedy, senseless, violence-crammed action flick that virtually defines the summer season, with superheroes who aren't gods or crusaders in tights but guys in T-shirts and jeans who can drive cars really fast."
In the film, Hobbs is tasked with tracking down Vin Diesel's title character, Dominic Torreto, and his brother-in-arms Brian O'Conner (played by the late Paul Walker) who are hiding out in Brazil. Gravity-defying hijinks ensue, a bank vault is dragged through the streets causing massive amounts of destruction, and Johnson seems to be sweating in every scene, presumably from all the effort it took to fit into his t-shirts which all seem one size too small.
To date, Johnson has appeared in three Fast and Furious movies which have collectively grossed nearly $3 billion worldwide. Next year's eighth installment, The Fate of the Furious (get it…Fate…F8) will likely earn an insane amount of money as well since the series is going off in a new direction with Diesel's character seemingly going rogue and working with cyber-terrorist Cipher, played by ageless beauty Charlize Theron.
The Rock is one of the biggest movie stars in the world and long-time wrestling fans feel a sort of kinship with him because we have been there from the beginning. Before the red carpets, there was the blue chipper and there is a sense of pride in seeing all of his hard work pay off. If a guy with nothing more than seven bucks in his pocket can become a global icon, maybe there is hope for our dreams as well.
More from Daily DDT
This article originally appeared on
---