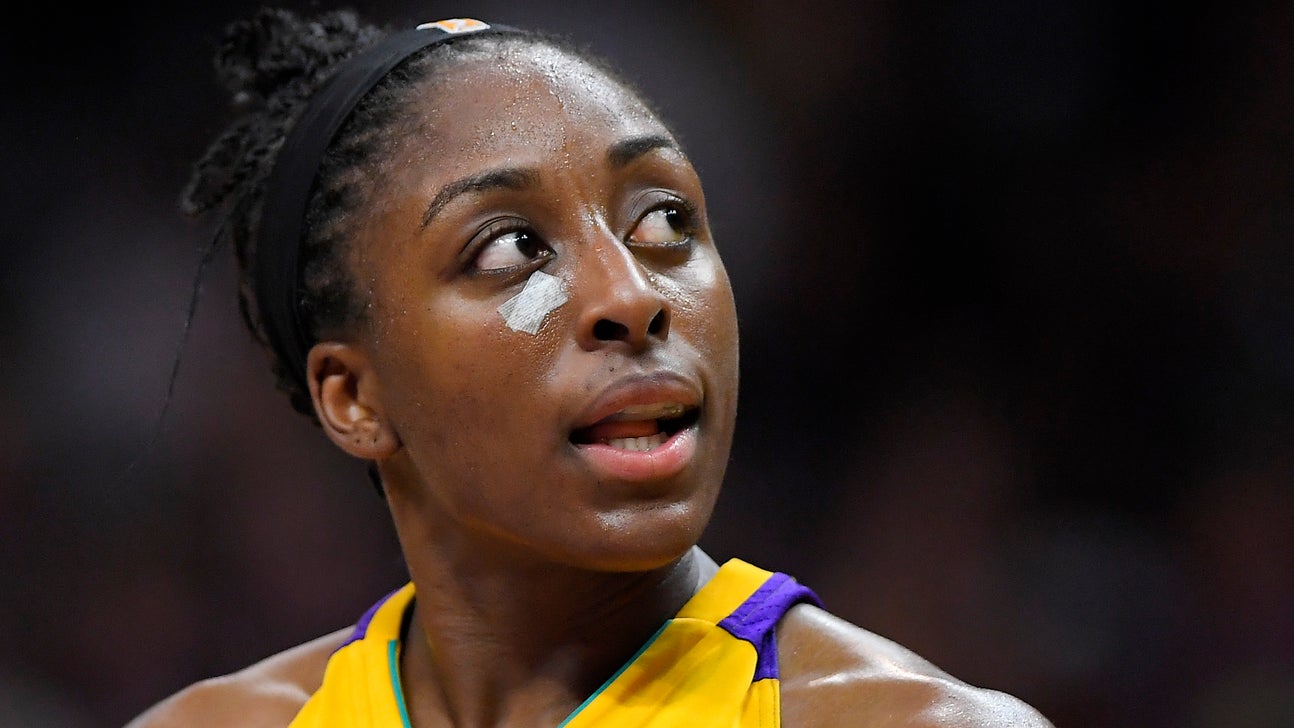 WNBA players opt out of CBA, can start negotiating sooner
Updated
Mar. 4, 2020 4:23 p.m. ET
NEW YORK (AP) — WNBA players have exercised their right to terminate their collective bargaining agreement after the 2019 season, cutting the deal short by two years.
The current labor contract started on March 5, 2014, and had been scheduled to run through October 2021 or the day after the last playoff game, whichever was later. The move announced by the players' union on Thursday ends the deal on Oct. 31, 2019, or the day after the postseason finale.
The move allows the sides to negotiate a new deal that would go into effect for the 2020 season during an Olympic year.
"We look forward to our upcoming discussions and negotiating a new agreement with the league," the union said in a statement.
The league has seen growth in many areas since the current CBA went into effect in 2014. Television ratings this season were the league's best in four years. The WNBA started live streaming games on Twitter and partnered with one-day daily fantasy sites. Players appeared in a video game for the first time.
That hasn't translated into the league and its owners making money. According to the WNBA, it's lost a significant amount over the last 22 years, including $12 million last season.
"On average (we've lost) over $10 million every year we've operated," NBA commissioner Adam Silver told the AP in a phone interview this week.
The top base salary for a veteran WNBA player is $115,500. A few players were able to make over $150,000 adding performance bonuses, team marketing deals and stay-at-home bonuses to their base pay.
Travel woes and player fatigue came to the forefront last season when the schedule was crammed into 13 weeks because of the FIBA Women's World Cup. It was three weeks shorter than the 2017 season. The Las Vegas Aces forfeited a game against Washington when the team endured 26 hours of travel and didn't arrive in D.C. until a few hours before the scheduled tip.
Players have discussed flying on charter planes, but the league says the cost is prohibitive.
Silver said the league could be amenable to chartering at appropriate times. In 2013, the league approved New York taking a charter flight to Indiana for a game when all other flight options were exhausted. For the Aces, no charter flight was available during its travel woes, according to the team. A compromise between the current state of travel and chartering flights, such as getting TSA PreCheck, would help.
WNBAPA president Nneka Ogwumike of the Los Angeles Sparks wrote a story for the Players' Tribune about why the players opted out.
"This is not just about business. This is deeply personal. This is about the kind of world we want to live in," Ogwumike wrote. "I am an elite athlete. I am an MVP. I am a daughter. I am a sister. I am a No. 1 draft pick. I am a WNBA player and I am the president of the WNBPA. And I want young female athletes to dream about playing in a vibrant and thriving WNBA."
She added: "And I want them to dream about the league that I know ours can become. A league that has a fair and consistent work environment. A league that treats its players as the world-class athletes they are. A league that invests in its future. A league that believes in us as much as we believe in it. And it's not just me who wants this. I'm one of 144 WNBA players."
The WNBA is currently without a president. Lisa Borders left to take a position at Times' Up last month. NBA Deputy Commissioner and Chief Operating Officer Mark Tatum is overseeing the WNBA on an interim basis.
"The league and its teams are committed to an open and good-faith negotiation that is rooted in the financial realities of our business," he said in a statement. "We are getting to work immediately and are confident such a process can lead to a fair deal for all involved."
---