Notre Dame Fighting Irish
Notre Dame Fighting Irish
Turner helps No. 6 Notre Dame beat North Carolina 77-55 (Jan 22, 2017)
Published
Jan. 22, 2017 2:59 p.m. ET

CHAPEL HILL, N.C. (AP) Notre Dame coach Muffet McGraw always wants to get Brianna Turner going inside no matter who the sixth-ranked Fighting Irish are playing.
It certainly was a priority against a North Carolina team lacking much of a post presence.
The 6-foot-3 junior had 24 points, 12 rebounds and six blocks to help the Fighting Irish beat the Tar Heels 77-55 on Sunday, a win that gave McGraw her 750th victory at the school.
Marina Mabrey added 13 points for the Fighting Irish (18-3, 6-1 Atlantic Coast Conference), who blew open a close game in the second quarter and improved to 53-2 in ACC regular-season games since joining the league for the 2013-14 season.
Turner finished 11-for-16 from the floor in 33 minutes as the Tar Heels - who recently lost fifth-year senior forward Hillary Fuller because of lingering knee pain - rotated a series of inexperienced post players to try to slow her.
But the ball kept ending up in Turner's hands - and often the basket soon after.
''I thought I could use my size in the game today,'' Turner said. ''They have a lot of quick guards so I followed in transition, just trying to post their guards up would be effective for me.''
Paris Kea scored 15 of her 21 points in the first quarter for the Tar Heels (12-8, 1-6). But Notre Dame ran off a 10-0 burst to build a double-digit lead early in the second, then a half-closing 9-0 run to pull away.
Notre Dame outscored UNC 23-6 in the second quarter.
''I want to keep working and developing these kids we've got,'' longtime UNC coach Sylvia Hatchell said. ''I think we can make a lot of noise. I think we can beat people in the ACC, but we've just got to get a little better and we've got to do a better job with our inside game and our rebounding - because I think our guards are playing pretty doggone good.''
BIG PICTURE
Notre Dame: The game offered a reminder of how dominant Turner can be on a high-scoring offense that also has plenty of 3-point shooters to space around her. She had no trouble operating inside against UNC's wing-heavy lineup, repeatedly getting easy putaways on lobs, entry passes and stickbacks.
''We want to do that every single game,'' McGraw said. ''But we have some people that are also open on the perimeter. So we were trying to get them to maybe look inside first. I think that's something we can work on.''
UNC: The Tar Heels rely on their perimeter to offset a lack of post presence. They have no chance when that group struggles like it did for much of Sunday. Stephanie Watts - the ACC's No. 2 scorer (18.8) and No. 5 rebounder (8.8) - had one point on 0-for-6 shooting in the first half and had most of her 14 points after Notre Dame had long since taken control. Meanwhile, Destinee Walker - UNC's third-leading scorer at 12.2 points - finished with six points on 2-for-10 shooting as she battles knee tendinitis.
PAINT STRUGGLES
Notre Dame outscored UNC 46-20 in the paint and took a 43-32 rebounding advantage.
''There's times when we can cut loose and look pretty good,'' Hatchell said. ''But again, the inside play is where we're just struggling a little bit right now.''
INJURIES
Watts left the game after injuring her right knee when she fell on a drive to end the third quarter, but she came to the postgame news conference and said she was OK with what she described as a minor hyperextension.
Notre Dame played without junior forward Kathryn Westbeld (8.6 points) for the second straight game because of an ankle injury.
UP NEXT
Notre Dame: The Fighting Irish return home to host No. 15 Duke on Thursday.
UNC: The Tar Heels visit No. 14 Miami on Thursday night.
---
Follow Aaron Beard on Twitter at http://www.twitter.com/aaronbeardap
---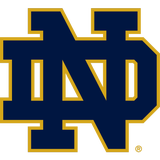 Get more from Notre Dame Fighting Irish
Follow your favorites to get information about games, news and more
---