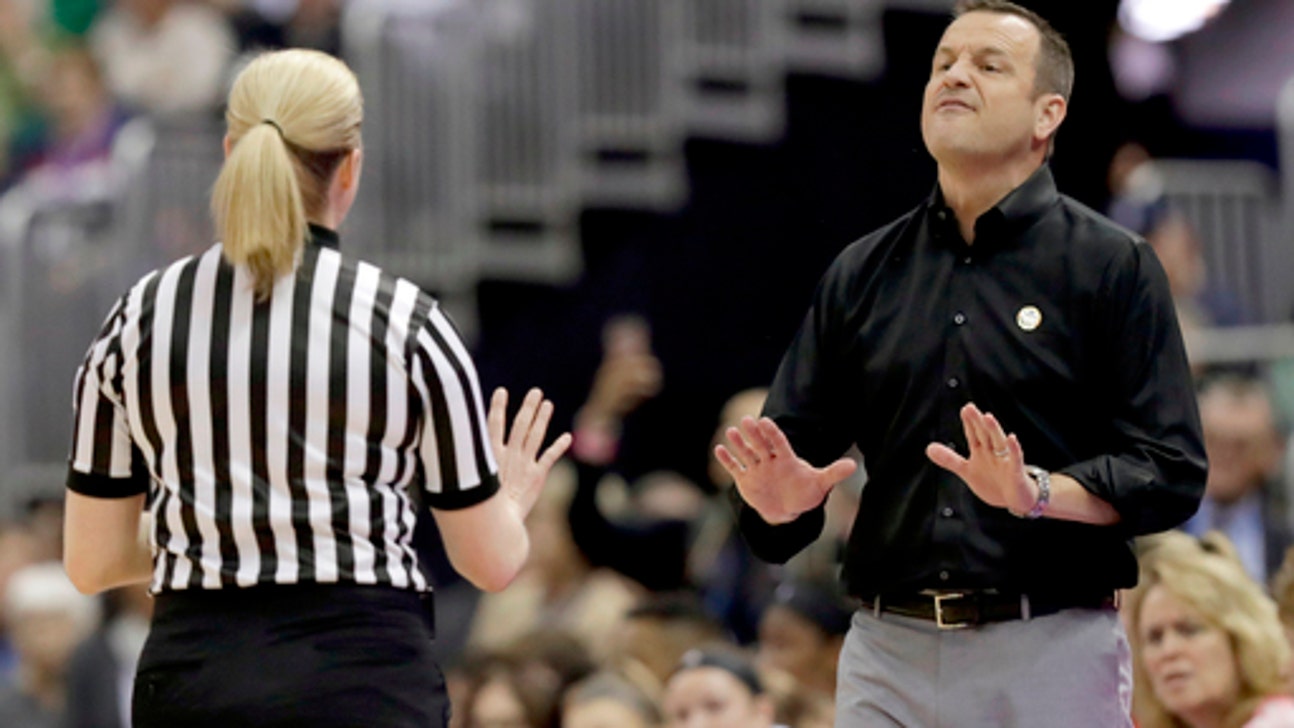 NCAA suspends Louisville's Walz for 1 NCAA Tournament game
Updated
Mar. 4, 2020 12:16 p.m. ET
INDIANAPOLIS (AP) Louisville coach Jeff Walz received a one-game NCAA Tournament suspension for comments he made toward NCAA committee members and staff at the scorer's table during the Final Four.
The NCAA issued a public reprimand to Walz on Friday.
''In the national semifinal game, I used some inappropriate language as I expressed my frustration toward the scorer's table about the officiating,'' Walz said. ''I realize that these comments are not acceptable, did not represent the University of Louisville in the best light, and I apologize for my actions. I will be more mindful in expressing my emotions going forward. My staff and I are looking forward to another successful run next season.''
Walz must serve the suspension the next time his team reaches the NCAA Tournament, regardless of what school he's representing. The committee also will withhold Walz's Final Four per diem allowance.
NCAA officials said in a release that Walz ''directed inappropriate comments and profane language'' toward committee members and staffers during Louisville's 73-63 overtime loss to Mississippi State in a March 30 NCAA semifinal in Columbus, Ohio.
The Division I Women's Basketball Committee noted Walz had been reprimanded several times in the past. It decided to apply a stronger penalty to discourage future misconduct.
''The committee actively encourages coaches and student-athletes to display good sportsmanship throughout the season and during the championship,'' said Rhonda Lundin Bennett, the chair of the committee. ''The committee agreed that coach Walz's conduct did not meet acceptable standards and has no place in the sport on the women's basketball championship.''
The NCAA semifinal featured some controversy when Louisville center Sam Fuehring was called for a technical foul with 2:42 left in the fourth quarter when she slapped the floor after getting called for a foul. That ruling caused Fuehring to foul out of the game.
''I had the opportunity to speak with Coach Walz at length and following our conversation have a clear understanding of the issue from both Coach and the NCAA's perspective,'' Louisville athletic director Vince Tyra said. ''Coach Walz's intensity on the sideline is one of his most endearing qualities, but following our discussion, we both acknowledged that his behavior during the national semifinal game was not acceptable and is not how we want to represent the University of Louisville.
''I appreciate Coach's cooperation resolving this matter and fully anticipate that he will adhere to championship policies, sportsmanship and conduct expectations in the future.''
Baylor coach Kim Mulkey received a similar penalty in 2013 for criticizing the officiating after Louisville upset her team in a regional final. The punishment caused Mulkey to sit out Baylor's victory over Western Kentucky in the first round of the 2014 NCAA Tournament.
---