College Basketball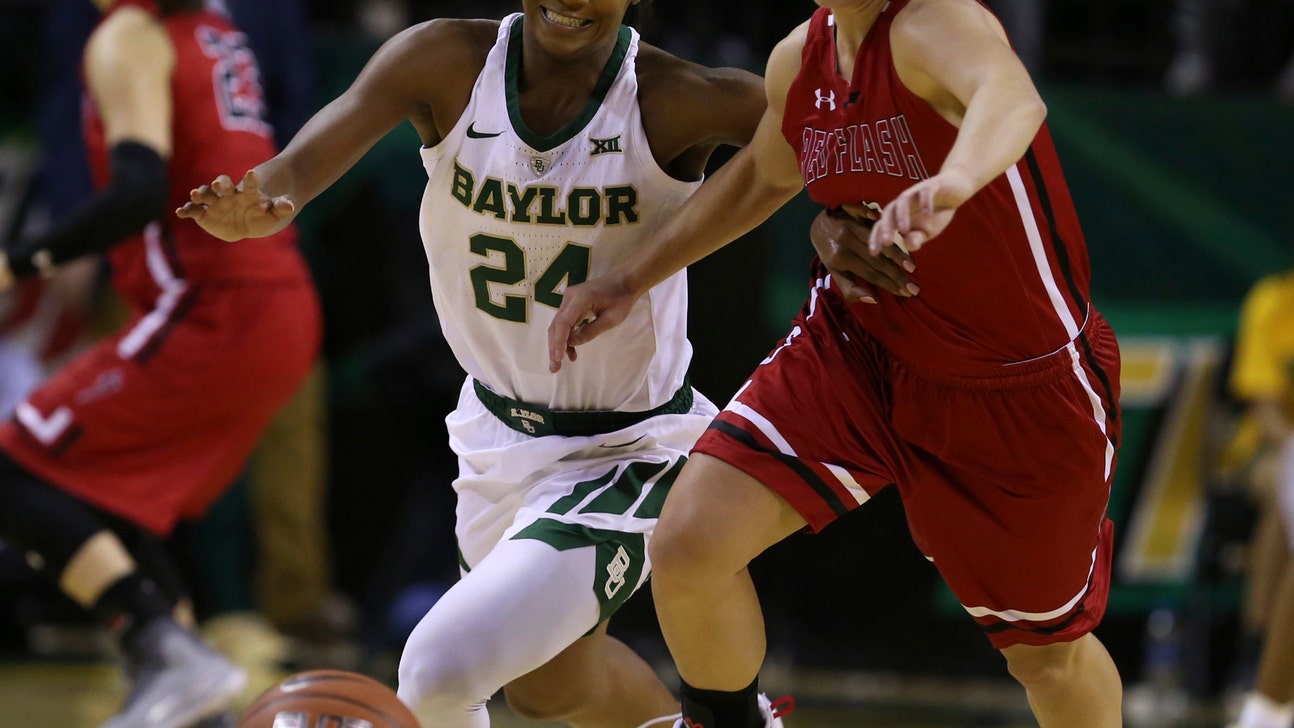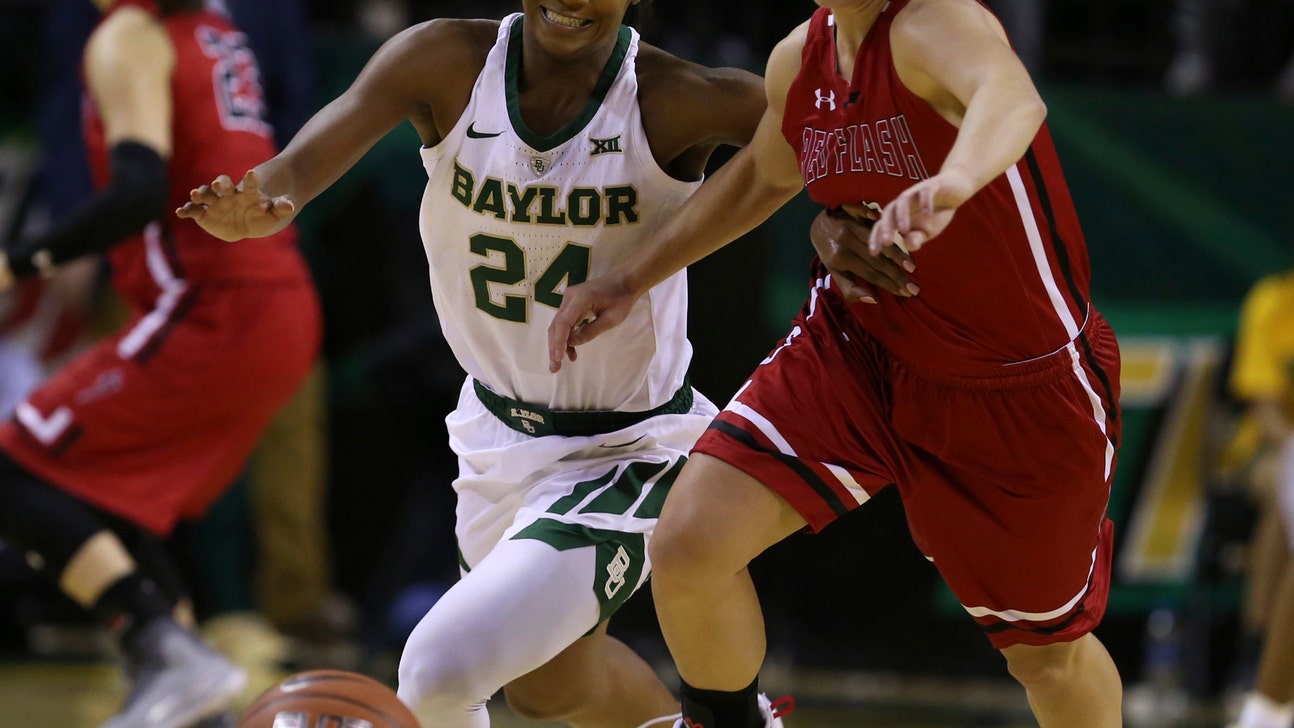 College Basketball
Brown scores 23, No. 4 Baylor women rip Saint Francis 116-58
Updated
Mar. 5, 2020 12:20 a.m. ET
WACO, Texas (AP) — Kalani Brown didn't have any blocks to go with her 23 points in No. 4 Baylor's 116-58 victory over Saint Francis of Pennsylvania.
Of course, the Red Flash didn't even think about venturing into the lane, hoisting 57 of their 71 shots from behind the 3-point line with the 6-foot-7 Brown and 6-4 Lauren Cox waiting in the paint Thursday night.
"I know defending on the perimeter has been a little difficult for me, moving my feet and stuff," said Brown, a preseason All-America who was 11 of 14 from the field and had six rebounds. "But I've gotten better, so I just wanted to debut that today. I may have given up one or two 3s."
There wasn't much shame in that, since 17 of Saint Francis' 20 baskets were from long range. Jess Kovatch, who set an NCAA record with 141 3-pointers last season and was the nation's second-leading scorer at 24.1 points per game, scored 15 on 5-of-15 shooting from 3.
"It's the way that Saint Francis plays," Red Flash coach Joe Haigh said. "But it's also a product of playing against Baylor. So we know that you play a team with that size and the shot-blocking ability of Baylor, we're not going to get anything in the paint. Why go in there?"
Freshman NaLyssa Smith recorded her first double-double with 21 points and 10 rebounds for the Lady Bears (2-0), who won a second straight game against an overmatched opponent that reached the NCAA Tournament last season before losing to a No. 1 seed.
Courtney Zezza had 14 points and four blocks for the Red Flash (0-2), whose 12th NCAA appearance ended in the first round against UConn last season. Nicholls State, which lost to Baylor 100-39 in the opener, fell to top-seeded Mississippi State.
Chloe Jackson had 17 points, six assists and four steals — all four in the first half, including three that led to breakaway layups. The graduate transfer from LSU was 7 of 7 from the field to help the Lady Bears shoot 66 percent.
Freshman Queen Egbo also was perfect from the field, making all six of her shots and finishing with 14 points. But she was 2 of 5 on free throws as the Lady Bears shot just 52 percent (15 of 29) from the line.
Baylor finished the first quarter on a 25-0 run after Saint Francis took a 9-7 lead by making three straight 3-pointers. The Red Flash then launched 11 in a row from long range, missing them all. Saint Francis shot 28 percent, obviously highlighted by going 17 of 57 from beyond the arc.
The Lady Bears did have four blocks, with two from Cox, who had nine points and eight rebounds.
"There was just a stretch there that they scored too many points," Baylor coach Kim Mulkey said. "When we play teams that spread the floor like that, it's very obvious to be concerned with Kalani having to go outside, Cox having to go outside."
BIG PICTURE
Saint Francis: After blowout losses against a pair of high-profile opponents (Rutgers was the opener), the Red Flash get a few games against teams that figure to look more like Northeast Conference opponents. The next bigger name is Washington in mid-December.
Baylor: Turnovers were the spark for the first big run by the Lady Bears. They forced 11 in the first quarter for half of their 32 points. Saint Francis finished with 28 turnovers for 42 Baylor points. The down side for Mulkey was Baylor having 21 turnovers.
STARK CONTRAST
Haigh said his team normally takes about half its shots from 3-point range, so the 80 percent rate was a concession to the size of the Lady Bears, who list four players 6-2 or taller. Saint Francis had 12 players shoot at least one 3. The Lady Bears attempted just four, with Smith making one of her two.
BRIEFLY
Brown scored 10 points in the third quarter, which included an 18-0 Baylor run. ... Juicy Landrum, who scored five points, led Baylor with 11 rebounds and seven assists. Baylor outrebounded Saint Francis 62-23. ... The Lady Bears had a 90-6 advantage on points in the paint.
UP NEXT
St. Francis: At Liberty on Saturday.
Baylor: No. 23 Arizona State at Fort Defiance on Navajo reservation in Arizona on Sunday.
---
---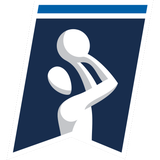 Get more from College Basketball
Follow your favorites to get information about games, news and more
---