Rousey plans to make Correia pay after tasteless suicide comment
Published
May. 28, 2015 2:58 a.m. ET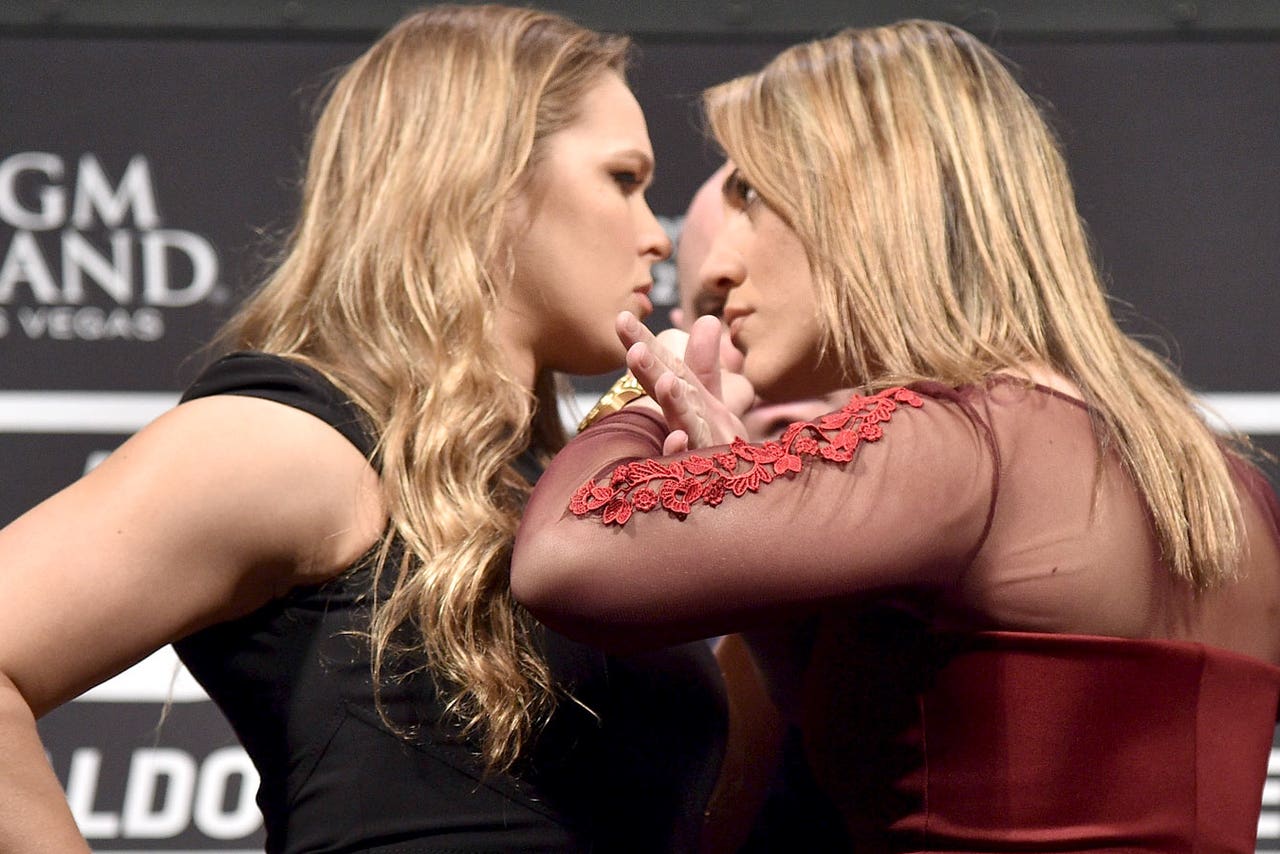 Bethe Correia did a lot of promoting to land a title fight against Ronda Rousey on Aug. 1 at UFC 190, but in her latest interview the undefeated Brazilian stepped way over the line when taking a jab at the UFC women's bantamweight champion.
Correia did a recent interview with Brazilian outlet Combate while she was in Las Vegas, where the top-rated contender talked about her upcoming fight with Rousey.
While she's continued to poke and prod at Rousey about knocking her out when they meet, her latest jab went from trash talk to just tasteless.
"I want to knock her out, show to everyone that she is a lie," Correia said (translation by MMAMania). "She wants to stand up with me, let's see. I want to humiliate her and show the word she has no MMA. She is focused on movies, books. I am much stronger, I come from a developing country, where people are struggling to survive, not to starve. It is very different from her life of reality. 
"Under pressure, she is proving weak. When her mom put pressure on her, she ran away from home. When she lost, it was because of drugs. That's not a superhero. She is not mentally healthy, she needs to take care of herself. She is winning, so everybody is around her cheering her up, but when she realizes she is not everything that she believes she is, I don't know what might happen. I hope she does not kill herself later on."
Correia making offhanded comments about suicide is bad enough, but when put in the context of this fight, it's even worse. Rousey lost her father to suicide when she was just 8 — he suffered from severe pain after breaking his back in a sledding accident, Rousey has said, and she's spoken about losing her father in several interviews as well as in her recent autobiography, "My Fight, Your Fight."
According to Combate reporter Evelyn Rodrigues, who conducted the interview with Correia, the Brazilian fighter wasn't laughing or making light of the situation.
But it didn't take long for Rousey to see the comments and respond to Correia on Twitter late Wednesday night.
@bethecorreia suicide is no joke or selling point. My father will be with me the day I hand you the comeuppance you deserve.

— Ronda Rousey (@RondaRousey) May 28, 2015
While fighters routinely say some heinous things to each other in the lead-up to a fight, this one seems completely over the line and out of bounds considering how close to home this hits for the women's champion. Whether the UFC will take action against Correia remains to be seen, but it appears she's lit a fire inside of Rousey with that comment. Considering that Rousey's torn through her past three opponents in under two minutes combined, the Brazilian contender may have just bitten off more than she can chew. 
UPDATE:
Following a huge storm of backlash in the last 24 hours for her comments, Bethe Correia took to Twitter on Thursday morning where she apologized to Rousey after making comments about her committing suicide following their fight.
@RondaRousey Never knew what happened to ur dad.I'm humble enough to ask u for forgiveness. Family is a godly bless to me. See u in #UFC190

— Bethe (@bethecorreia) May 28, 2015
Correia claims she didn't know about Rousey's father taking his own life despite the fact that the women's bantamweight champ has talked openly about the tragedy in the past.
Either way, it looks like UFC 190 is in for a fierce fight between two women who clearly don't like each other. 
---
---