Ovince Saint Preux champions Haiti with fundraising effort
April 16, 2015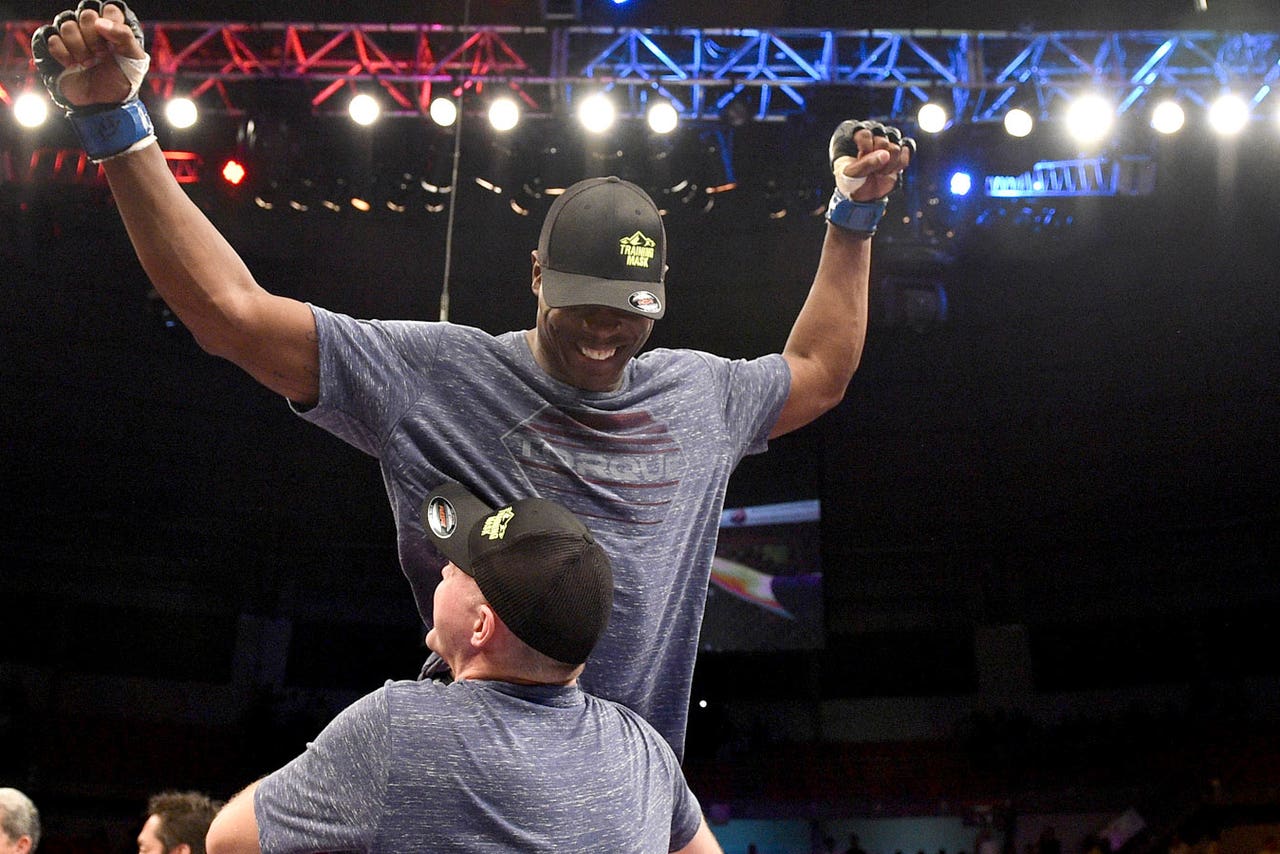 Light heavyweight contender Ovince Saint Preux isn't just getting ready to fight Patrick Cummins this Saturday in New Jersey on the huge FOX UFC Fight Night card, he is also helping raise funds for a promising economic development project in the nation his parents immigrated from, Haiti. OSP helped design a custom #Fight4Haiti shirt, on sale for a limited time at AthletesBrand.
Proceeds from sales of the #Fight4Haiti shirt will go to the non-profit organization Harvest107 to help them build a Micro Farm in Zanfay Lakay Haiti. "Our goal is to help Ovince make a true difference in peoples' lives that isn't temproary. We want to help create a sustainable food resource which is why we chose Harvest107, but we also want to educate people on how many Haitians are forced to live," Athletes Brand founder Kyle Mauch says.
For Saint Preux, who walks to the Octagon with a Haitian flag, his roots to the island nation run deep. "My parents came from Haiti, to the U.S. because they wanted a better education for their kids, but Haitian culture has always been important to me," Ovince tells FOX Sports, a couple hours after landing in New Jersey, for fight week.
"My first language was Haitian Creole. My older cousins taught me English, basically. I was born in the States but growing up in Immokalee, Florida, anyone can tell you how many Haitians and Hispanic-Haitians, and African-American-Haitians there are there. Haitian culture and Haitian people have always been a part of my life and still is. I was actually just talking to my coach, now that we've landed in New Jersey, I told him we need to find a Haitian restaurant to eat at! (laughs)"
Now that Saint Preux is in a position where he can help, he's intent on doing anything he can to help the people and motherland near and dear to his heart. Mauch says that the #Fight4Haiti t-shirt benefit for the Micro Farm project in Zanfay Lakay "is just the beginning of the amazing things Ovince will be doing for Haiti throughout his career."
OSP himself seems proud to play even a small part in encouraging development and opportunity in Haiti. The cost to build the farm is estimated at $4,000 and the campaign is optimistic they can fully fund the farm in two weeks.
Once it is up and running, the idea is that the farm can bring food to people currently starving in Zanfay Lakay, Haiti. Harvest107 was started in 2013 by 13 year old Gracie Pfaff, and the organization is hoping that OSP's big fight Saturday will help bring attention to the effort. 
"This is something I always wanted to do," the fighter tells us.
"I told my mom that if I can ever do something to help Haiti, I will. Haiti is very important to me. And, you know, micro-funding is a great way to help people. Farming is a big thing for many Haitian people. Even here, my parents, my uncle and my dad garden. They have squash, potatoes, greens and other things growing. For us, it's nice. For others, back in Haiti, it can make a big difference for their lives. If you have the resources to get a farm going, you can eat the food, and you can also sell the food in markets." 
The #Fight4Haiti shirt will be on sale through April 26. Visit AthletesBrand to get your shirt while helping the people of Zanfay Lakay, Haiti create a new sustainable farm.
Harvest107 - Project Grangou from Harvest107 on Vimeo.
---
---