Detroit Pistons learn what it takes to be a UFC fighter
BY Damon Martin • October 16, 2015
If anyone from the Detroit Pistons fires off a head kick during the 2015-2016 NBA season, just blame the UFC fighters who showed them a few new tricks during a training exchange this summer.
All jokes aside, the UFC teamed up with the Pistons for a series of training exercises earlier this year where several fighters traveled to Detroit to see what basketball players do to get ready for their season. Then the hoop stars went to Las Vegas to find out what kind of program helps mixed martial artists prepare for a fight.
Pistons point guard Reggie Jackson was a casual fan of the UFC, but when he was approached with the idea of showing the fighters a few moves on the court while they would help him understand the rigors of a full-fledged training camp, he jumped at the chance.
"It was something we were all for," Jackson told FOX Sports. "They wanted to come out here and work some basketball with our staff and in return they allowed us to go over there and do some UFC training. I didn't think it was going to be as difficult as it was but it was fun. It was an experience that will help the team build camaraderie and mental toughness."
Several professional athletes have raved about how mixed martial arts workouts helped them prepare during the offseason. NFL sack master Jared Allen has incorporated MMA training into his routine for several years and NBA star Mike Miller has done the same while working with Ryan Bader, C.B. Dollaway and the team at Power MMA & Fitness in Arizona.
Jackson was well aware the UFC fighters were tough, but he never expected that the workouts they do to get ready for an upcoming competition would push him to the breaking point.
Jackson is a high-level basketball player who averaged 17.6 points and 32-plus minutes a game last season in 27 games for Detroit after arriving in a trade from the Oklahoma City Thunder. Still, working with the UFC fighters forced Jackson to understand his own personal thresholds in the gym while attempting to keep up with a training style that is non-stop to allow competitors to stay explosive for a five-minute round or potentially a 25-minute fight.
"It's non-stop action," Jackson said. "We get more breaks (as) basketball players. We get more breaks here and there, and they (UFC fighters) are constantly battling through and pushing themselves. They really make sure they are ready to fight for five minutes straight and they build their bodies up and the workouts are pretty insane.
"Sometimes we'd want to take a little break and the UFC guys would make us look a little weak so we had to dig deep down inside ourselves to push through. Even when they were fatigued you could tell they just pushed through and continued to go."
The physical aspects of MMA training aside, Jackson says the biggest benefit the Pistons players probably picked up working with the fighters was the mental toughness they exude both inside and outside the Octagon.
Fighters take punches but refuse to go down.
Fighters get caught in submissions but refuse to give up.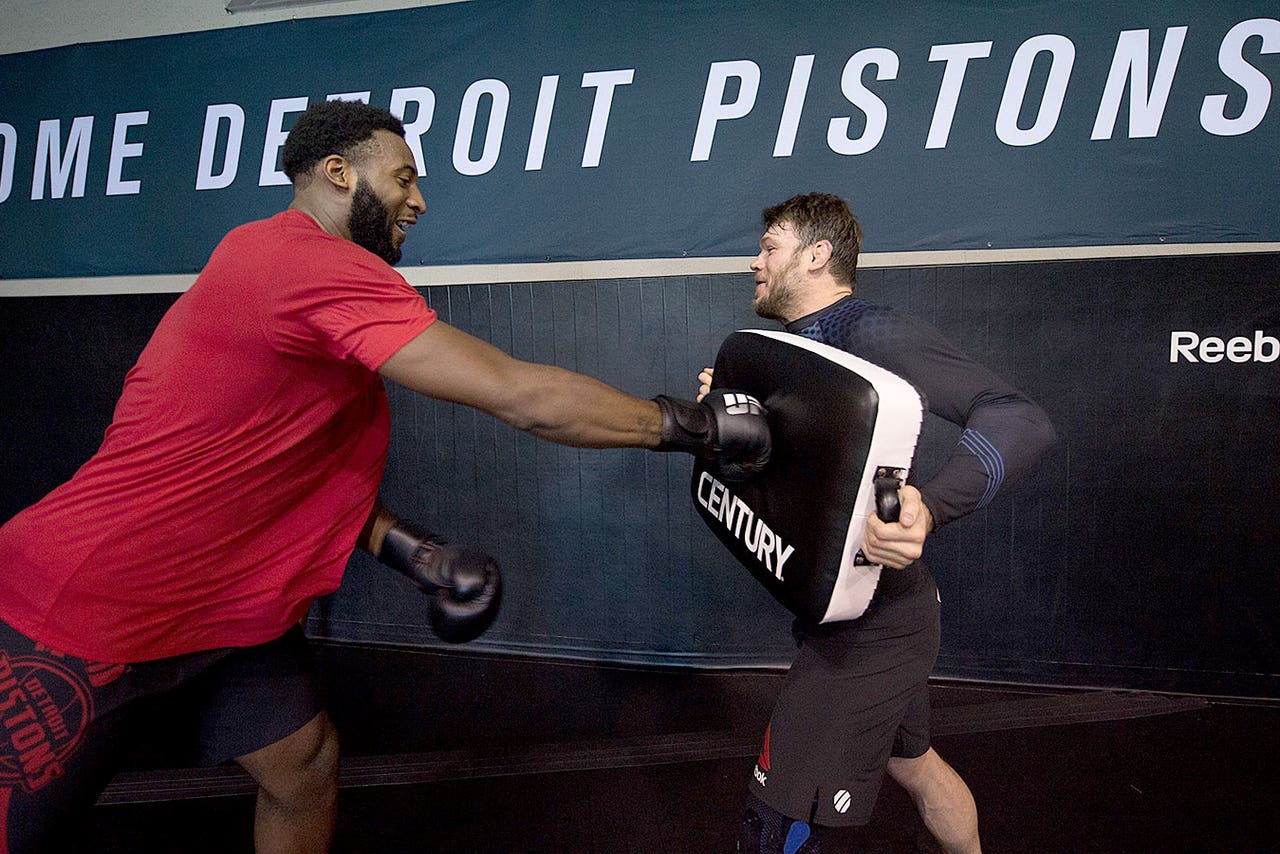 Jackson says that same mentality could be huge for players on the Pistons when a game isn't going their way or the season starts to wear on them over 82 games.
"Everybody starts off the season feeling good," Jackson said. "It's easy to start the season with a lot of energy and it's 0-0. By the end of the season you've had your ups and downs and that's why I think the offseason training is so important, that's when all the extra work you put in shows off.
"Guys start hitting the wall a little bit. The experience we had with the UFC guys and training with them, it really allows us to push through when we have that fatigue thing going on."
UFC heavyweight Stipe Miocic saw the other side of the coin when he traveled a couple hours north from his Ohio home to undergo some basketball training with the Pistons.
Basketball players don't go through the high impact workouts that fighters may endure, but they are some of the most explosive athletes on the planet not to mention physically fit enough to survive a season that potentially lasts nine months if a team makes the playoffs.
Endurance and staying healthy are two keys to every NBA player's existence. It's something Miocic learned while working with the Pistons several weeks ago.
"It was so much fun," Miocic told FOX Sports. "I learned a lot. I was sore as crap though. I'll tell you something, I wasn't ready for any of that. I learned a lot of stuff, we had great training, great people. It was a fun time.
"You learn a lot of good stuff. You learn from each other. They show a lot of toughness in that sport."
As for the future, Jackson has already thought about incorporating more MMA training to his offseason program. He's not ready to sign up for his own UFC bout, but he definitely enjoyed playing a fighter for a couple of days.
"It's not a job that I envy," Jackson said with a laugh. "For me personally, I'll probably find some way to do some MMA training in the future.
"I love the game of basketball, but you've got to get away from it sometimes, (but) you can't stay away too long or your body will get out of shape so I'm trying to find different ways to continue to train and make it fun."
---
---