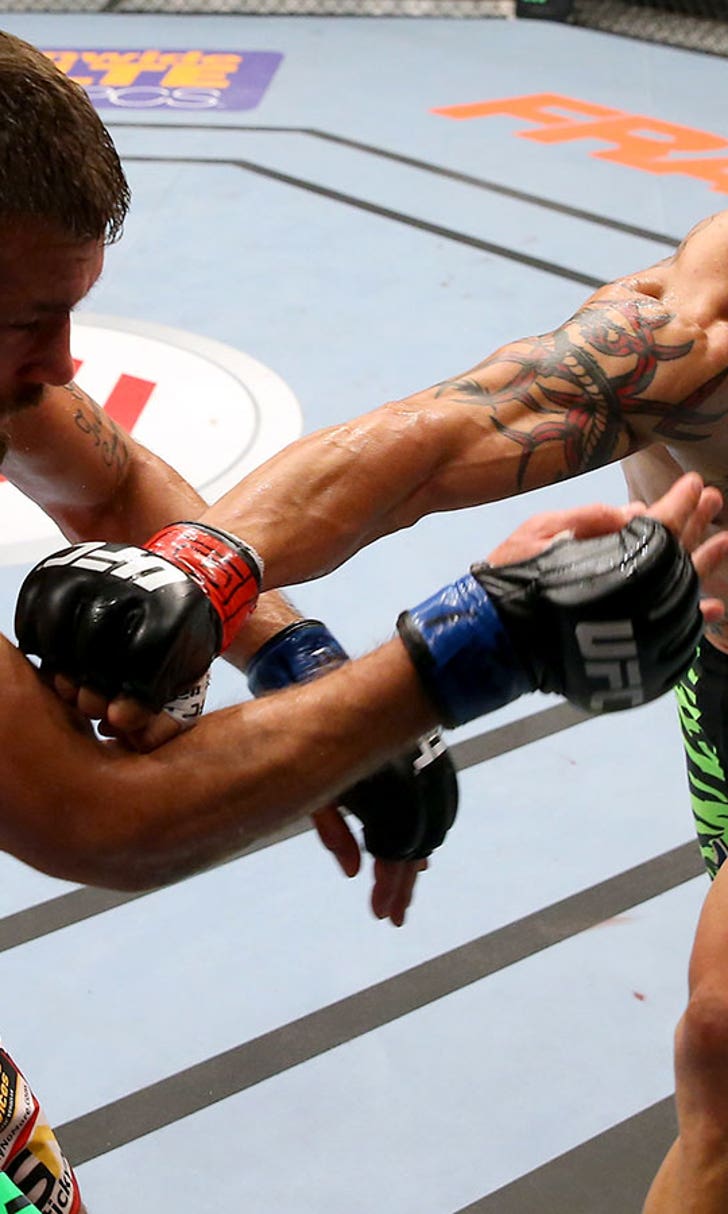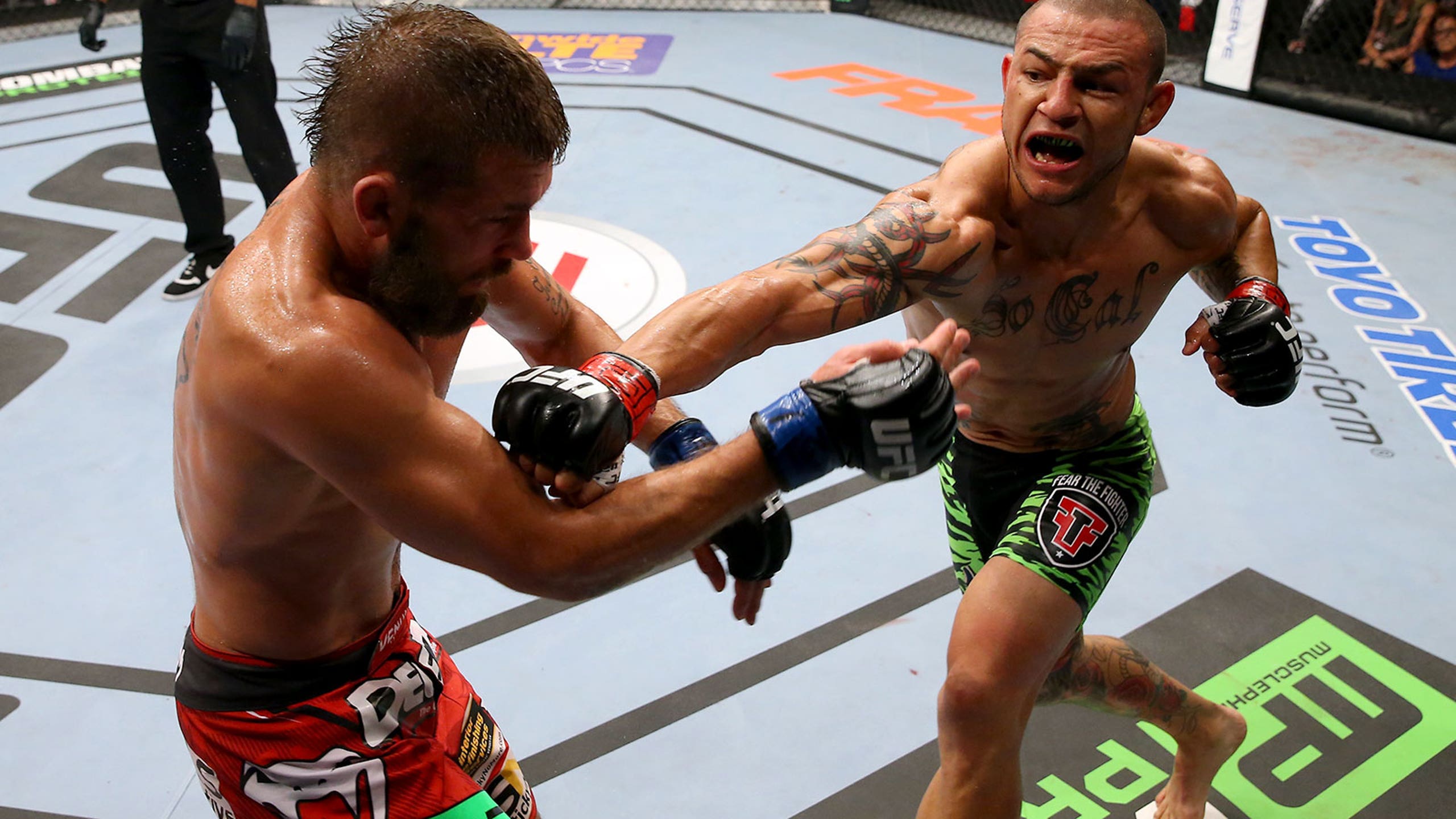 Cub Swanson: It's ridiculous Conor McGregor is even in title contention
BY Damon Martin • November 20, 2014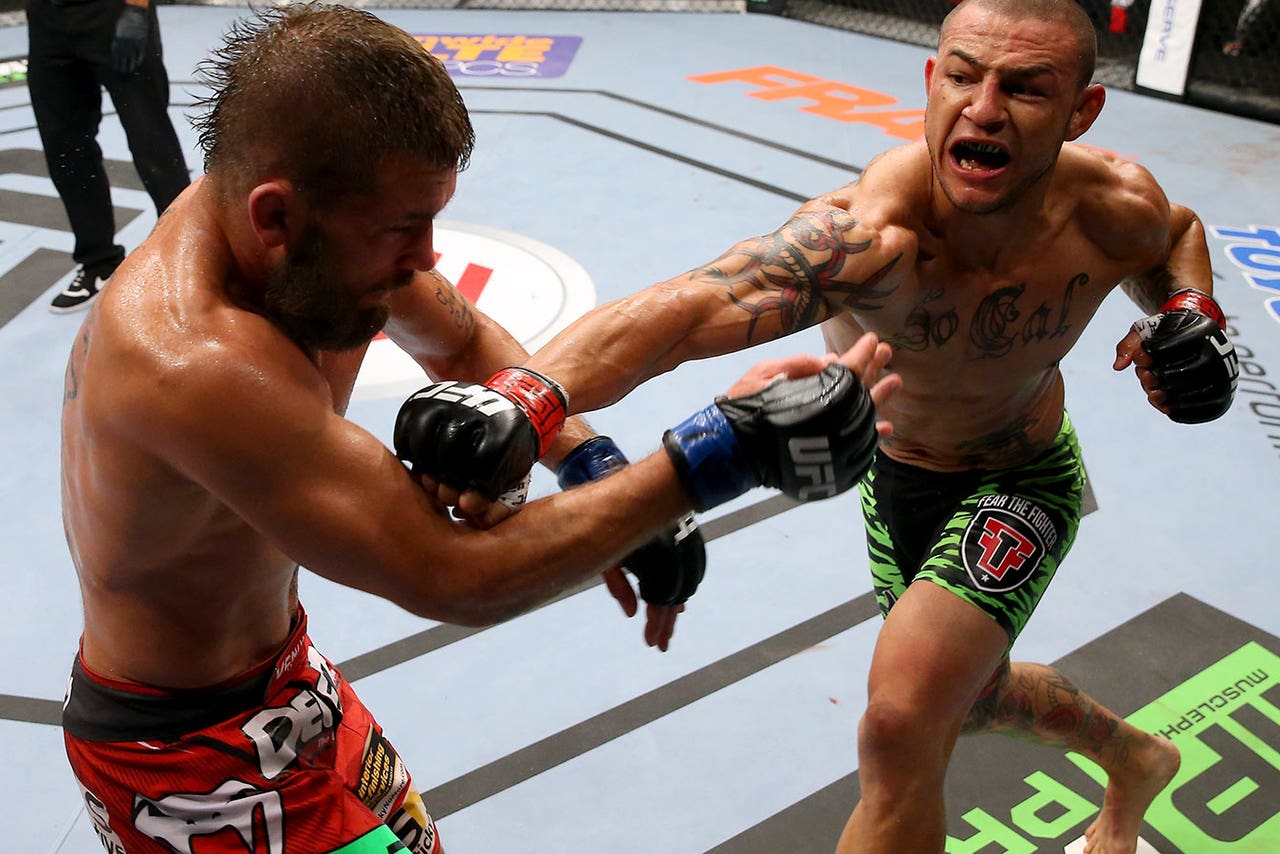 It's hard to deny the fact that Cub Swanson has been on one of the most impressive tears through the featherweight division in the past few years.
He's won six fights in a row, with five of them coming by way of knockout or TKO.  Swanson has drop kicked several top names along the way including Charles Oliveira, Dustin Poirier, Dennis Siver and Jeremy Stephens.
Despite all those accolades, Swanson has continued to sit on the outside looking in just waiting for his shot at the UFC featherweight title.  Part of the argument working against Swanson is his 2009 loss to current champion Jose Aldo while fighting in the WEC.  The bout lasted only eight-seconds as Aldo bludgeoned Swanson with a flying knee right out of the gate.
Since that time, Swanson has reinvented himself, got a new lease on life and now he's ranked No. 2 in the world.  And still hasn't received a title shot.
"Definitely sour feelings, but I knew it was going to happen," Swanson told FOX Sports about his title shot woes.  "I could feel it like I'm going to get screwed again.  I felt like I should have gotten the title shot over Ricardo Lamas. Here it is again, getting passed by.  I'm just going to keep winning fights and I know for a fact if I win this fight, I'm going to get the title fight.
"The funny thing is they're not even guaranteeing me this time even though I was guaranteed it the last time."
It would seem like an obvious choice for the next title contender with the main event this weekend in Austin pitting Swanson against Frankie Edgar, who is ranked No. 3 in the division.  The bad news for both Swanson and Edgar is the shadow that looms large over the entire division right now.
His name is Conor McGregor.
But for all the bluster and commotion the outspoken Irishman has brought to the featherweight division, Swanson still isn't sure why he's even in the conversation for a title shot.  McGregor's biggest win came in his last fight against Dustin Poirier and he's facing Dennis Siver in his next fight.
Swanson already beat both of them on his way to six straight victories.
To be honest, Swanson doesn't mind how outspoken McGregor is when it comes to promoting his career and bringing a brighter spotlight to the division.  If it costs him a title shot, however, that will push Swanson over the limit.
"I completely understand it.  The problem with the whole thing is he pisses us off by being disrespectful and that don't fly with me. We're all in here for a job and if we have a fight and you talk, that's fine.  But to talk crap just to talk crap is ridiculous.   Obviously I don't like the dude," Swanson said.
"Do I think he's doing a good job self-promoting? Hell yeah, he's doing a great job.  But for people to just think he even deserves to be in title contention is ridiculous.  He's been hand fed people. Hand picked opponents by the UFC and he shines when the lights are on. He hasn't done what many of us others have done."
The best thing Swanson can do for himself is to go out and beat Edgar this weekend and then it's going to be awfully hard to deny him a shot at the gold with seven consecutive victories and a slew of them coming over top 10 ranked fighters.
He knows there are going to be people that just can't let go of his previous fight with Aldo, but Swanson promises the rematch would be a much different outcome.
"I feel like if you've seen my win streak you know that I show up and when I show up I'm ready to fight. I know that when I fight Aldo again that's the way it's going to be," Swanson said.  "The best comparison I can give is Cain Velasquez/Junior dos Santos. They fought three times. What happened the last two times?  After the first fight, did Cain not deserve to get a rematch?  He got that rematch and what happened?
"I feel like I deserve that chance to prove that I can."
Swanson wants to eliminate any questions about title shots, top contenders and especially chatter about Conor McGregor with his performance this weekend.  Edgar has been an impossibly tough fighter for anyone to face throughout his career.  The former lightweight champion has never been finished, but Swanson only looks at that statistic like a challenge.
"I, 100-percent believe I'm going to finish him," Swanson said about Edgar.  "I feel good in this camp. I feel amazing. I'm peaking in my career. I'm just getting better and better. I feel like I'm a pretty smart fighter and I'm always honest.  Honestly, I'm a better fighter right now. I'm the better fighter and I have to prove it."
---
---