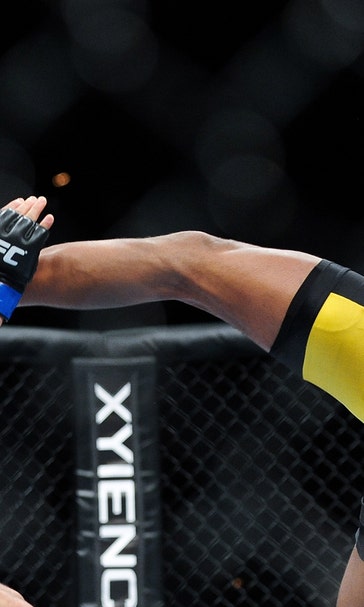 Anderson Silva wants to compete in 2016 Olympic Games
April 14, 2015

Former UFC middleweight champion Anderson Silva is currently under temporary suspension by the Nevada Athletic Commission because of multiple failed drug tests leading up to and immediately after his UFC 183 main event against Nick Diaz, and is expected to face further sanctions from the commission when he meets them for a disciplinary hearing, possibly in May. But his inability to compete in professional MMA at the moment has not killed the Spider's competitive drive.
In fact, Silva is now gunning to be a part of his native Brazil's 2016 Olympic Taekwondo team. Yes, really.
Silva, a Muay Thai kickboxer based fighter, has always been known for his work ethic, open mind and genuine enjoyment of many different martial arts styles. He could be seen training the Korean style of Taekwondo before multiple UFC fights. 
Now, he wants to take his interest in the kick-heavy art to the next level. According to a report from Guilherme Cruz, the Taekwondo black belt wrote a letter to the Brazilian Taekwondo Federation's president, Carlos Fernandes, asking to be a part of the country's 2016 Olympic squad.
"Everybody knows that for a high-performance athlete, the Olympic Games is the dream of every athlete, and it wouldn't be different with me," Silva wrote, according to the federation's website.
"When I was named the ambassador of the sport by president Carlos Fernandes, this Olympic spirit motivated me. It will be a great pleasure to be part of this golden team, which has a serious institution, commanded by president Carlos Fernandes, who honors us very much, along with is team. Therefore, I wish to represent taekwondo and Brazil in the Olympic Games in 2016. With all my esteem, strength and honor."
Well, Silva certainly got enough butt-kissing in there towards the great, eternal and commanding Carlos Fernandes, so it was little surprise that the federation reported that they are open to the idea. According to their website, Cruz reports, Fernandes will meet Anderson to talk about what the federation termed a "magnificent possibility."
It would be pretty cool for Anderson to get into the Olympics, we admit. We also applaud his crazy drive to train and compete.
However, we wonder how likely it would be for the Olympics to allow a fighter who has tested positive multiple times for banned performance-enhancing drugs, including steroids, to compete in 2016. Silva spoke about competing in the 2016 Olympic games in Rio at least once before, in 2013, but UFC president Dana White threw cold water on that idea — just like he threw water on Silva's idea to box former pound-for-pound boxing champ Roy Jones Jr.
Time will tell if this is anything more than a pipe dream for Silva. We'll keep you posted on developments with this story as they happen.
---
---