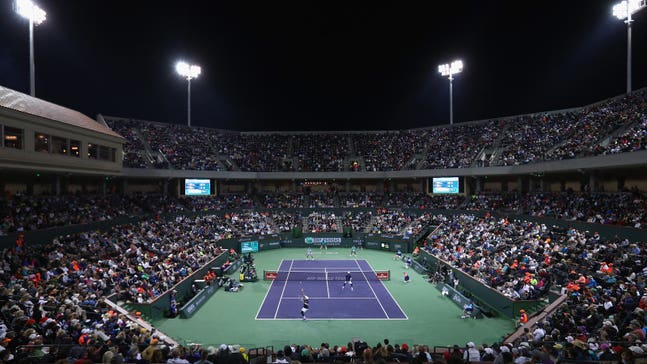 Rafael Nadal vs. the Bryan brothers was great for tennis
Published
Mar. 13, 2016 3:55 p.m. ET

INDIAN WELLS, Calif. -- Around 5:30 p.m. Saturday, there were so many people piled up waiting to get into the brand new Stadium 2 here at the Indian Wells Tennis Garden that you would've thought Roger Federer and Rafael Nadal were about to square off for a Grand Slam championship inside.
In reality, the throng was just waiting for a first-round doubles match.
Rafael Nadal paired with fellow Spaniard Fernando Verdasco in the men's doubles event here at the BNP Paribas Open, an event often applauded for drawing some of the sport's biggest singles stars into the doubles mix. In their first match, they were drawn against the iconic American duo of Bob and Mike Bryan. It was staged Saturday night at the new 8,000-seat venue at which you can watch tennis while you eat at a pop-up version of the famous Nobu restaurant, if you can't stand the thought of a bratwurst.
The Bryan Brothers have 16 Grand Slam doubles titles as a team. They have another 11 Grand Slam mixed doubles titles combined. They won Olympic gold in London. They helped lead the United States to a Davis Cup title in 2007. They are the Roger Federer and Nadal of doubles.
The stadium was packed, the crowd was buzzing from the first ball, and the players didn't disappoint. Check out this sequence from the second set, in which Nadal does some very familiar Nadal things to help win a point and delight the fans:
That's not an anomaly. Those fever-pitch moments were on display throughout the match. Roars of approval from fans in the stadium echoed out into the rest of the grounds, causing those not fortunate enough to be inside to turn their heads and wonder what they were missing. When it was over, the third-seeded Bryans rallied from a set down to win 3-6, 7-5, 10-8 and defend their turf from the singles stars taking a turn at the partner game.
And it wasn't a lousy slate! The day was peppered with interesting singles matches. No. 6 seed Tomas Berdych faced crowd favorite Juan Martin del Potro, still battling his way back from years of injuries. World No. 2 Andy Murray made his first appearance of the event. American Sloane Stephens took on Canada's Eugenie Bouchard. Former Grand Slam champions Stan Wawrinka, Victoria Azarenka and Marin Cilic were all in action. So was Caroline Wozniacki and rising American teen Frances Tiafoe.
But fun as those matches were too, it's just hard to compete with Mike Tyson getting embarrassed by the Kiss Cam:
---
---