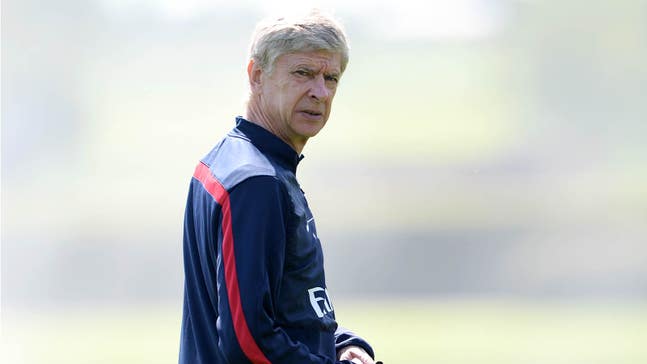 Wenger not feeling any pressure about ending Arsenal's trophy drought
Updated
Mar. 4, 2020 8:15 p.m. EST

Arsene Wenger is not feeling any pressure about ending Arsenal's long trophy drought in Saturday's FA Cup final against Hull.
The Gunners have not added any silverware since taking the famous cup in 2005 and hopes of an unexpected title triumph drifted away in the closing months of the campaign.
Having led the Premier League table on a number of occasions, Arsenal wilted under the strain as Manchester City's late surge saw them crowned as champions.
Wenger's men will have one final opportunity to claim a cup at Wembley this weekend, but he does not think there is a burden of expectation on him to deliver.
"Look it is an opportunity for us to crown well our season and the overall achievement - if you look back at the season - will look better when we win it," said the Frenchman. "But it's all to do, so we just want to focus on Saturday's game and not look too much how it will look or how it will not look."
Arsenal can look forward to Champions League football again after a fourth placed finish and Wenger pointed to their regular qualification when questioned about the team's achievements.
"It's not down to me to judge what is fair, I'm not a judge, I'm a manager who relies on what he's doing, what he's achieving on the pitch and lets other people judge and criticize. We can accept that and live with that completely. What is down to the quality of our club is the consistency and I believe on that front we are better than most of the teams."
Wenger remains confident he will extend his lengthy reign at the club, but North London rivals Tottenham are looking for yet another manager after the sacking of Tim Sherwood.
Spurs handed Sherwood a full-time role after the sacking of Andre Villas-Boas in December, but the club decided to cut short his 18-month contract on Tuesday, despite a sixth place finish.
His departure followed Pepe Mel's exit from West Brom on Monday, and Wenger expressed concern about the frequency of managerial departures, suggesting it is damaging the Premier League.
"For me, Tottenham manager or any other manager, it's always sad news when somebody loses his job," he said. "The only thing that looks a bit worrying is that the speed of rotation level in the Premier League gets quicker, and that's not a good sign for the Premier League."
Full-back Bacary Sagna is set to play his last game for Arsenal after admitting he is unlikely to extend his stay when his contract expires in the summer.
But Wenger is confident that Sagna remains fully committed to the club's cause and has no worries about starting him in the final.
"None at all. I told you many times, for me a professional is to give your best until the last day of your contract and that's for me the real professional," he said. "I don't doubt his integrity, his desire to win and his commitment at all."
Asked about Sagna's contract talks, Wenger said: "I told you many times, that's exactly the same as last week. The ball is in his camp and I cannot influence that."
---